As any good amusement park knows, you've got to keep it fresh, or people won't come back each year. So, what's new at Hersheypark this year? One simple answer: so much!
new eating spots at the park
lots of new menu items at different food vendors in the park
a new cocktail at the various Hershey lounges, and restaurants
new pool experience at Hershey Lodge
a new conservatory at Hershey Gardens
and, an updated Chocolate Making Tour
Do I have your attention? Good, let's go through it a bit more, shall we?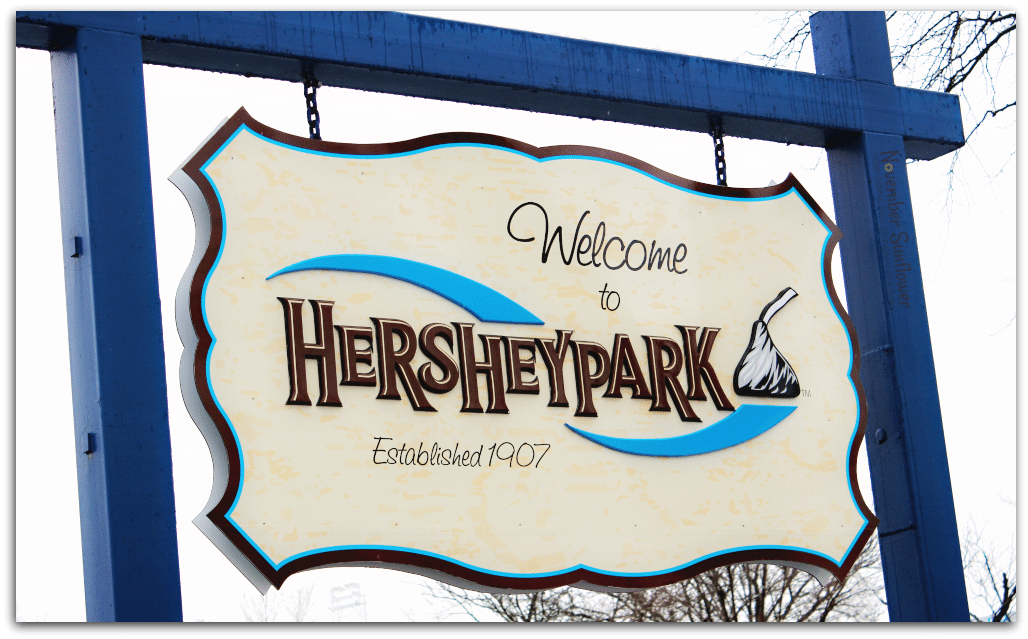 What's new at Hersheypark this year?
So much is happening at Hersheypark in 2016, and though I'm usually fixated on food, there's a whole lot more than new menu items, I promise!
Hershey new food options
Anyone been to Hersheypark, and stayed at their hotels? You probably have heard of Hershey Grill, located in Hershey Lodge. Last time I visited Hersheypark, Hershey Grill wasn't open for breakfast. Well, guess what? It is now! I'm a huge fan of the burgers at Hershey Grill, and now, I'm also a rather large fan of their breakfast. Anything ordered from the breakfast menu at Hershey Grill will bring happy stomachs, I'm sure of it. Delicious! Clearly, starting your day there, at least once during your visit, is a must.
Once you're in the parks, make sure to check out the new food offerings throughout the park. New burger choices, new taco choices, and for those that love Chickie's & Pete's, there's a new location opening at the park! It'll be at Pioneer Food Court. Yes, you'll be able to get their famous crabfries in two locations, along with their Crabby Sweets. I even had chocolate covered bacon while at Hersheypark. I loved it. I'm fairly confident all of you will, too.
New cocktail options at Hershey
We also can't forget the brand new cocktail for the adults, right? You've seen the signature chocolate themed cocktails, I'm sure. I mean, who can say no to my ultimate favorite, the Brunette. It's got caramel! However, there's a brand new one called the Twizzler Martini. The cutest part of the drink? It comes with a Twizzler in it. What's could be better than that?
Hershey Lodge's new pool experience
I've mentioned Hershey Lodge before, as I've stayed there, and loved it. I prefer to stay in the main building, and not the rooms that open into the parking lot. It's a personal preference, but all the rooms are great for families. The last time we visited as a family, the kids loved the pool. Hershey decided the pool wasn't fun enough, and decided to take it to a whole new level.
Opening Memorial Day Weekend is the Hershey's Water Works at Hershey Lodge. Yup. It's not just a pool, my friends. It's an experience with Twizzlers Twists slides twisting, and turning, and bringing you outside. Hershey's Water Works even has a splash pad area, which isn't far from the pool, or the hot tub! Once completed, watch out! Insanity. Kid's minds will explode from excitement.
Hershey Lodge offers a ton of great packages where kids stay, play and eat free. I highly recommend checking out all the Hershey packages offered, so you can save money, not just have a great time!
A brand new conservatory at Hershey Gardens
As if Hershey Gardens isn't gorgeous enough, now it's getting the Milton & Catherine Hershey Conservatory. It's officially being called the Milton & Catherine Hershey Conservatory at Hershey Gardens, and it's gorgeous. It's stunning to look at from the outside, but once you enter its doors, and look up, the stain glassed butterflies hanging from the glass ceiling sets the tone for your entire visit. I didn't get to experience the butterfly pavilion with actual butterflies in it, but I did get to check out where they'll be living. I'd have loved to have my wedding in this pavilion. The views of Hersheypark are fantastic, and the gardens….beautiful. It's going to be a jewel, just like Mrs. Hershey was for Mr. Hershey.
Finally, let's talk about the chocolate! I mean, it is Hershey, right? If you've ever done the chocolate making tour, you know it's a great tour. An updated tour is debuting on May 14th. New cows will have new names, and the voting resulted in some super cute names for the new cows. I'm a fan of Caramel for the dairy cow!
Learn more about Hersheypark and its history:
I spent two nights, and three days, at The Hershey Hotel, and Hersheypark paid for by Hershey Entertainment and Resorts Company. All opinions are 100% my own.