Wondering where to stay with your family in Niagara Falls, New York? Allow me to introduce to you Seneca Niagara Resort & Casino in Niagara Falls on the New York side of the falls. It's in a spectacular location within walking distance of Niagara Falls! Let's face it, so many forget about the New York side of The Falls. It's not as well-hyped, but it's beautiful!
Where to stay with your family in Niagara Falls, New York: Seneca Niagara Resort & Casino
So, what's with all the animal art and statues?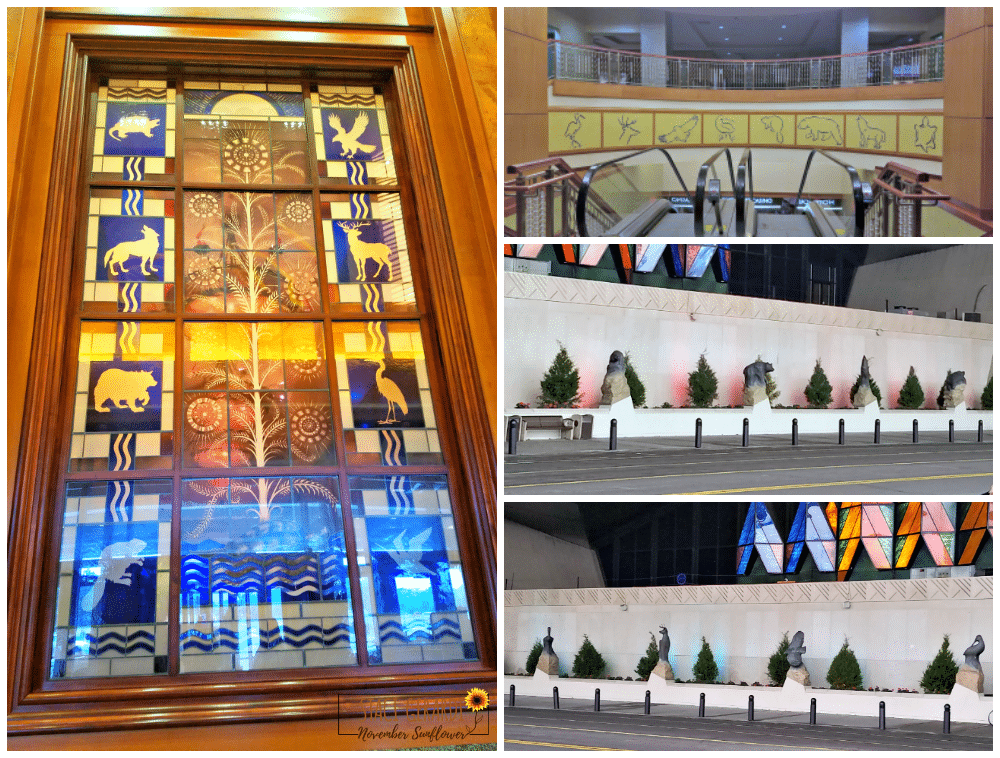 As soon as you step foot into the Seneca Niagara Resort and Casino, it's obvious the decor has a theme. The theme's based around 8 animals. Why? Well, I'm so glad you want to know! The 8 animals represent the 8 clans of the largest member of the Iroquois, Seneca Nation. The eight clans, broken into two groups, are the Seneca's traditional social units: bird clans and animal clans.
The four bird clans are the Deer, Hawk, Heron and Snipe. The four animal clans are the Turtle, Bear, Wolf and Beaver. The clans are a HUGE part of the Seneca tradition.
The Rooms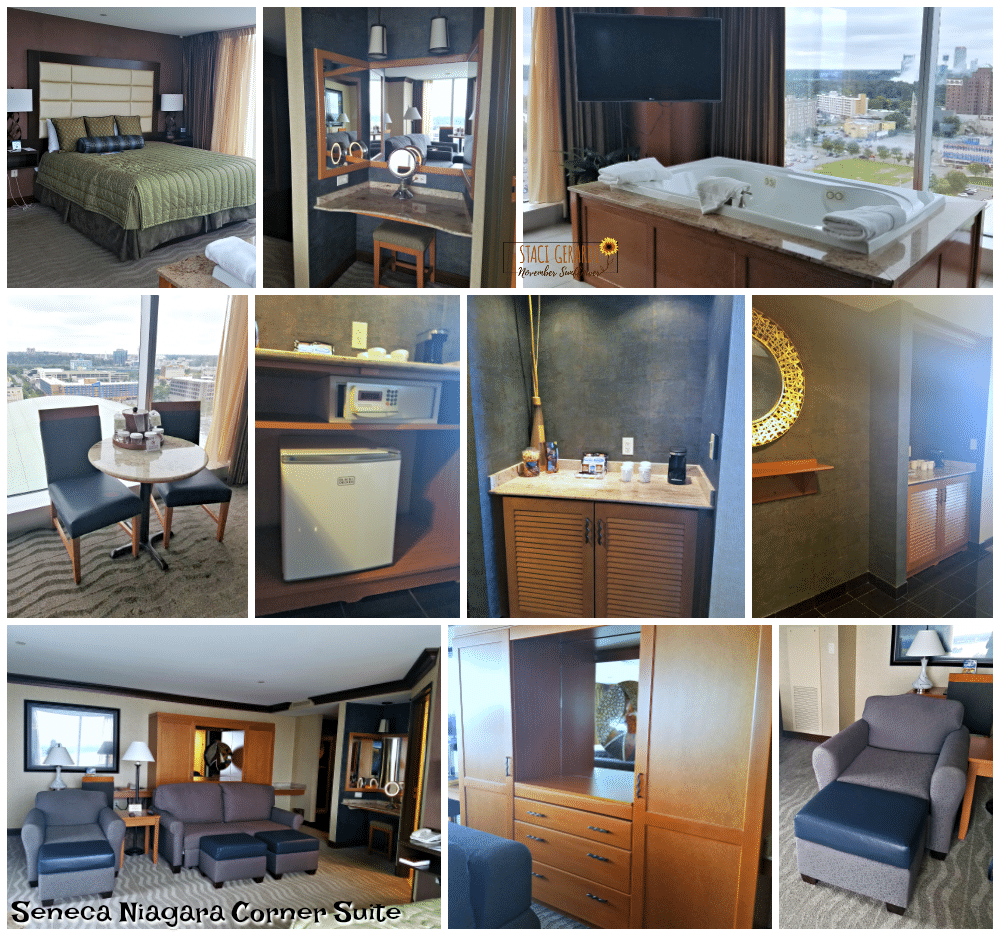 There's a variety of types of rooms, for different needs. Personally, Sondra from Happy Healthy Hip Parenting, stayed in a corner suite, overlooking Niagara Falls and the small town surrounding the casino resort. If you're traveling with your family, this might not work out. There's a King Sized bed, and a couch that turns into a bed, but not a lot of privacy. Great for a girl's weekend, or a couple's weekend, for sure.
When staying in a corner suite at Seneca Niagara, there's a giant jet tub in the room. Not in the bathroom. It's in the main room, where you sleep and hang out. Our corner suite had incredible views of Niagara Falls. Which means, the tub was a fantastic spot to spend time in! If you're lucky enough to be there in July, almost every night, weather permitting, there's fire works over Niagara Falls.
If you're able to stay in a corner suite, see if you can get into suite 1029. You'll have a great views, and also enjoy interesting luxuries. We had remote controlled curtains! Yup. With a click of a remote control button, curtains open and close. It's the little things that make me smile! Sure, there's a flat screen television that can be shifted so you can watch from your jet tub, bed, or couches and chairs in the lounge area of the room. Yes, there's a fridge, and safe. Of course, there's an insanely big, beautiful bathroom with a shower that could fit an entire family. But how often do you get a remote to control your curtains? NEVER.
Even the bed was comfortable. It has some kind of soft, pillow thing on top of the mattress. Loved that. Now, the pillows…. it's the one thing that needs work! The pillows, for me, were not good. You put your head on one, and it goes flat and your head is basically on the mattress. Use two? Same thing happens, but now the pillows puff up around your head, so you feel like your head is in a hole.
Oh, and WiFi is complimentary!
The Bathroom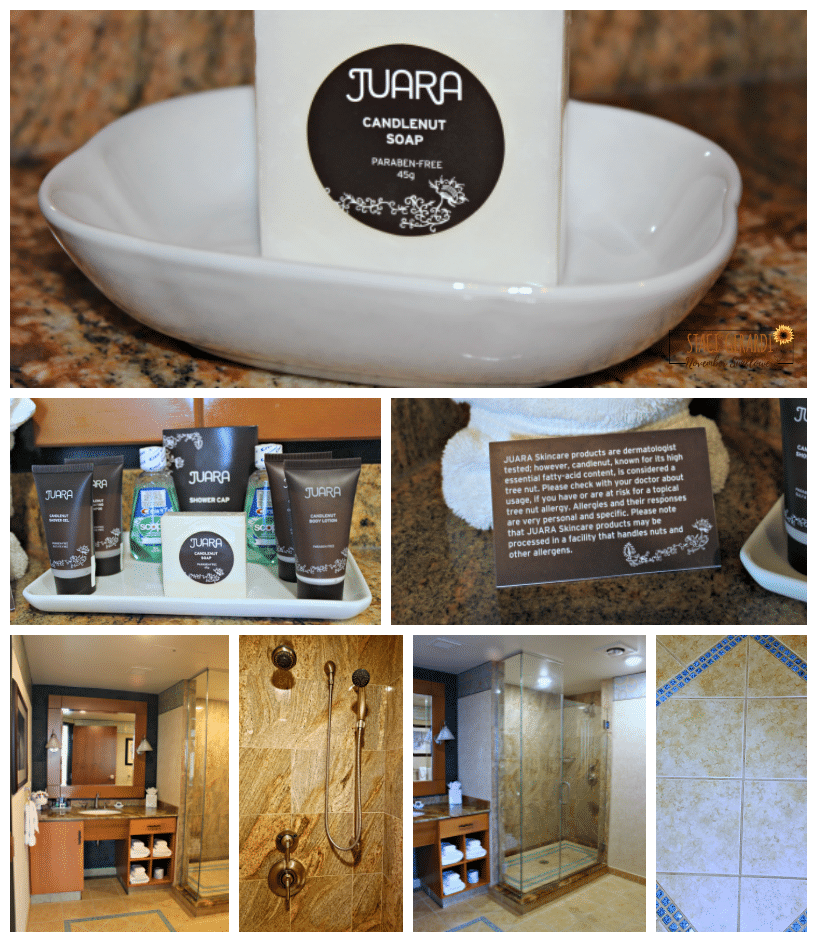 When you walk into a bathroom, and it's about the size of your son's bedroom at home, you know it's going to be a good vacation! The shower stall could probably fit my entire family, plus a couple of extras. The toilet is set off to the side, and hidden by a wall. They hook you up with toothbrushes, toothpaste, razors, shaving cream, and my favorite, a shower cap! Here's the thing about bathrooms when traveling with more than just ME. I enjoy when the toilet is separate, so if someone's using the shower, the toilet is still accessible.
The fact that there's a little "separate area" outside of the bathroom for people to do their make up, or pluck their eyebrows, without tying up the bathroom, is a bonus. I say pluck eyebrows, because I don't wear make up, so that's what I do while sitting in that little spot outside the bathroom!
The toiletries. If you've got a nut allergy, when you book a room at this resort casino, ask them about the toiletries. I believe you would want to have them taken out of your room, and bring your own, or ask if they have another brand you can use during your stay.
The Casino
Unfortunately, I can't share photos from the floor of the casino. Laws prohibit that kind of thing. If you're traveling with kids, make sure to bring someone to watch them for at least one night. They aren't allowed on the casino floor, unless you have to quickly walk through to get to a restaurant, or shopping. If you want to explore the huge casino floor, bring a sitter. Beyond the slot machines, and table games, there's Pulse Arena right smack in the center of all the gambling fun happening on the casino floor. Everyone needs to experience Stir, the club on the gaming floor, too.
If you're new to gambling, Pulse Arena is the perfect spot to start your gambling experience. The buy ins are lower than the main gaming floor, plus it has a social aspect to playing. You can enjoy our favorite electronic table games, for about $5. So, instead of heading to the traditional table games with higher buy-ins, you can start small! It gives newbies a little more wiggle room to learn the ropes, without losing their shirts, and looking silly in front of the more experienced gamblers.
Even better? There's live entertainment! It's also right in the same area as Stir, where you can get a drink and dance with a live host, and a DJ. They even have a new Blackjack Party Pit, and the casino offers gambling lessons for those who are TOTALLY fish out of water!
The Shows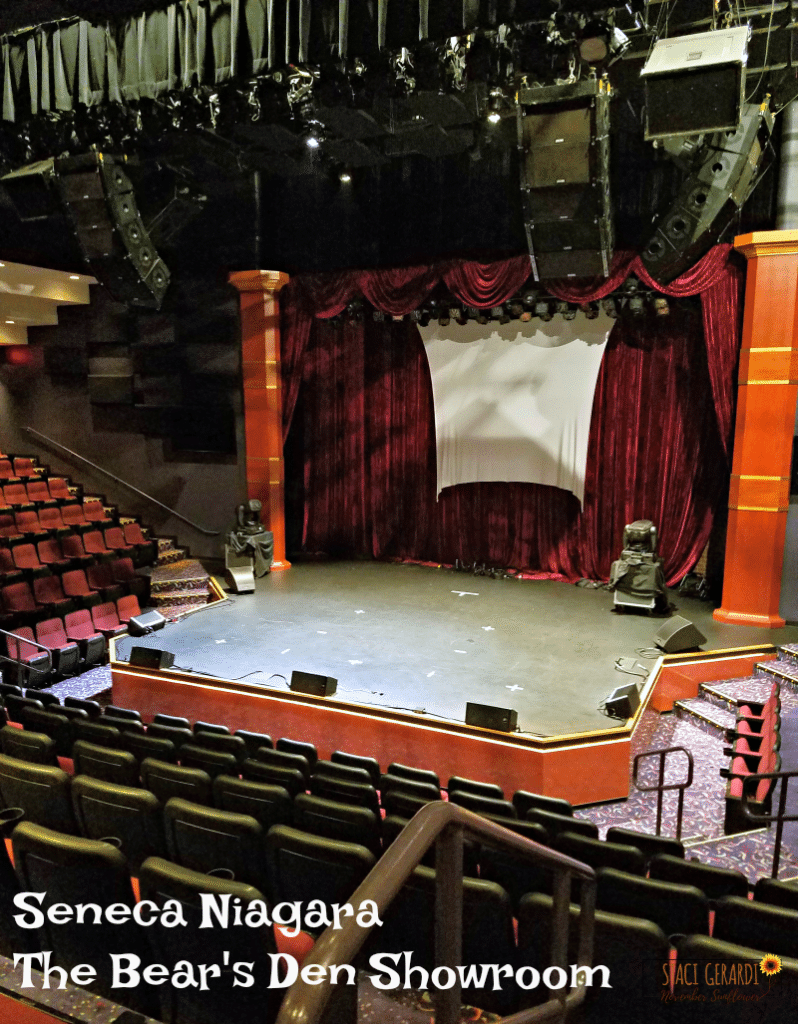 Beyond the fireworks show over Niagara Falls I was treated to each evening from my corner suite, there are actual legitimate shows at the resort and casino! Depending on when you stay at the resort casino, you can catch Thunder from Down Under, Bella Strings, REO Speedwagon & Styx, Billy Gillman, Diana Ross and so many others.
Shows are sometimes in the intimate Bear's Den Showroom, or in the huge Seneca Niagara Events Center, and other times, the shows are staged outside.
If you're not into any of the shows, no worries. When you visit the resort casino during summer months, they offer free movies on Friday nights! They happen outdoors, and are open to the public, too. Grab your own chair, and enjoy movies under the stars.
Most of the shows, kids can attend. I'd probably shy away from Thunder from Down Under with the younger kids in your family. But the concerts, and outdoor movies, are totally family-friendly!
The Spa
When traveling with your family, a spa day is totally doable. Leave the kids with your husband, or another adult in the party, and head over to get a massage, or a pedicure at the salon. Seriously, if you're lucky enough to be staying at Seneca Niagara, you'll want to make sure to check out the resort and casino's The Spa.
I opted for a little pedicure pampering, along with a great hair washing with a blow out. The salon within the spa, is a large space, which is going to be given a total makeover, according to the manager of The Spa. Since I didn't have a massage, I didn't get to see inside The Spa, just the salon.
If the cleanliness and staff at the salon is any indicator of how The Spa is run, I trust The Spa is top notch! My favorite part of checking out was the little envelopes you could put your tip in for those who performed your services. Such a great idea, so you don't have to track down the person who did your pedicure, or blow out. It's a nice, classy touch.
Men, take advantage of this spa, and salon, too! There's services for everyone, and even if you've got little ones with you, they might not be able to get a massage, but pedicures, and haircuts are also great options!
The Pool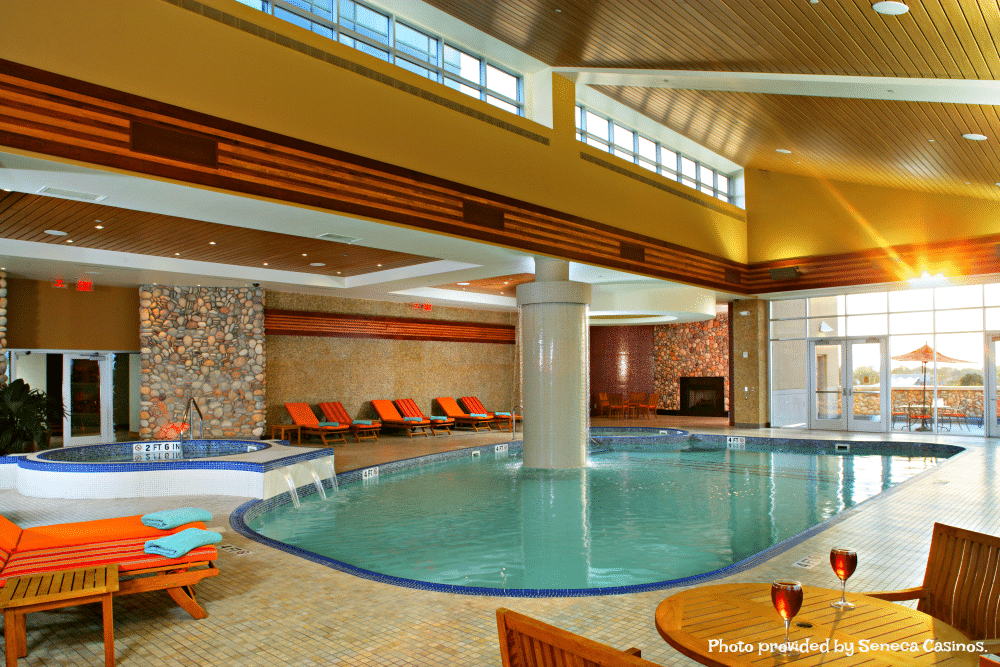 Indoor pool. Enough said. It's on the same floor as The Spa, so get an adult only swim in early in the morning. Head to The Spa for a massage, or a pedicure! Adult only hours happen each morning, and each evening, which is fantastic for those traveling without their kids. It's a nice chance to relax, chat with your travel mate, or just take a little dip without a lot of kids around. Who doesn't love a little time by the indoor pool? Bring a book, or a magazine, and enjoy the down time!
Once the adult hour is over in the morning, kids are welcome. So families have a full day to enjoy the indoor pool. Bring everyone, enjoy the day, while everyone else is gambling in the casino! Plenty of things to do for the kids, while mom, or dad, is gambling, or at the spa.
The Restaurants
Definitely check out my in-depth reviews of the restaurants at Seneca Niagara. I'll tell you there's plenty to choose from. Quick places to grab-and-go; casual places to sit and eat; and their signature dining with insanely decadent foods you'll be thinking about for weeks after leaving the resort. You want a quick burger, no problem, hit Blues Burger Bar. Need to have a huge variety of options for the entire family, so everyone eats without a huge meltdown over whether someone wants pizza, while someone else wants Chinese? Head to Thunder Falls Buffet.
Interested in eating breakfast at a sit down, casual kind of place, with great food, there's Three Sisters Cafe right in the lobby of the casino resort! Want to scale it up for dinner? There's The Western Door Steakhouse, La Cascata, and Koi. Meat, Italian, and Asian (including a Noodle Bar.)
Anywhere you go, you'll be well-fed, as well as need some kind of doggie bag to bring back to your room. The portions of food are huge, and there's never a chance you'll leave feeling anything but satisfied.
As a little extra bonus: there's a bar right in the lobby. It's called The Lobby Bar. Pretty easy, right?
The Shopping
Food. Shows. Pool. Spa. Are you more into shopping? No worries. Seneca Niagara Resort & Casino has everything from authentic Native American merchandise, to chocolate, to all the stuff you may have forgotten to pack, for sale. There's very little you can't find in the huge selection of shops throughout the entire casino resort. The lobby area alone has two spots to shop, but it doesn't stop near the lobby, friends. Shopping can be done all over this joint!
An added bonus? There's an ARCADE. Kids insist it's for them, but come on…. aren't we all just kids at heart? Let's all play together, shall we?
Venturing into the Niagara Falls, New York area for fun
If you HAVE to leave the resort, in order to experience all Niagara Falls, New York, has to offer…. well, I've got your covered! Check out what you, and your family, can experience all around the New York side of Niagara Falls: Explore Niagara Falls