Car essentials for summer adventures aren't always the first thing you think about once the kids are out of school. Your first thought is probably "dang, what am I going to do with these kids all day, now that they're home for summer vacation?" Trust me, I always wait until the kids are already out of school, before I start to plan our daily summer adventures. Luckily, our family lives on an island that allows us to take in tons of amazing beaches, parks, and outdoor entertainment, throughout the entire summer. It's a matter of a well-prepared sunflower, so the fun never stops!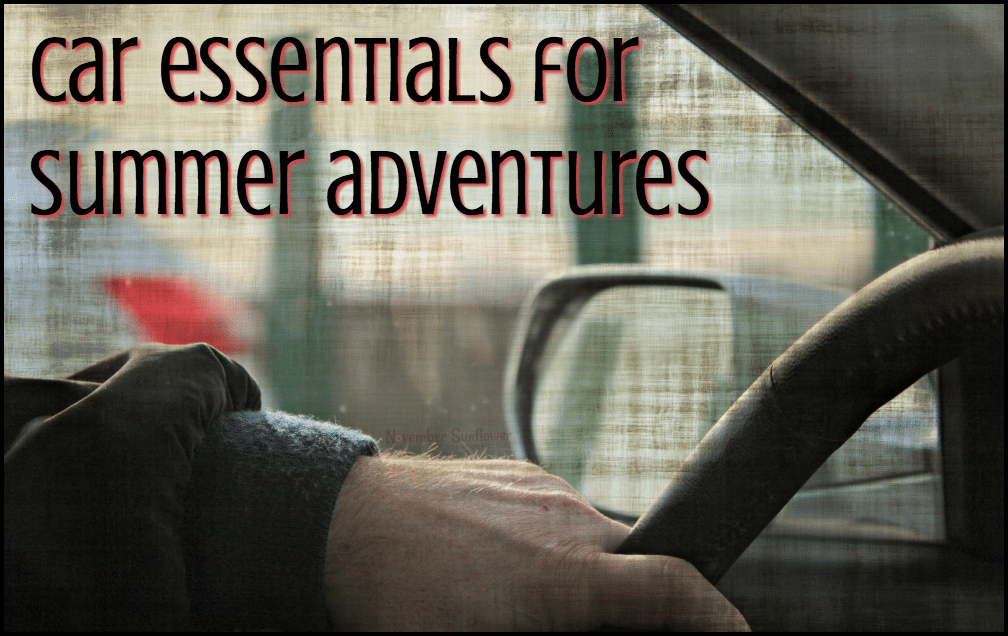 Car essentials for summer adventures
Trunk storage organizer
The first thing you'll need is an organizer for your trunk. If you've got a minivan, or a larger space, a cargo trunk organizer might be helpful, too. Once the kids are in the car, and it's going to be a longer drive, it's a good idea to hook yourself up with a bit of storage that they can access, so the Diono Travel Pal Car Storage sits right in the back seat with the kids. Load it up with activities, snacks, wipes and the hand sanitizer! Have them throw their water bottles in there, too. It's got cup holders.
Sunscreen
One thing I always forget to do is slather the kids with sunscreen. They always have it on their faces, because it's in the moisturizers we all use in the morning. However, that's not going to cut it during a last minute, outdoor playdate. Running all over the place at the park, on the beach, or in someone's backyard while swimming in the pool! Instead of always having to rely on someone else's sunscreen, because we all have that one friend who drags her big bag with her everywhere, and has everything in it for every situation; I just throw a bottle of Block Island Organics into our car. I keep it between a couple of towels, so it doesn't boil in the direct sun that shines through my car windows!
Extra set of clothing for each child (including socks & underwear)
Kids are dirty animals. Don't deny it, just embrace it. Girls, and boys, have a habit of sitting in the wrong places and getting stuff all over them. My little sunflowers also have a habit of dropping food all over themselves. It's always the stickiest stuff, which you can't just brush off, then send them on their way again. It's just gross. My favorite is always my son when he has sneakers on, and steps in a huge puddle from a rainstorm that happened two days earlier, but the huge puddle is still there.
After a couple of years of these situations, I've learned to pack the car with not just a change of clothing for each child, but also socks, and underwear. Don't ask, just nod your head, because you know exactly why we need the change of underwear. Boys…when will they learn to wipe the right way? Anyone? Please, tell me, I'm still waiting. IMPATIENTLY.
Swimsuits
You just never know when a friend is going to invite you to come over for a swim, and you're like "dang it, I don't have their suits with us." Instead of having to head back home, then over to the friend's house, keep suits in the car. It just makes sense! Just make sure they fit. I make sure to check the one I throw into the car at the start of the summer, halfway through the summer, to make sure it still fits. Kids grow…who knew?
Wet Bags (bags that can handle wet clothing, and bathing suits)
Last minute pool, beach, and lake swim trips? Bet you didn't think about where to put the wet stuff after the kids finish swimming. No worries. Throw a couple of wet bags into the organizer in your trunk! Not plastic bags that leak, even those sandwich bags with the zip close don't always work properly. Just go get an actual wet bag, and since I've got kids who filth up their clothing, I also have a dry bag for those things, too.
Towels
Don't go nuts. It's for last minute swim trips, or beach trips. If your kids are still into characters, they don't have to have them ALL THE TIME. A plane, big towel from your beach towel pile in the linen closet, will do. Just something to lay on, or dry them off.
Flip Flops
Sneakers on the beach? Yeah, not a fan favorite in our home. Just throw a cheap pair from the dollar store into the car, or a couple of pairs. They aren't going to be wearing them for a long period of time, and it's not about fashion. It's just about function.
First Aid Kit, or supplies
Invest in a first aid kit. Bandaids, ointments, pain meds – you know the drill. I'd also throw in some baby powder, so if you hit the beach, you can get that sand off of everyone before they get in the car! Of course, bug spray without Deet! If you live in an area with tick issues, you need to include some tick spray, too.
Hats
Simple baseball hats to help with the sun glare, or big floppy ones to cover everyone at the beach. Just shove them in the car!
Umbrellas/Ponchos
Beach ones can get a bit large, but we do have ones for last minute rain storms. If you're not into the whole umbrella thing, throw some ponchos into the car. Rain can sometimes come out of nowhere. I hate wet clothing stuck to my skin, so ponchos work for me.
Beach toys
Load up the plastic shovels, pails, frisbees, beach balls and whatever goodies the kids love to play with on the beach.
Large Blanket
Beyond the beach towels, sometimes you want to hit the local outdoor movie, or concert. We've got them all over the place where we live. While we're out and about, it's nice to have the huge blanket in the car, so we're not sitting on the grass with all the bugs. We also bring……
Chairs 
Since my kids play sports, I spend time sitting on the sidelines. We always have chairs that easily fold up, and come with a little holder. You know the ones! All sports parents have them.
Snacks
You have to have snacks. Obviously, none that need refrigeration. There's plenty of snacks that don't need a fridge, and can handle being in a car. You can probably tell, we're not all about eating just organic foods. We adapt, because sometimes we just want a snack and there's nothing around!
Wet Wipes
Kids, and adults, spill. I'm notorious for dropping plenty of things:
all over myself
one of the kids
on my car seat
Having me as a mother, it's no wonder my kids spill. Sometimes, foods and beverages end up it odd places. We always have Wet Wipes for spills, as well as, quick hand cleanings. However, each week, I swap them out so we always have WET Wet Wipes.
Hand Sanitizer
I prefer not using hand sanitizers, we prefer using actual soap and water to wash up. However, my kids touch everything. Sometimes, if they want a snack whilst stuck in traffic it's a good idea to throw sanitizer at them before they jam their disgusting fingers into the snacks. Of course, after jamming them into the snacks, those gross fingers end up in their mouths. I shutter at the thought of it. Especially since my son insists on touching every damn surface in every public place we go, no matter what.
A large travel bag
Travel bags with lots of versatility are a must when traveling, and if they're roomy and large without being overly heavy – even better. Sometimes the best travel bags are ones that can switch up how you can carry them.
Love learning more about travel topics? We have a newsletter dedicated to sharing travel-only content.