Once Disney Social Media Moms Celebration came to a close on Mother's Day, our family headed back to our room so we could check-out of the beautiful, luxurious Disney's Yacht Club Resort. Fear not! It's not the end of our Disney World adventure! Our family spent days enjoying our park hopper passes, and we made the most of it. Who knew when we could be back in Disney, right?
Disney Social Media Moms Celebration ends
After accepting the #DisneySMMC invitation, I decided to hunt for another hotel to continue our stay for a few extra days. Disney provided our entire family with park hopper passes for seven days. Honestly, I didn't know when our little family would be able to enjoy such a fantastic experience again. As luck would have it, there was a Spring Sale happening at almost every resort. I scored three nights for $109.00 per night. Where? Well, at Disney's Pop Century Resort.
Why switch hotels in the middle of a trip to Disney World?
Disney's Yacht Club is an amazing place to stay. The pool, and the views are spectacular. However, our budget to extend the trip, didn't include the higher prices at Disney's Yacht Club. Saving on the hotel was important, because airfare was a bit expensive to get all four of us down to Orlando. Switching hotels in the middle of our vacation made sense for us:
Time in the room is minimal while at Disney, so the smaller room didn't phase any of us
Three pools, with the Bowling Pin shaped pool close to our room in the 1950s section of the resort. Give my kids a pool to swim in, and they're happy. Give my kids THREE pools at one resort, and they wiggle in excitement. Puppy dogs wagging their tails.
Moving from one hotel to another was an easy process
Switching hotels is easy at Disney
While at Disney's Yacht Club we stopped at the check-in desk to ask how best to move from one hotel to the other. A fellow Disney Social Media Moms attendee suggested a cab ride. It's easier when you've got tons of snacks, purchased at Garden Grocer, to transport, and not just a couple of pieces of luggage. An added bonus? You don't have to wait for your luggage to arrive in your new room, which takes a few hours.
Right outside the entrance to Disney's Yacht Club there's a stand where you can request a cab. We put our name in, let her know when we'd be back for the cab, and off we went to our room to say our final goodbyes to our view, big room, and pool. We did the last of our packing, collected our bags, and headed to the lobby. Of course, we had so much stuff, Mr. Sunflower and The Boy went back to get another load of luggage while Little Miss and I waited in the lobby.
Once we had everything, I checked out with the help of Giovani and Heba, then headed out to the taxi stand, and BOOM. The van was already waiting for us, he pulled up and we loaded everything up and were on our way to Disney's Pop Century!
Welcome to Pop Century Resort at Walt Disney World
Cast Members welcome you, just as friendly and warm at Pop Century, as they do at every other resort on Disney Property. It doesn't matter if the resort is luxury, or budget-friendly.
Once at the resort, a sweet man helped with our luggage.
I wrote his name down someplace, because he went above-and-beyond for us, and now I can't find his name anywhere.
He tagged all our bags, and let us know to come to the luggage claim area after check-in.
Resort check-in: a long wait. It took a lot longer than expected, especially since we had done online check-in. However, they never sent our hotel room number, so we stood in line anyway. It was the only snag in our plan for the day.
While standing in line, the amazing guy who helped with our luggage, found us. He asked if electronics were in our bag. If so, he could lock them up, or if we preferred, we could hold onto it. I thanked him, and explained that in all the commotion, I totally forgot to let him know we had tablets in our bag. We took our bag full of tablets, and continued to wait in line.
Computers were super slow, which was the reason for the extended wait time. What can you do? Technology, it's not always there to make our lives easier. Especially when relying heavily on technology in all aspects of the check-in process.
It took a little longer than we liked, but we checked in, headed to our room and our luggage arrived within 10 minutes!
We unloaded everything into our room; organized; I snapped my photos before taking over the room!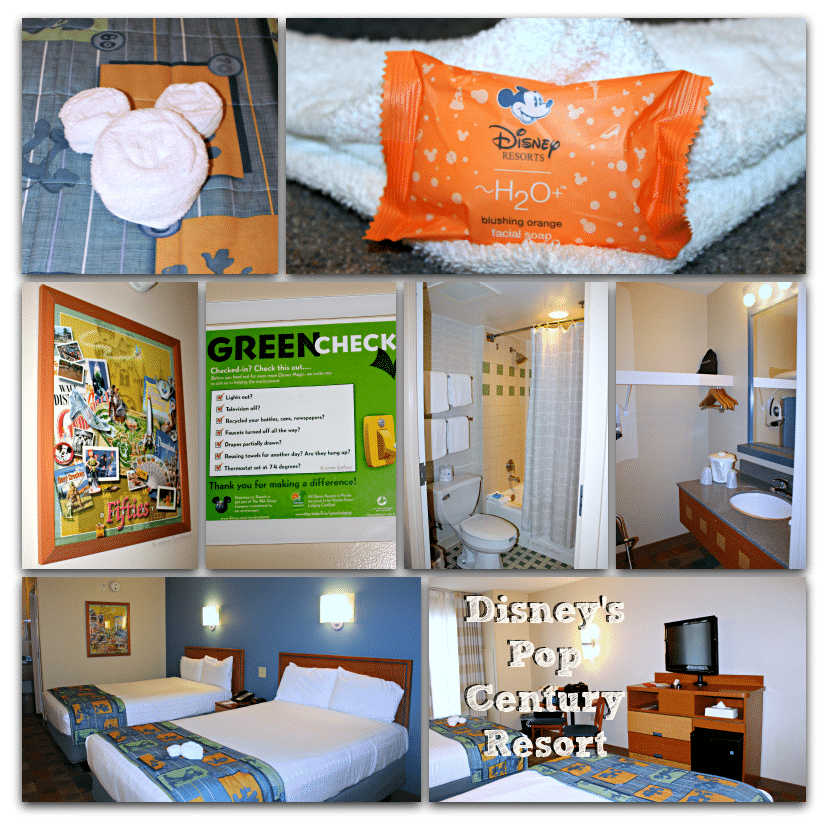 We used the buses for all our trips to the parks, and to Downtown Disney, too. The bus lines weren't normally too bad, and twice we had so many on the bus, we had to stand for our trip. It's all good, we were at Disney!
Final thoughts on Pop Century Resort
Pop Century Resort is perfect for budget-minded family in need of one room. If you've got more than two kids, or your kids are older and need their own space, it's not going to work for your family. It's just too small. The beds are double beds, not queen sized beds. Mr. Sunflower had The Boy with him, and I had Little Miss with me. As you can imagine, it was tough to get comfortable in the smaller beds.
Once the sunflowers get a little bigger, we'll probably step up to Disney's Art of Animation Resort, and do family suites. It'll just make more sense, but for now, Pop Century works for our family of four! It's clean, fairly new, and there's a lot to see all around the resort beyond the three pools. My sunflowers loved finding all the Disney characters around the hotel. Our favorites? Lady and the Tramp, of course!
Best parts of Pop Century
The water pressure. I honestly thought the toilet was going to suck me into it, that's how powerful the water pressure was at this resort. FABULOUS when you've got long hair, and you can rinse it thoroughly in the shower. Total win in my book.
Finally, the food. Pop Century has a food court, and a store. It's Everything Pop. If you're looking for trinkets to bring home to friends, the prices at Pop Century's Everything Pop are usually cheaper than the parks, and surprisingly, less expensive than Downtown Disney, too! Obviously, they don't have everything you'll see at the parks, but there's quite a bit to choose from at the store.
The food court connected to the store has shockingly decent food. I'm a burger kind of gal, and they have a build your own burger. I was in all my glory! Any time I get to combine a burger with guacamole, I'm in heaven. I've got high standards for my burgers, and this one was delicious. If you're not into burgers, there's a ton of other choices ranging from meatloaf, to Chinese, to pizza. If you can't find something at the food court, you're way too picky.
All-in-all, I'm a fan of Pop Century. Great prices, clean rooms, impressive water pressure, and even though they, too, have key locks for their in-room safes, I'm still a fan. The burger from the food court swayed me in their direction! It's all about feeding me!
The saddest thing of all is having to wait at Disney's Magical Express bus stop for the bus back to MCO…..