Eating my way through beautiful Rochester in Western New York didn't cover nearly enough food, so I plan on heading back in 2017! I got a tease of a taste, a little amuse bouche, if you will. Next trip up, I'm hitting the BBQ places, but this time definitely wet my whistle for a lot more food travel in Rochester, New York.
Eating my way through beautiful Rochester in Western New York
Jine's Restaurant
Breakfast is never a favorite of mine when I'm home. I normally skip it, which I know is terrible to do, but I just can't stomach it. Coffee is the norm, after I drink my daily cleanse drink. What can I say, it works for me. Now, if I'm traveling, my body must know it's going to need the fuel. It won't function until I feed it! Since I was at the mercy of Visit Rochester's fabulous Director of Communications & Public Relations, Rachel, I had no choice of any restaurants. Which was fine, since she's much more well versed in the ins and outs of Rochester! Her selection for our first morning together was Jine's Restaurant on Park Avenue in Rochester.
Jine's is located in the cultural and historic Park Avenue area, so it's not far from my host hotel, The Strath. Perfection! It took no time to get there, and from what I can tell, it doesn't take very long to get anywhere when in the City of Rochester. It was a Friday morning, and we had no traffic, and no issues parking. Go figure. The place was busy, but we were seated immediately. I don't remember the name of what I ordered, but it was an Omelet with all my favorite things: bacon, guacamole and cheese. It was GIGANTIC, and being the champ eater I am, I couldn't even finish the whole dang thing. Eggs tasted fresh, and it wasn't a super heavy omelet. Light, fluffy and the perfect start to the full day ahead.
Next Door by Wegman's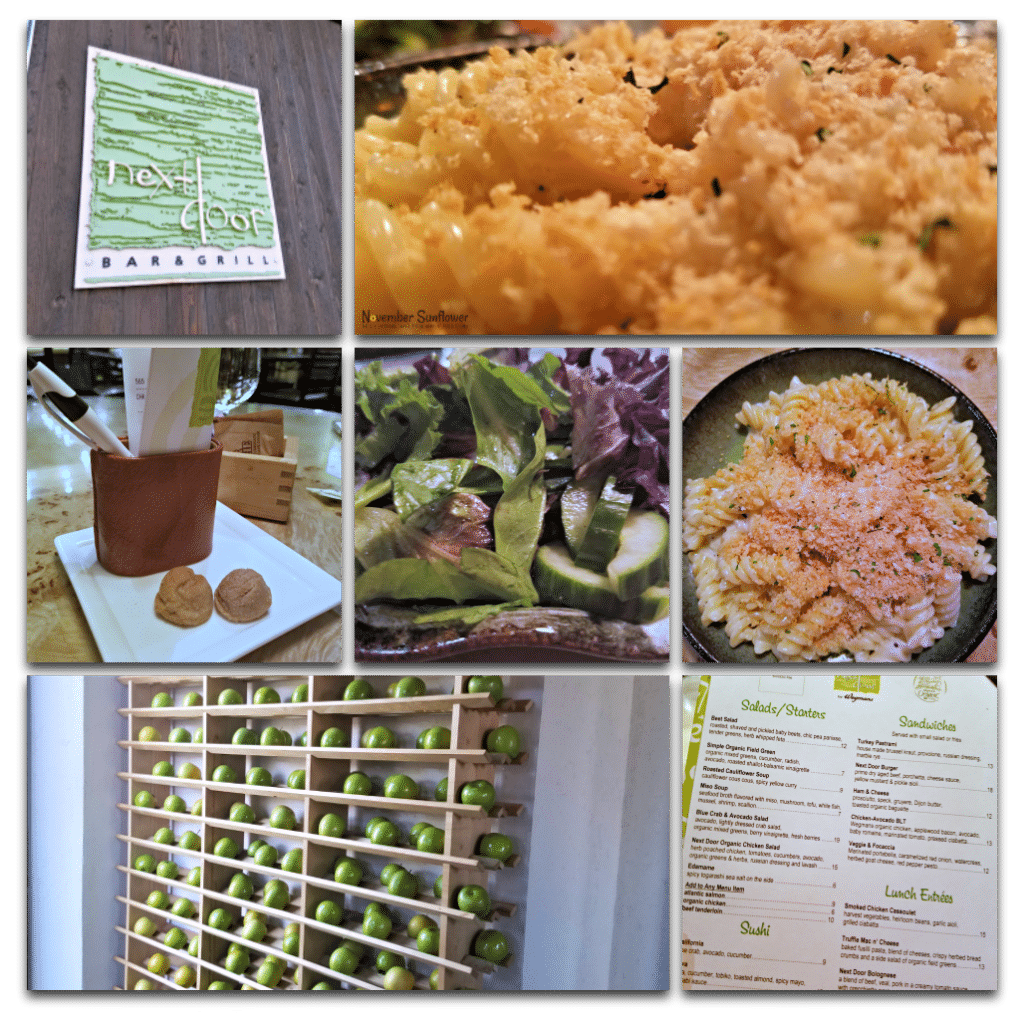 After a tour of the famous Wegman's flag ship store in Pittsford, New York, where does one go for lunch? Well, as luck would have it, right across the main road! What happens when two ladies hop in the car on a 70 degree November day in Western New York? We dart over to Next Door by Wegman's on Monroe Avenue in Pittsford to enjoy the scent of fresh green apples, and an amazing lunch.
Now, you saw up there that it was 70 degrees on a November day in Pittsford, so you'd think I'd go for something, like, a salad? Yeah, right. Once I saw Next Door at Wegman's had Truffle Mac n' Cheese, it was on like DONKEY KONG. I cannot, in good faith, pass up the chance to have anything truffle related. It didn't disappoint. Creamy, decadent and the perfect blend of cheese, fusili pasta and breadcrumbs. Every mouthful had all the elements, creating my perfect bite. It wasn't even super heavy, and came with a side salad – which I didn't touch. I was all invested in that baked mac n' cheese. GET IT, even if you share it with someone else and order up something lighter off the menu to split, too.
Service was top notch, too. Our server, Gus, was awesome. It's a definite stop for my next visit to the Rochester area.
MAX of Eastman Place
MAX of Eastman Place on Gibbs Street in Rochester caters to those who have tickets to the Rochester Philharmonic Orchestra. What's that mean? They don't dilly dally with your order. However, they never make you feel rushed. They know when the show starts, and they know you don't want to miss a minute of it, or in my case, Ward Stare.  Our meal started with cocktails, and wine for my dinner mates. Then, we heard the specials and all of us ended up ordering off the menu, because the specials were just too tempting to not take advantage of! I mean, seriously, who says no to a filet mignon with fingerling potatoes and swiss chard?
When a filet mignon doesn't need a sharp knife to cut through it, you know it's going to be a good night of food. I couldn't have asked for a finer piece of meat, and devoured it in minutes. Potatoes were lovely, and so were the greens. Personally, I just love me some meat, and if you head to MAX of Eastman Place before a performance at the RPO, go for whatever steak type deliciousness they have to offer. The chef knows how to cook a piece of steak, for sure.
Blu Wolf Bistro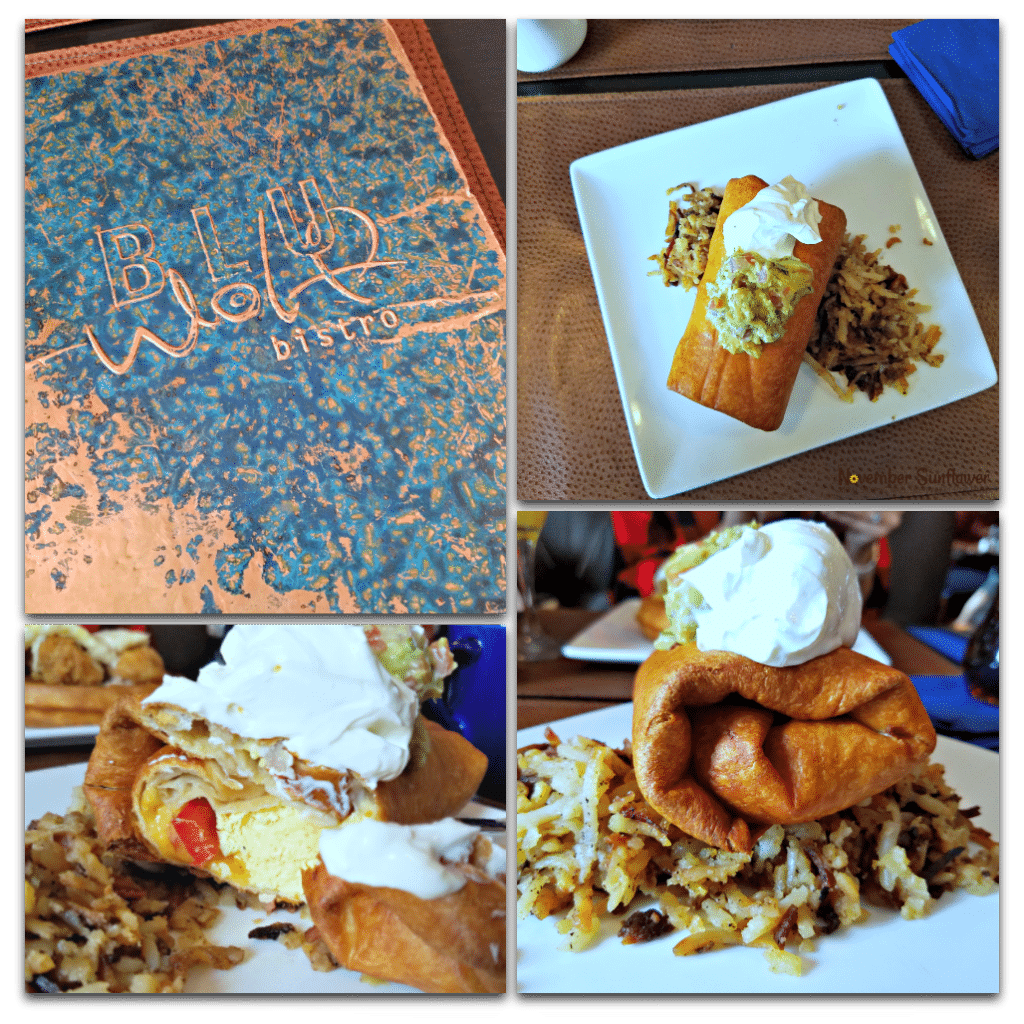 Checking out the Rochester Public Market can take it out of a girl. It's a lot of walking, so brunch with a side of "afternoon cocktail," is exactly what Blu Wolf Bistro on Park Avenue in Rochester, supplied! They have BOGO Bloody Mary's and Mimosas on Saturdays, and Sundays. I'm not a Bloody Mary girl, and normally I don't love champagne, but for some reason when it's mixed with OJ, it's awesome! Mimosa's are the civilized afternoon buzz we all can use.
As for the food? What I had is not on the menu online, but it was a chimichanga. It was packed with light, fluffy eggs, and topped with sour cream & guacamole. It was also the size of a newborn baby, no joke. Laying it on a bed of hash browns made the hash soggy. I like my hash browns with a bit of crunch. However, the fried goody in front of me was so big, I didn't need anything to come with it.
One thing I should have paid attention to? Red pepper. I hate them, and I didn't read the description closely enough to see red pepper was in the brunch item. Next time, I'll be asking for it without the red pepper, or going for a different treat. Everything tasted amazing, fresh, and big enough to feed two people. Brunch, coffee, mimosa and and iced water. Perfect to get through the busy afternoon of taking in lots of Rochester history.
The Cub Room
New York City in the City of Rochester is all you need to know about The Cub Room on S Clinton Avenue in Rochester. It's by far, my favorite vibe in a restaurant in all of Rochester. The wait staff, the food, the location, the decor – it screams of my home city of New York. No doubt. Exposed pipes, waiters who know the food from top to bottom, and bar tenders who are mixologists and know their stuff. I could have stayed there stuffing my face forever.
My cocktail of choice was The Bardot, recommended by the waiter. A waiter I would expect is a model somewhere, as most of the wait staff is extremely attractive. Now, the cocktail was a mix of Tito's Vodka, St. Germain, Prosecco and strawberry. It was not too heavy handed, and gave me the best buzz for the rest of the meal!
Appetizers at The Cub Room
I'm a big fan of bacon, and eggs, and the moment I saw the Bacon & Eggs Appetizer on the menu, I knew it was a must try. The coffee/ancho rubbed pork belly, is perfectly seasoned. I don't know how the heck they make the crispy soft boiled egg, and achieve the silky yolk, but it was divine. I even enjoyed the squash flan. It didn't taste like squash, though. It tasted more cheesy, than squashy. Whatever, it was delicious.
Of course, with two people dining, we also felt the need to go all out, and order up the Maple Brook Farms Burrata Cheese appetizer. Lord in heaven, that burrata was insanely soft, and creamy. Burrata is a ball of mozzarella on the outside, and a cream and stracciatella on the inside. You'll never have a more buttery, creamy burrata – and it tasted like heaven. I almost ordered another one. I'll be dreaming of it until my next visit to Rochester.
Main Course at The Cub Room
Obviously, since I was not watching my calories, or my gluten intake AT ALL on this trip, I had to go for the Tagliatelle Bolognese. Normally, I'm not a huge veal lover, but when it's mixed with other stuff, it's cool. It had veal, pork, pancetta, and parmesan. I'm sure there was something else in there, but I couldn't pick out anything else. Delicious. The sauce was a perfect balance of acidity and sweet. Salt was spot on, and I loved it up big time. I came close to licking the bowl, but controlled myself, for once.
Dessert at The Cub Room
Finishing off the night, my dining companion insisted I have the Black Button Distillery Bourbon Cream, and made sure we got the Bourbon Glazed "Manhattan" Donuts with Strawberry/Rose Vermouth Jam. The bourbon cream outdoes anything you get in a bottle during the holiday seasons, if you know what I mean. I won't name any names, but you know what I'm talking about. It was the perfect compliment to the bourbon glazed donuts. Which, after a big meal, we sent some of those home to a certain husband who had lent out his wife for the weekend, as my full time guide!
Whatever you do, plan for a meal at The Cub Room. Trust me, you'll fall in love as soon as you walk through the doors!
Horizons Restaurant
Horizons Restaurant at Woodcliff Hotel & Spa in Fairport offers a Brunch Buffet with fresh fruits, cereals, yogurt, oatmeal, croissants, bagels and classics like omelets. After a relaxing massage at the spa, or perhaps a lovely pedicure and manicure combo, a breakfast buffet is the way to go at Horizons Restaurant. The spread has more options than most buffets I've come across in all my years of traveling. Hot options; cold options; lunch options; breakfast options; and for those that want just some sweets to charge up, they've got those, too.
Go for the fresh made omelets, and perhaps the bacon and sausage. Those were the favorites at our table, and some cream puffs, with an eclair, to finish off the meal. Definitely take advantage of the buy one, get one mimosa action, too! The views are spectacular, even on an overcast and snowy day, like the one I experienced on my final day of Rochester fun.
Man, I cannot wait to head back to hit up a few of the same places, and experience new ones! Rochester knows food, and knows it well.
Plan your trip to Rochester with a little help from my posts: