Historic Owego, New York is basically a perfect weekend road trip for couples, or friends, wishing to get away from a chaotic workweek. It's the perfect setting for a ladies weekend getaway, or a couple's romantic trip. I'm someone who prefers local New York locations for weekend road trips. Since New York is a fairly popular destination, there's the same hum-drum people ALWAYS visit. However, if you're lucky, you find "unique" areas to explore once in a while. I have to say, Historic Owego is most definitely unique.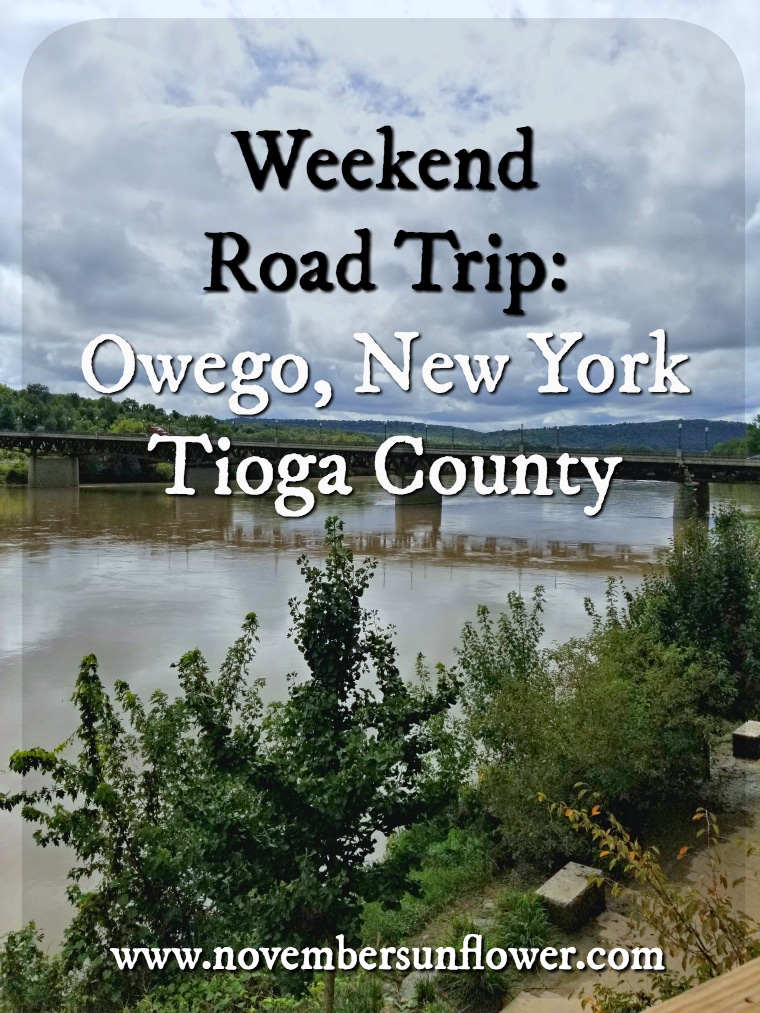 Where is Historic Owego?
Simple answer: it's in New York. It's approximately a four hour road trip from Long Island, even less from Manhattan. Nestled next to the Susquehanna River in Tioga County, it's a town where everyone knows each other. However, the small Town of Owego is also rich in history and filled with some of the friendliest folks you'll ever meet. Plus, the food and drinks offered at local joints rivals any big city's restaurants, and pubs. Plus, there's a Bed & Breakfast to die for, and so much to see, and do!
Belva Lockwood Inn
Ike and Julie Loveless, historic Owego residents, bought the former Female Seminary run by Belva Lockwood, and are transforming the historic property into a beautiful Bed & Breakfast. If all goes as planned, visitors to the area can enjoy staying at the former home of an accomplished lawyer, as well as the first woman who ran for President (twice). Belva Lockwood Inn opens before the end of 2018, and I cannot wait to stay there once it opens.
If you're interested, there's a Belva Lockwood Inn special offer for those interested in being one of the first guests at the property. A hundred dollar voucher!
The Cellar Restaurant & Bar on the River
When in Owego, if you're interested in great food, and drinks – make sure to schedule a visit to The Cellar Restaurant & Bar on the River. There's a smoker right outside, on the sidewalk. WHAT????!!!!  Yep. Smoked meat, that's what's up. Personally, I love a family-owned and family-operated restaurant. If feels like home when you're away, yet different enough so you know you're enjoying a fantastic weekend getaway.
However, it doesn't stop with smoked meats. Want great beer? You're covered. According to multiple beer drinkers, The Cellar has plenty of great beers. Enjoy amazing cocktails? I know I do, and Nate, one of the owner's sons, has definitely perfected the fine art of cocktail mixing.
Owego River Walk
Beautifully landscaped, the Owego Riverwalk's paved path along the bank of the Susquehanna River connects Draper and Ahwaga Parks. Plenty of locals enjoy walking the path on a gorgeous day, and happily greet newcomers, like me, as everyone enjoys the scenic views!
Definitely break out your camera, and hell, if you're into the whole fishing thing, have at it. Carry your fishing pole down to the pathway, or if you prefer, bird-watch. Not into any of those outdoor activities, not a problem. Pop your earbuds in your ears, tune out the world, and enjoy all the beauty along the river.
Tioga Downs Casino Resort
I'm not a gambler. Basically, I haven't the luck required to win big. Actually, I don't even win a little. However, I enjoy visiting casinos. Especially since most have amazing entertainment, great restaurants, and spas. Ladies, don't ever discount a casino if you're not a gambler. There's plenty of things to do with your girlfriends, or your kids!
Tioga Downs Casino Resort offers amazing family-friendly events throughout the seasons, including a winter wonderland event in December. There's not only an outdoor pool with a slide, but also an indoor salt water pool. Plus, an arcade. As for the ladies for a girlfriend's getaway: AgeLess SPA, and great restaurants like P.J. Clarke's! I know there are ladies out there who love "the golf." There's golf, too. When the fun stops, and it's time to rest… beautiful rooms await guests.