Disclaimer: Compensation and products for review were provided by Hickory Farms via MomTrends. I received a free sample of the product for the purpose of this review and to facilitate a giveaway. The opinions expressed herein are those of the author and are not indicative of the opinions of Hickory Farms.
Growing up, did you have holiday traditions with Hickory Farms? I remember meats, and cheeses, on the table at family gatherings. We celebrated Thanksgiving, Christmas Eve, and Christmas Day with lots of food. A classic all over the United States, Hickory Farms is 60 years old. I bet there isn't anyone who hasn't heard of Hickory Farms, and has a "memory" with Hickory Farms woven into it.
Hickory Farms helps continue family traditions or start new ones
Holidays are about traditions, at least they are in my family. My kids already know Thanksgiving we go to Nana's to celebrate with family. When Christmas Eve comes, they know we head to my sister's house to spend the evening with cousins, uncles, aunts, grandparents, and even their Nana-Nana (a.k.a. great grandmother.) We eat, we laugh, we give gifts, and we receive gifts. Our entire family centers every celebration around food, so of course, the start of any celebration means Hickory Farms!
Hickory Farms meats, and cheeses, deliciously smoked to perfection, make our holidays brighter. My daughter LOVES their Turkey Summer Sausage. After she's done, I love that she emits this smoked turkey scented breath. I'm a huge fan of the Beef Summer Sausage, it's got the little "kick" to it that I love.
Every, and all, cheese are a huge hit with me, and The Boy. I can hear the smoked Gouda calling to me……but, I have to stay strong for the holidays. I can't break it out just yet…..I've already opened up the turkey summer and beef summer sausages, plus the Creamy Swiss blend cheese. I have to save the cheddar, Gouda and the final beef summer sausage for Thanksgiving. RATS!
Holiday traditions with Hickory Farms
Hickory Farms embraces traditions, and passing down those traditions is why it's thrived for more than 60 years. However, the quality of Hickory Farms isn't the only reason it's so great, but also the love they have for creating new traditions for families. There's so many amazing products on HickoryFarms.com. If you like wine, there's a ton of products to check out that pair well with wine. Just want some nuts, you can get just nuts.
As Hickory Farms has grown over the last 60+ years, they have listened to what families want in their gift baskets. They even have over 700 Holiday Market stores, and kiosks, across North America for people to shop for their favorite items. If you can't find them at your favorite retail stores, or in the kiosks, no problem. Head to their website, HickoryFarms.com – you're guaranteed to find anything you could want from Hickory Farms.
Even better? I get to host a Giveaway!
Holiday Traditions with Hickory Farms Giveaway
*****GIVEAWAY HAS ENDED******
Win a "Gift Basket" with some of the same products I received in my gift basket: Turkey Summer Sausage, Beef Summer Sausages, Creamy Swiss, Smoked Gouda, and more!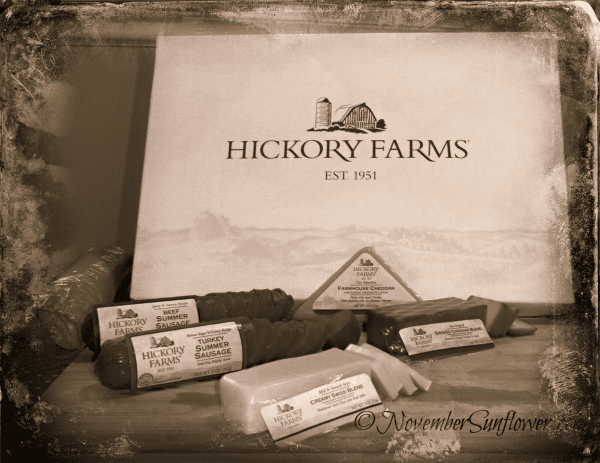 How to Enter
Super simple to enter. Just visit HickoryFarms.com and click on the FAVORITES tab. Search through the FAVORITES section, and tell me which one is your favorite of the FAVORITES. Yup, that's it. Just come back here, leave a comment letting me know what your favorite of the FAVORITES is on the HickoryFarms.com website. (I moderate all comments, so don't be alarmed if your comment doesn't show up immediately.)
RULES
Must be 18+ years of age
MUST live in the continental United States
If you are the winner, you MUST respond to the announcement I email to you within 48 hours to collect your prize. After 48 hours I will choose a new winner, and the original winner will forfeit the prize.
****November Sunflower is not responsible for sending this winning prize to you. The brand will be mailing it to you. Once I give your information to the brand, the brand will fulfill the order.
Deadline: Friday, November 29, 2013 at 11:59 P.M. Eastern Time
Winner will be chosen using the WordPress Plug in "And the Winner is…." The winner will be notified by Monday, December 2, 2013. Winner has 48 hours to respond in order to claim the prize, after 48 hours, a new winner will be chosen. I am required to announce the winner by December 5th, and to submit the winner's information to the brand by December 9th. I have no WIGGLE ROOM on any of this, so if you're the winner, please respond A.S.A.P.