Mott's fruit snacks are actually fruit FLAVORED snacks. I'm not a huge fan of my kids loving fruit flavored snacks. I prefer them eating real fruits and veggies. In our home we're doing our best to remove most foods that come in "a box."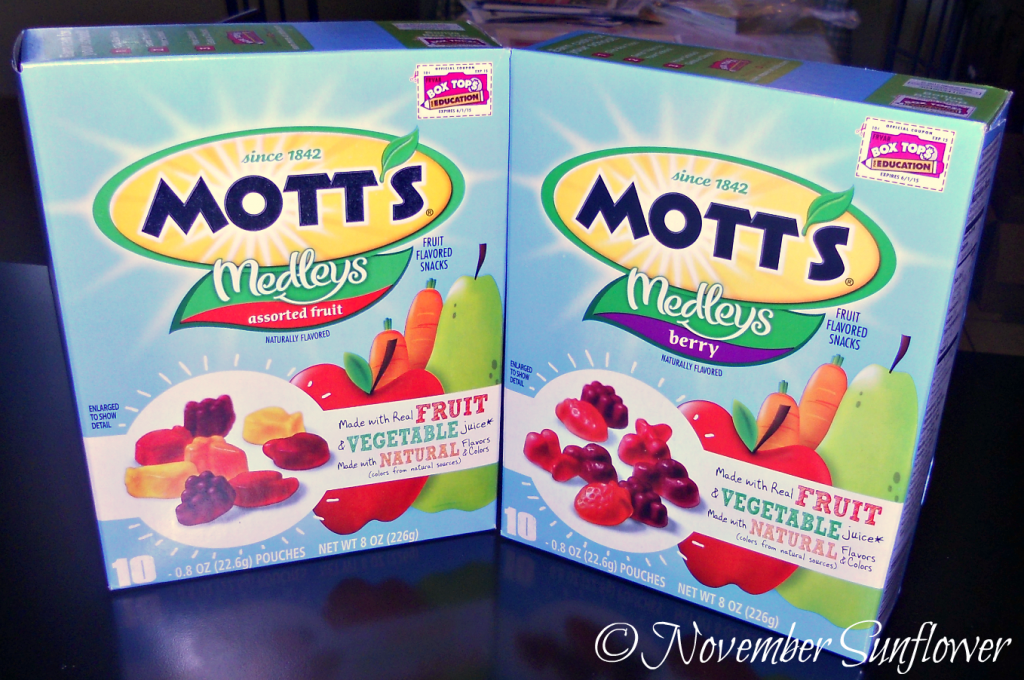 Mott's fruit snacks
Sampling Mott's® Medleys Fruit Flavored Snacks in Assorted Fruit and in Berry was a treat for the kids. To be honest, limiting my children's non-whole food snacks isn't easy, and if I restrict every little thing, they end up going crazy when visiting other people's homes or have class parties. So, I just try to find the best of the evil products, and limit consumption as best as I can. And let's just say, my kids LOVE the Mott's Medleys Fruit Flavored Snacks. As The Boy said it best "these are YUMMY. Thanks Mommy for our new fruit snacks." Me? I figure it's not worth the battle, if I want to win the war on nutrition. Having fruit flavored treats once a day isn't going to hurt them beyond recognition.
The good
They're made with real fruit and vegetable juices.
They don't have trans fats, or anything hydrogenated.
There's NO Red 40, Yellow 5, or Blue 1 coloring.
Not so good
They've got corn syrup.
Also, modified corn starch.
Plus, they're packing 12 grams of sugar.
There's also 30 mg of sodium.
Not a lick of protein in them.
The final verdict about Mott's Fruit Snacks
When push comes to shove, for us, the sodium is a better option than those colorings. However, everyone has to decide what's best for their family, and I like these for the kids as a "treat" when they are bugging me for candy. At least I know there's some nutrition in these, rather than a piece of candy, or a lollipop. Plus, Mott's is using a natural source for their colorings.
My best advice, beyond the kids loving the way they taste and asking me to have them every day, is to try it for yourself. In this instance, I truly believe you've got to see if they are right for your family on your own.
As far as taste, the kids love these. Big score. I asked if they minded they weren't in different "Disney" shapes, and they said "nope, I like the shapes they come in just fine."
So there you have it. Approved for consumption by Little Miss, age 5 and a half, and The Boy, age 3 and a half. These will become a fixture in our home, and since they are easy to throw into our bag when we travel around town this summer, they'll always be super close to munch on!
What flavor are you guys most excited about trying out with your coupon? The assorted are our favorites around here.
Disclaimer: The product, gift pack, information, and additional sample have all been provided by Mott's® through MyBlogSpark.
Interested in learning more about Health and Nutrition from a mother who knows how difficult it is to battle the junk foods aimed at kids, teens, and us parents, too? Sign up for NovemberSunflower.com's Health & Nutrition emails. You'll get a free download you'll love, and plenty more throughout the year.