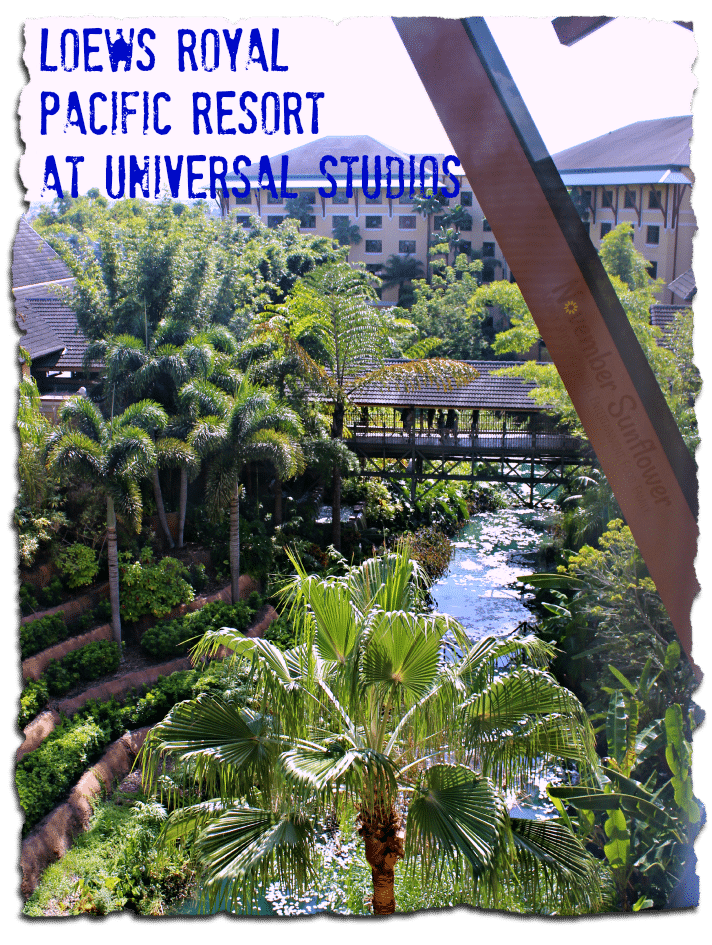 Orlando doesn't just have one "family vacation destination." Don't get me wrong, we all know what Orlando, Florida, is known for. If you don't, you might need to fill up on some of my family travel articles. Right now, though, I'm sharing another  family destination in Orlando. I'm sure everyone out there is familiar with Universal Studios Resort! Mama Sunflower and her myriad of sunflowers had the chance to enjoy all that Universal Studios has to offer while we staying at the Loews Royal Pacific Resort at Universal Studios. It was all a part of attending Family Forward in 2015.
First impressions of Loews Royal Pacific Resort at Universal Studios
Walking into Loews Royal Pacific Resort is like walking into a jungle. Trees, and huge plants, are everywhere. The walkway you take to get into the resort looks like a cool hut, made out of nature. People have flowered shirts on as they greet you. It's right out of a movie. No joke. Then, you get to the front desk.
Checking in at Loews Royal Pacific
Here's where my New York might start to show. As much as I love getting to a resort to check into my room, I equally despise being ignored by the front desk staff. Five people were all there, looking down at their computers, and not one of them looked up to make eye contact with me. Or the person in front of me. Perhaps it's me, but when I check in at any hotel, the lines usually move quickly. Especially if only TWO PEOPLE are standing on the line at the front desk.
I asked the woman in front of me "how long have you been waiting here?" She sighed and answered "fifteen minutes, and not one of them has looked up to acknowledge me." Well, that's not how I roll. I called out "hey there, do you guys do the check-ins here, or is that another area?" All five looked up, finally acknowledged the TWO of us on the line, and one of them asked to assist the next person.
My family flew in from New York. After spending about a half an hour in a shuttle to get to the resort, being met with a lovely hotel entrance, was outstanding. Much needed. HOWEVER, a more "welcoming" welcome at the front desk would be icing on the cake. Having to get the attention of five people at the check-in desk isn't a good sign of things to come.
Front desk at Loews Royal Pacific
Let's say this: training is needed for the check-in desk at Loews Royal Pacific.
Every time I went to the front desk, it was either empty, or a couple of staff members chatting together, ignoring guests at the desk.
If it wasn't for Stephanie at the Concierge desk, and the amazing staff at the luggage area, I'd be disappointed with the resort.
My only option: not interacting with the front desk staff, if at all possible.
Checking out from Universal Studios Loews Royal Pacific
Checking out was a bit of a task, too.
I never received the emailed bill, so I couldn't check it over before checking out.
Unfortunately, my only course of action: asking the front desk to print it out so I could see it, before I handed over my payment method.
Good thing I did: there was a charge to my room that wasn't ours. Nope, sorry, we didn't eat breakfast at the hotel's restaurant. We were at CityWalk enjoying some Cinnabons that morning.
The girl handling my check-out disappeared for at least 15 minutes. I flagged down another girl to track the original girl down, because she was making me late for my car service getting us to the airport.
Another 10 minutes later, she finally came back out, and let me know she couldn't even find the receipt for this, and of course, they'd take the charge off of my bill.
Really? Wow. If you had found a receipt it would have been a different story? I didn't have time to ask what would have happened, since I needed to get to the car. She adjusted the bill, and I handed over my card to be charged with the corrected amount. No more dealing with the front desk!
The Loews Royal Pacific Resort room
Once checked in, we headed to our newly renovated room. It was clean, gorgeous and had the most beautiful view out the front of the resort. We could see the rides from our room! Well, the ones that rose above the tree tops, of course!


Perks of staying at Loews Royal Pacific Resort
First.
The awesome service you get if you're not dealing with the front desk during your stay. Every other area of the hotel is top notch. Luggage room staff, concierge, the guys that answer questions about the parks, or renting a car, and of course, the staff in general. Servers around the pool area, and even the lifeguards, are all great and beyond helpful.
Second.
Easy access to all things Universal. Loews Royal Pacific is close enough to both parks, and CityWalk, you can walk to all of them. Don't want to walk, not a problem! Pick up the little water taxis. They run consistently, and get you to a central location at CityWalk, making it an easy walk to wherever you are heading to. A shuttle service is also available to get you to the parks, and CityWalk.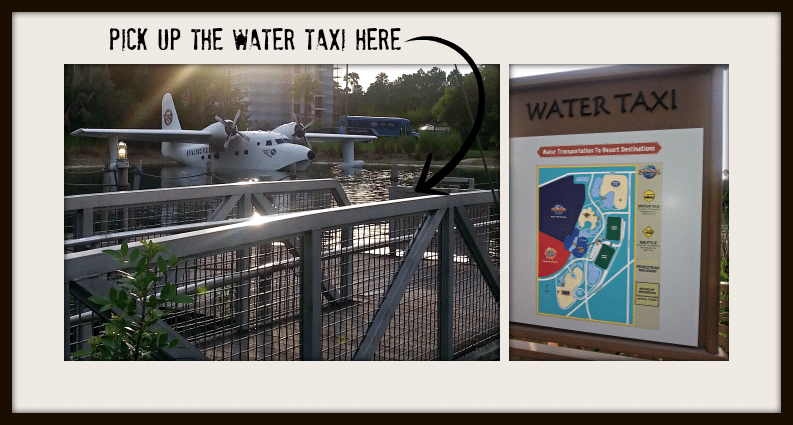 If you need to get to another hotel, you take the water taxi from Loews Royal Pacific to CityWalk, then pick up the boat heading to one of the other hotels. There's also cars right outside the entrance of the hotel that can take you to the other hotels, you just have to tip those guys for the service.
Third
Universal Express Unlimited ride access passes. You get the passes for no extra charge when staying at one of the three luxury hotels: Hard Rock Hotel, Loews Portofino Bay Hotel, or of course, Loews Royal Pacific. If you stay anywhere else, even Loews Cabana Bay Beach Resort, the Universal Express Unlimited passes cost $89 on top of the ticket price to get into the parks.
Fourth
early admission to the Wizarding World of Harry Potter. Honestly, we aren't Harry Potter fans. The kids aren't into it, nor are me and Mr. Sunflower. However, this is a HUGE benefit for those who love Harry Potter. Definitely a fantastic benefit, when you realize just how long the lines get. My gosh, Harry Potter areas get so damn crowded!
BIG TIME HINT: The Express access doesn't work on the most popular Harry Potter rides, so getting to the park early makes sense!
Finally
The pool. It's beautiful, and there's a little spray area the kids love. Other pools may have slides, a lazy river, and chilled towels you can use by the pool. However, the quiet setting of the Royal Pacific Resort worked well for our family, and so did the little spray area. I love the poolside service the grill offered up – food, drinks, and I never had to leave my chair!
We'll definitely be going back! Just have to make my millions, first!
Where do you stay when visiting the Orlando area? What's your favorite Universal Studios Resort? Let me know below! But before you go, check out these KILLER VIEWS!