If you've had the pleasure of frequenting a self-service frozen yogurt and ice cream store, you'll fall in love with Cool Monkey immediately! It's a Long Island gem, and it only opened this past July of 2012. There's many reasons why I love this place, even though there are MILLION self-serve frozen yogurt places popping up all over the country, as well as Long Island!
First of all, the place is NOT a franchise. It's owned, and operated, by a LONG ISLAND family. Actually, it's a husband and wife team, who happen to have major Long Island roots! They were born, raised, and live on Long Island. They've chosen to raise their kids on this fantastic Island! It's all about supporting our local businesses, especially those who aren't part of a huge franchise, right?!!!!
Second, they have great prices! It's 49 cents per ounce. AWESOME. He's not a franchise, but he can keep his pricing very competitive, not an easy thing to do on Long Island.
Third, there's a loyalty program. When you are in the store, make sure to ask for a loyalty card. You will be able to earn up to $3.00 off a frozen dessert cup after you've purchased NINE frozen dessert cups valued at $3.00, or more. SWEET. Each time you make a qualifying purchase, they will stamp your card. Just remember to bring the card each time you visit Cool Monkey.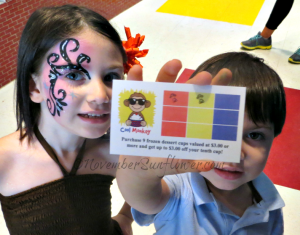 Over the weekend they had their Grand Opening event. The event was full of fun, with tattoos, face painting, and lots of coupons!!! We were able to sample a few flavors before we chose what we wanted to buy. There's flavors like Cake Batter, Dulce de Leche, Pistachio, Alpine Vanilla, Island Banana, Peanut Butter, and more. They even have chocolate, and vanilla, soft-serve ice cream! Plus, sugar-free options. Everyone wins!
The toppings are insane. I was overwhelmed with the choices…..they've got your standard sprinkles, chocolate EVERYTHING, but they also have cheesecake bites, brownie bites, rainbow cookies, chocolate covered marshmallows, and fresh strawberries, and so many more.
Oh and the syrups…you've got your standard Hershey's (regular and sugar free), Nutella, Ghiradelli Chocolate AND White Chocolate, and plenty more! You could get lost in all the choices to put on top of your frozen yogurt, ice cream, or sugar free frozen dessert options, too!
Cool Monkey is like most self-serve places, once you've gotten your cup, filled it up, created your crazy masterpiece of a frozen dessert – you slide yourself over to the register to weigh it out, you pay, grab your spoon, if you've got the loyalty card, that gets stamped, and you enjoy your treat. You can stay for a bit, sit at the bar stools, tables, or comfy lounge chairs, while you watch some TV. Or you can head out and enjoy it on your way home, or to wherever your next stop is.
There's also a back room for parties! It's a decent size, has lots of color, and who wouldn't love a party where you get to have your friends make their own desserts???!!!
It's the perfect place for a treat after you're finished with dinner at Red Lobster, or Cabo Fresh, or the Italian place on the corner. Heck, done shopping at Marshall's? Head on over for a little "good shopping trip" reward. Need a bribe to get the kids to behave while you're food shopping at Waldbaum's, promise them a stop at Cool Monkey for their good behavior!
The Boy wants to share where Cool Monkey is, their number, and how you can reach them: