Summers can make even the most patient of moms want to sell their kids online. Hot, sticky summer weather can push a normally sane woman with kids, to a padded room at the nearest psych ward. Work all day, come home to a house without air conditioning in Southern California? Sondra from Happy Healthy Hip Parenting lives that summer scenario. Are you a mom of three super active kids? Yeah, Melodi from Family Review Guide knows all about it. Perhaps, you're like me! You have a kid break his clavicle, and obliterate all your summer plans, with a fall off of a chair? How do we recharge after the kids go back to school? We do it TOGETHER in Southern California!
Why Moms need to recharge after kids go back to school
Reason number one
Have you ever experienced a summer without Air Conditioning with two kids? Even worse: working in an air conditioned office all day, then return home to a house so hot you think you're on the surface of the sun. Plus, two kids who want to climb all over you. It's not a pretty scenario. Two months of it, and a mom's going to lose her patience, as well as her mind.
Reason number two
Kid breaks his clavicle at school during the last full day of school, and manages to destroy an entire summer of fun:
finally teaching him how to ride a bike
tennis camp with his sister
golf lessons with his sister
jiu jitsu
trampoline park fun
Mom's summer reduced to a lot of indoor activities, and swimming. Plus, dragging the broken child to all the activities he would've been doing with his sister. Now, instead, he sat with his tablet while he waited.
How do we recharge?
Summer isn't usually difficult, but this year, it was downright brutal for some of us. What are moms to do once the brats kids go back to school?
RECHARGE with girlfriends who had rough summers with their kids, too! To celebrate back to school, I grabbed my favorite SoCal ladies from, and headed to Disneyland, along with Disney's California Adventure, for a day at Disney without the kids. Us moms needed to recharge our batteries, and get the back to school season started with fresh outlooks! The best part of the trip? Spending it at the Anaheim Marriott, within walking distance to Disneyland, Disney California Adventure and Downtown Disney. It's also within walking distance of Anaheim Garden Walk, too.
Anaheim Marriott steps away from Disneyland
After flying for over five hours to get to California, the last thing anyone wants to deal with is renting a car to get around the Anaheim area. Personally, I just want to hang out, relax, and not worry about a car! Anaheim has a lot of hotels super close to Disneyland. It's hard to figure out where to stay, especially if you're not familiar with the area. I'm here to help out my community! Anaheim Marriott hits so many things on my checklist for traveling, it's hard not to fall in love with the hotel.
My big must haves when it comes to a hotel, whether I'm traveling with my kids, or solo:
within walking distance of all activities
a pool (a hot tub is a bonus)
a restaurant with GOOD FOOD
comfortable beds
large suites (because as the kids get older, they need their own space)
Luckily, Anaheim Marriott has all of these, plus so much more!
When visiting Anaheim, California
Ladies. All MY ladies. When you're in Anaheim, without the kids, Disney Parks are a whole lot of fun! No whining children at the park. You go at a faster pace. Plus, you get to enjoy the foods you want to eat, not quick service fried everything. However, it's still hot and tiring, so after all that #MomsDisneyDay fun, you've got to have a place to enjoy a great dinner, some adult libations, and of course, a killer pool. Heck, a hot tub for all those sore bones works really well, too.
After a full day at the parks, it's nice to have just a short walk back to the Anaheim Marriott. If you truly don't want to walk it, there's a great transportation service, Anaheim Resort Transit (ART,) but it's $5 per day, per person. Grab a ticket at the front desk of the hotel, or the gift shop, before you head out to the parks, so you know you'll have it after a full day of walking at the parks!
Personally, it's not going to kill anyone to walk back to Anaheim Marriott. The worst part is waiting for the red lights, so you can walk. If those weren't there, it would take half the time to walk around Anaheim. Believe it.
Pool time at the Anaheim Marriott
In any event, once you've returned to the hotel, head up to your room, throw your swimsuit on, and enjoy a couple of hours in the pool, or the hot tub. The pool is open until 10pm, which is kind of early if you ask me. I like a hotel to keep the pool open until 11pm. It's a gorgeous pool. After it closes, there's seating around the pool. Lots of comfy lounger couches, and chairs. Little fire tables light up the area. It's rather soothing.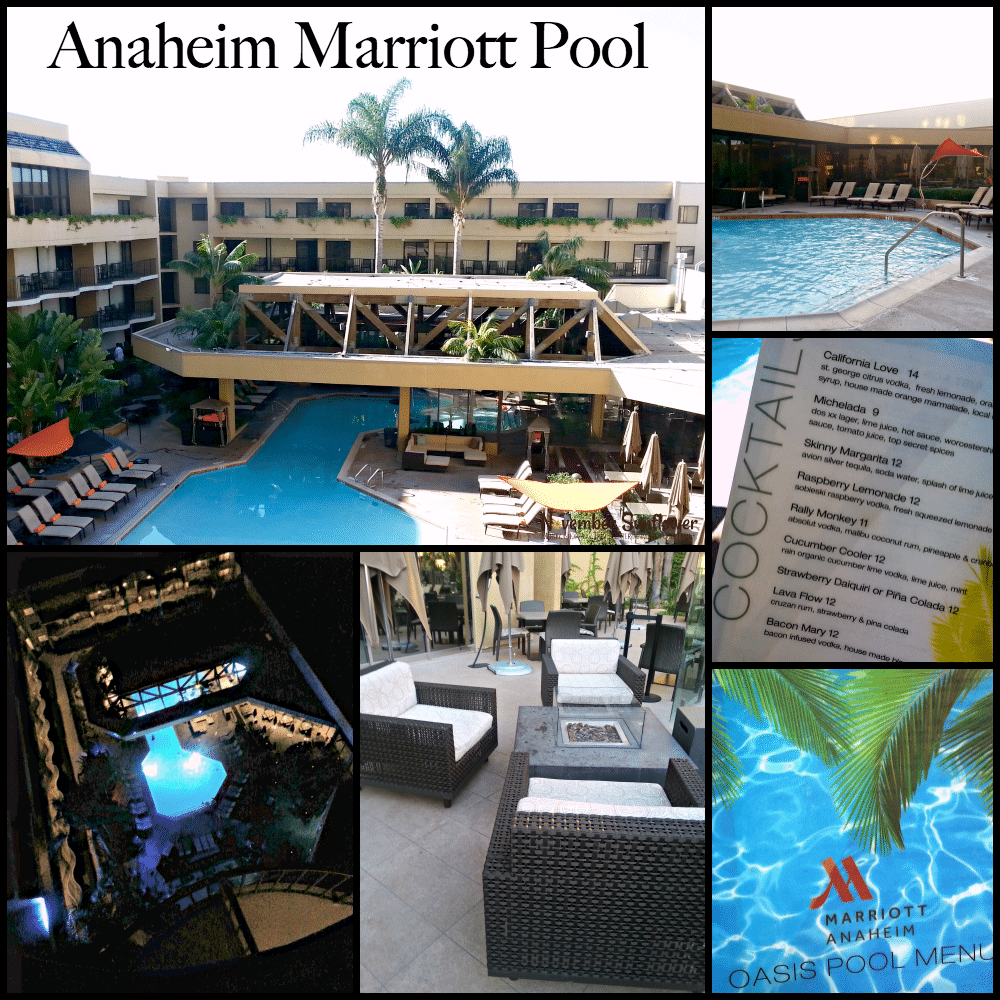 nFuse
Once pool time is over, food is always a priority. nFuse right at the hotel has amazingly delicious food, and service. No need to walk to any of the local restaurants, trust me. Drinks at the bar, dinner with drinks, and then enjoy a little time outside to enjoy another cocktail, plus the beautiful evening by the pool. It doesn't get any more spectacular, I promise. Having your girls with you makes the night go by so fast, though!
Anaheim Marriott Hospitality Suite
A killer day with friends can only end with a slumber party in your hotel room. What a hotel room we scored. It wasn't just a room, it was a two bedroom hospitality suite. Gorgeous! Balconies off of not just the bedroom, but also the hospitality suite. We overlooked the gorgeous pool, and it was breathtaking to see it all lit up. Of course, we also hit the 18th floor concierge suite, so we could enjoy complimentary dessert and look at the gorgeous city views. Relaxing doesn't even cover the feeling you get after a stay at Anaheim Marriott.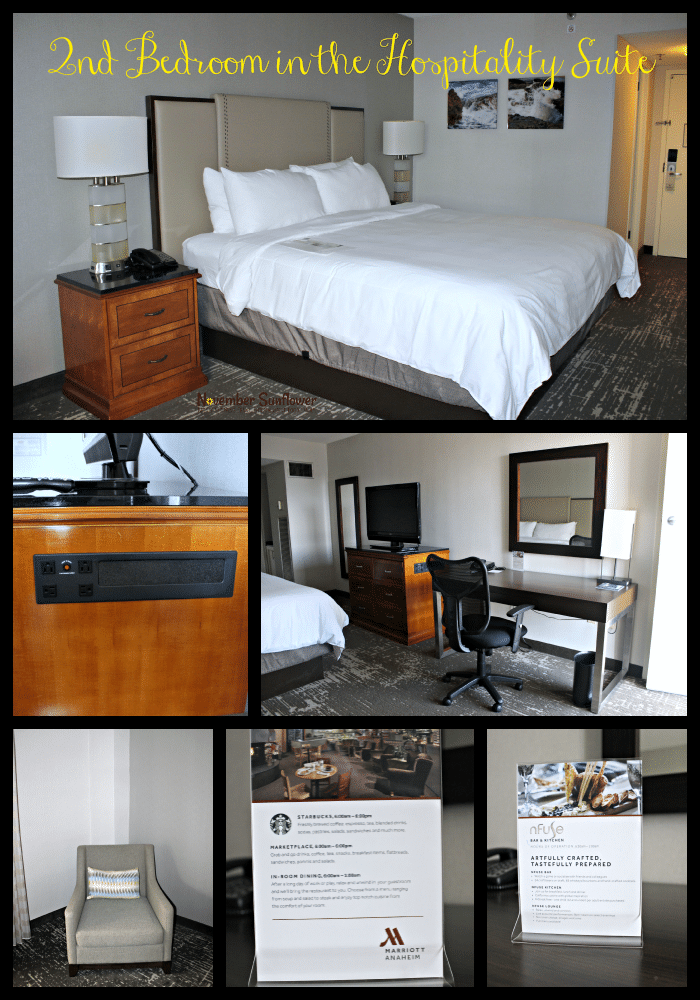 Service matters at Anaheim Marriott
Front Desk Welcome
Obvious from the moment we checked in the morning of our #MomsDisneyDay: the importance of customer service. Alicia at the front desk: a ray of sunshine. She happily set up our room much earlier than we expected. My only issue was no one explains the elevator system to people when they check into the hotel. The three of us ended up helping a few different people figure it out, because they started to head to our elevator before ever choosing their floor on the number pad outside the bank of elevators. It was rather confusing for some of the guests, but once they realized how to work it, they were excited to use the elevators!
Restaurant service
Our server, Brian, at dinner at nFuse was helpful and prompt. He apologized for a mistake on my plate, and I appreciated his attention. When I returned the following morning to get breakfast, I had another excellent server, America. She was great, and I appreciated her friendly nature, as I was dining alone and welcomed the conversation! Checking out was easy, fast and painless with Johnny and I believe Naomi. I couldn't see her entire name, since her hair was in front of her name tag.
Even the little hotel gift shop had great staff to help customers! Another bonus for this hotel? It's got a Starbucks, plus a Pizza Hut, in case you want to get quick meals, or your Starbucks fix.
Final thoughts about Marriott
If you're heading to the Anaheim area, I don't know if you'll find a better place to stay than Anaheim Marriott. Just keep in mind, you'll want to join their rewards program. If you do, you can score concierge suite entry, along with free WiFi. Can you believe they still charge for standard WiFi? It's normal to charge for the upgraded WiFi, but standard? Just crazy. However, in the lobby it was complimentary, and the lobby has plenty of areas to lounge around.
Oh, yeah, there's a gym and you can do laundry there, too. However, when I'm on vacation, those are not things I think about. I do know many others do work out, and want to be able to do laundry while away. So there you go, it's available, right there at the hotel. WHOOP, WHOOP.
Head over to learn more about the Anaheim Marriott, I know you'll be impressed by everything they offer, plus their proximity to everything fun to do in Anaheim! You'll have happy faces, just like my favorite ladies, and I had, all vacation long!