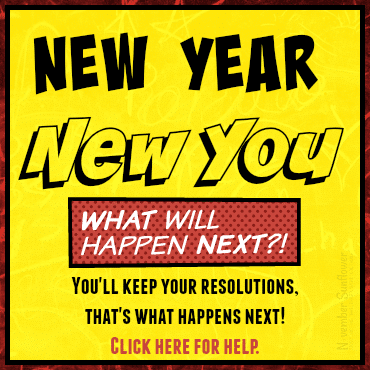 We all do it, we make the "I'm going to start eating healthier this year" resolution on January 1st. We tell ourselves after the celebrations are over, I'll start eating healthy on January 2nd. I swear. January 2nd comes, and you look around your house and get totally overwhelmed at the thought of having to cook healthier meals, buy healthier foods, and you toss out the healthy eating resolution without even a second thought. Before you even know it, you've got the package of Oreos open, and the big glass of milk by your side on the couch.
New Year, New You: Keeping the healthy eating resolution
I've got a few ideas on how all of us can keep the healthy eating resolution we promise ourselves each new year. It's a New Year, and you want a New You! A healthier you. Let's see if we can make that happen with simple suggestions, and a few of my favorite finds!
Paleo Plan – We've all heard about people eating Paleo. It's always a big topic when the new year starts up, and people want to lose weight, and get fit. However, it's not the easiest plan to follow if you're new to Paleo. It's hard to remember what you can eat, what you can't eat, and what kinds of meals you can prepare that won't screw up your Paleo lifestyle. New people need help, veterans of the Paleo way of eating need fresh ideas, and all the ones in between need a little help, too! Paleo Plan is a website that makes it easier, and as cost-effective as possible, to get the Paleo lifestyle in place. The site has all the information to get started, it also provides a great spot for recipes, and there's certified nutritionists to help you along your journey! The best part? You can sign up for the Meal Plan. It sends recipes, and shopping lists to your email on a weekly basis. A free 14-day trial allows you to check it out at no charge, and if you like it, you can sign up to continue for a cost of $9.99 per month. The plan being emailed to you means NO THINKING required. All the meals are 100 percent PALEO, and the recipes are also gluten-free, grain-free, vegetable oil-free, dairy-free and legume-free. Go and see what I'm talking about right now over at PaleoPlan.
My Diet Shopz – Paleo might not be your thing, and that's totally fine. There's plenty of other healthier eating options out there! Whatever way you want to lose weight, or eat healthier, you'll be able to find a bunch of options on My Diet Shopz website. It's filled with a broad variety of choices. Put your New Year's diet resolution into action with great tasting, nutrition rich, and low priced products from MyDietShopz – SHOP NOW! You can shop by brand, food type, and exactly what you'll need, so you can stay on track and keep that healthy eating resolution going for years to come.
Isagenix – Have you heard about Isagenix? It's a health, and wellness company. It's the way I lost 30 lbs. in about three months. It's not just something for losing weight, though. I started using it for health reasons, and it has been a life saver for me. If you're hell bent on losing weight, but also want it to be a stress-free experience, the Isagenix plan is a definite "must see to believe" product. It's backed by science, and it's powerful. I still drink my one shake a day to get all my nutrition into my body, and it's just a way of life for me at this point. Definitely check it out, and see what Isagenix can do you for you!
Don't let another year go by where the resolutions to get healthy go out the window by January 3rd. Stick with it. There's a ton of ways to make it super easy! Start with one of the three options I've shared, or find your own! The internet is filled with amazing ways to keep those healthy lifestyle resolutions part of your life FOREVER without changing your world too much!