Have you had the chance to visit Earth Divas yet? You should. It's a fantastic site to find handmade, fair-trade, natural fiber items. Their biggest sellers are in the handbag areas, but they also have hats, jewelry, and so much  more. Happy to report the hobo handbag is serving me rather way!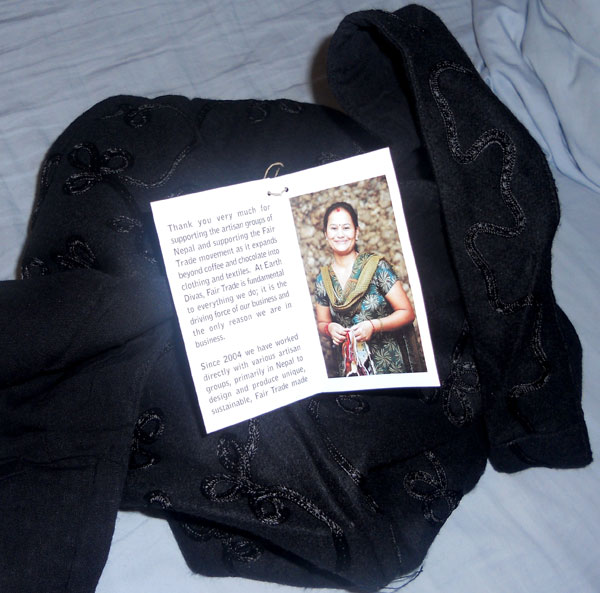 What is Fair Trade?
Before I get too far into this, let me explain what Fair Trade is.
Fair Trade:
pays fair wages
supports participatory workplaces
makes sure workplaces have environmental sustainability, all the while supplying financial and technical support
Earth Divas works directly with those who make the products being sold on the site. They explain it the best. Please visit and review about how Earth Divas works closely with the Nepal Artisans on their site.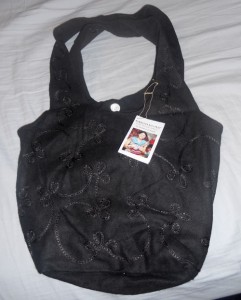 Earth Divas hobo handbag
Most Earth Diva products are $30, or less. Yes, there are some items selling for more than $30, but not a whole lot. The bulk of their products are $30, or less. The search for what to review was DIFFICULT. I saw so many great items. Especially for the kids. However, if I only got one thing for one kid, and not the other, I'd be in big trouble in my house. So, I decided, let's get something FOR ME!
I narrowed it down to a handbag, even though I'm not one to carry a purse. HOWEVER, I'm going to be heading out for a vacation this Summer, and I figured it would be a good idea to have something that can withstand the beatings of a vacation. Plus, it's always good to have a big, black bag, right? I found the perfect selection, the Hobo Bag. I hate having bags hang low, I like to be able to tuck it under my arm, but be easy to get in and out of. It looked like the perfect fit for me!
It arrived quickly, I opened it up, and instantly loved it. Of course, I did a thorough investigation, for my review! I always do.
The Good
The bag and handles are ONE PIECE. No strap will be falling off of this bad boy!
Magnetic snap. I love this, because so many totes I have, are open at the top. I put the kids' stuff in there, stop short and everything falls out all over the floor of my car.
Fits well under my arm, because I cannot stand when a bag hangs down by my hip when I'm walking. Drives me nuts. This one tucks in nice, right under my arm. But it's also easy to open up and get stuff out of.
Beautiful, truly. It's got this beautiful, stitched swirls design. It's a floral pattern, and it's rather pretty. The thread is shiny, so it stands out against the cotton felt of the bag.
Strong. I pulled on every part of this bag, it's stitching is TOP NOTCH. This thing is not going to be falling apart on me. I had my husband tugging on one end, me on the other, it didn't let me down.
Quality. Precision stitching of the lining. A little pocket allows for smaller items, such as your cell phone, for easy access.
Easily used for day, or evening. I plan on using it a lot during our cruise this Summer.
The Not-so-Good
It's one big bag, there's no separation within the bag. Just has the one, little pocket on the inside. However, you can always get one of those organizers to put in there. You know the one, The Kangaroo purse organizer you see on infomercials! It would solve the problem, for sure.
The picture on the site makes it look a bit larger. Even though I read the measurements, for some reason, when I see it on the model in the picture, it just looks bigger. But that's just camera work stuff, so it's not really a big deal. You know what you're getting, because it says it in the product info. I'm just a dipsy doodle.
Color. Though I wanted a black bag, it's not the best in the heat. But since it's cotton, it's not too bad. Thinking back, with a bag made like this, probably a good idea to do tan. My bad, not really Earth Divas fault.
The VERDICT 
Honestly, most of my issues with the bag, are kind of not even their fault. HAHA. So this bag is a big score. If they ever come out with a lighter color, I'll be all over it. However, I do think this bag will serve me nicely during my cruise. It can be used for daytime outings, along with evening outings. It's perfect for a cruise. You can grab this bag, throw your shades, lotion, a good book (or, these days, an eReader), your cell phone, perhaps a bottle of water, and you're good to go. Once poolside, you can throw your sandals in there for safe keeping. It's big enough for all of the stuff. Then, when it's dinner time, you can throw in your evening needs. Totally easy.