Our second adventure during our Family Fun Mystic trip: Ocean Beach Park. If you missed the first installment of my review, Cross Sound Ferry, you might be wondering how we got to Connecticut. Head over and see my review of the Cross Sound Ferry and come back here after you're done. Go ahead, I'll wait for you. Here's the post right here –> Cross Sound Ferry Review.
Everyone back? All on the same post? Okay, let's get to my review of Ocean Beach Park, shall we……….
Ocean Beach park provides the perfect family mini-weekend getaway
Ocean Beach park is surprisingly beautiful. I'm not a huge beach lover. Sand in places you don't want it, then finding it days after you're home from the beach. However, this year I'm trying all kinds of new things. When picking a second adventure to take during our Family Fun Mystic stay, I chose Ocean Beach Park. It's not just the beach, boardwalk and food. It has a huge pool, along with a spray park for the kids.
With all of this, you'd think there couldn't be more. You're wrong! Ocean Beach Park has miniature golf, and rides and water slides. Anyway, we arrived at the entrance. There's a fee to park and this gives you access to the beach, as well as the boardwalk. It's $18 for the day on a Saturday. If you plan on being there all day, totally worth it.
Finding our way to the gift shop
Once out of the car, we went straight to the gift shop to collect our wristbands for the rides, pool, golf and water slides. First impression: the entire place needs a big update. The building where the gift shop is located is old, and not much to look at. The staff is amazingly friendly, helpful and always smiling.
Dave, the manager of the park, was friendly. He helped get us all set up with our wristbands, then took us to the locker rooms to change into bathing suits. He let us know if we needed anything to have someone radio him. You guys won't get the exact same treatment if you go, however, all of the staff is exceptionally accommodating and was even before they knew who I was!
Locker room/Changing area
The locker room/changing area was clean, but the bathrooms weren't located in the same area as the locker room. Crazy odd. People have to walk rather far to use a bathroom. Not exactly a family friendly set up. Once found, they were clean. Of course, they were in need of updating. However, they served their purpose. Lockers can be rented for a reasonable $3.00.
Spray Park
Our first stop: the spray park. Water squirting out of the ground, spraying from the side, and dumping huge buckets from above. The kids liked it, but too many adults were getting in there and no one was telling them to get out. My son went and found the outdoor shower and created his own fun. But he's two and a half and that's how he rolls.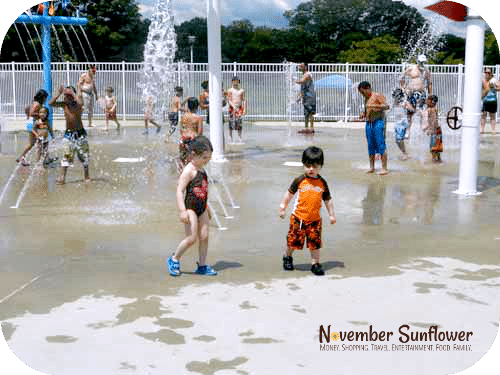 Huge pool
Our second stop: the HUGE pool. It wasn't too crowded, and three lifeguards watch over the swimmers. Chairs around the pool would be a nice touch. Some people set up their own little areas by the grass.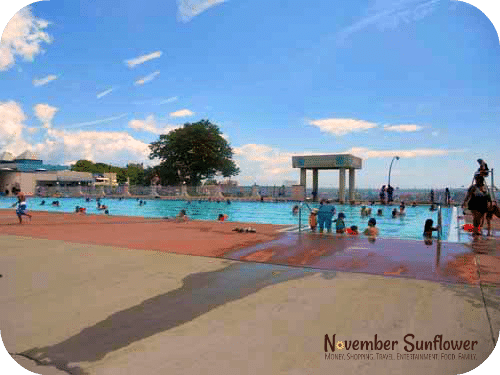 Boardwalk
Third stop: boardwalk. We checked out the snack place, and found someone to radio Dave to let us know where we could grab some lunch. We decided on Sandbar Cafe Lounge, a sit down restaurant upstairs from the snack bar.
Sandbar Cafe Lounge needs some updating, but the staff is spectacular. The waitresses totally loved my son, played around with him and made him laugh. The food was good, and since I'm a big food lover, I loved the HUGE portion sizes. I wish I had a picture of the chicken and fries. Both came in BUCKETS. The burgers were huge, and perfectly cooked. Happy to report we had a great lunch, in the AC and great service.
Miniature golf
Next stop: miniature golf. Sadly, it's $5 to play mini golf and to me, it's in serious need of a complete overhaul. It's cute for little ones. It definitely wasn't busy, so we went at our own pace and our kids still talk about it and want to go play golf.
The overpriced rides
Our next stop, the rides. Sadly, absolutely overpriced and I not well manned. It was a struggle to find rides with operators, and the rides were NOT worth the money. Especially not for kids under the height of 36″. The water slides looked cool. We loved seeing people on the slides.
The Beach
Finally, THE BEACH. The beach is pristine. People set up tents and many bring coolers. They're there for the long haul! Some even had blow up pools for the kids. Ocean Beach Park offers grassy spots off the boardwalk. During our visit, a few people were having birthday parties. If you're into it, there's beach volleyball courts. They could use a few more spots to clean off your feet, but for the day we were there, it was fine.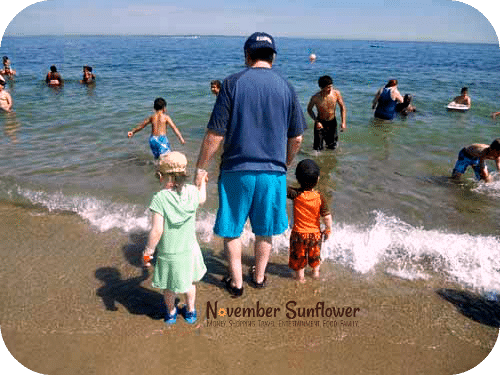 Say yes to Ocean Beach Park
I highly recommend Ocean Beach Park. If you get there early, you'll probably get a good parking spot. Pay the fee to stay all day, pay another $7 to gain access to the pool all day. Bring your own snacks, drinks and a tent with a blow up pool and you'll have an amazing day. Don't forget to tuck a few bucks in your pocket for some ice cream! Our family had a great time. Thanks Dave and the entire staff at Ocean Beach Park.
Head to Mystic, Connecticut for a long weekend! I've created 3-day itineraries for couples, families, friends, and solo travelers.
Mystic 3-day Itineraries
Disclosure: Family Fun Mystic adventure was provided to November Sunflower in order to facilitate this review. No monetary compensation was given, and all opinions are 100% my own.