After the Cross Sound Ferry ride, hitting Ocean Beach Park and staying over at Groton Inn & Suites, our final adventure for the Family Fun Mystic weekend in review was……..The Dinosaur Place.
Perfect for kids under the age of 10: The Dinosaur Place
There's so much to do indoors and outdoors at The Dinosaur Place. We tackled outdoor stuff, as our son wasn't old enough to participate in most of the indoor activities. Indoor activities at The Dinosaur Place:
digging for gems
fossil digging
mining for gold
Although, Little Miss hit the age requirement, having one kid doing it, and not the other one? Not happening. We chose to stay clear of all of the indoor activities for this particular trip. Outside we went!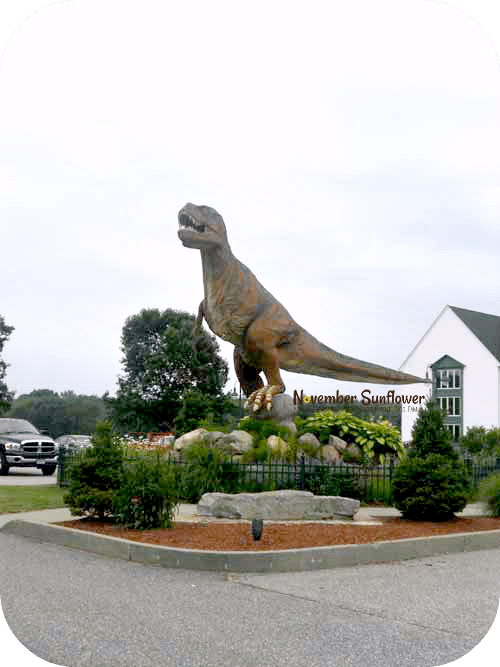 Monty's Playground
Our first stop: Monty's Playground. Monty's has everything!
rock climbing wall
slides
an interesting Spacenet (a three dimensional web kids climb swings and vibrates with every move made.)
While there, a character came out and spoke about Dinosaurs. The kids had a blast, however, neither finished exploring once they saw the Splashpad!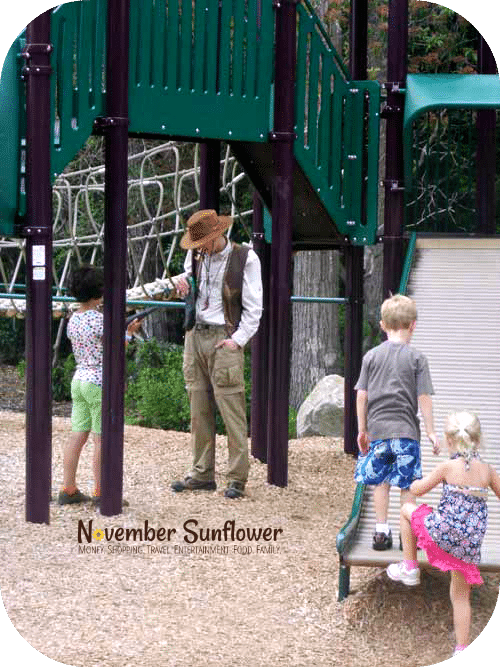 Splashpad at The Dinosaur Place
A fully automated, zero-depth water playground is located right in the park. Definitely visit Splashpad. It has over 30 dinosaur themed water features, and is totally interactive.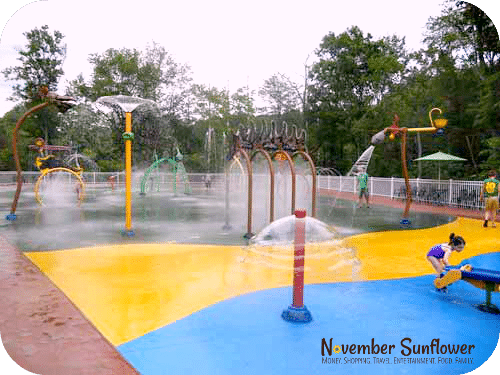 What I loved: older kids had a larger Splashpad, whilst younger kids enjoyed the super cute, smaller Splashpad. Best moment of the day: bucket dumping water on my daughter's head. Little Miss loved battling others with the dinosaur head water cannons. Adults don't have to get wet, but they have to be inside the area to tend to their kids at all times.
If you go, remember to bring water shoes. It gets super slippery there. The rule is NO RUNNING, only walking. Regardless, kids slip. The kids fell in love with the Splashpad, and honestly, did NOT want to leave the area at all.
Monty even made an appearance!
Changing rooms making  life easier for parents
When I finally coaxed the little sunflowers away from the water activities, we used the cutest changing area.
individual stalls
curtains for privacy
stalls big enough to fit four adults, comfortably
bathrooms a few feet away
One bathroom bathroom stall for moms and their sons. It had a sit down toilet for Mom along with a small urinal for a boy. They thought of everything.
If you're a father traveling with your daughter, no worries. There's a special changing area father's with daughters. Unfortunately, fathers still have to bring their daughters into the men's room to use the potty, but to get changed, it's a separate area just for you guys and your little girls. Now that's thinking of everything!
Off to the maze
Once changed, we hit the a "MAZE" asaurus. It's a life size maze. It appears easy, however, it's not! It took a few tries to get through it, and at the exit, there's a giant Tyrannosaurs rex head to slide down. If you want to send the kids through alone, there's and observation deck above, to keep an eye on them. Again, they thought of everything! The last thing I wanted to do over and over and over was go through the maze! I went to the observation deck and watched from above. Super cute, again, they had to be coaxed into leaving!
Time for Dino Trails
Finally, we hit the Dino Trails. All the trails feature life-sized dinosaur statues throughout. Super cute, and the kids thought it was great. At the end of the trail, there's a Volcano that erupts on the hour. We hit it at the right time and watched the show. Blunt truth bomb: glad I didn't wait a long time to view it, or I'd be a little disappointed in that eruption. But for the kids, it was great. They loved it.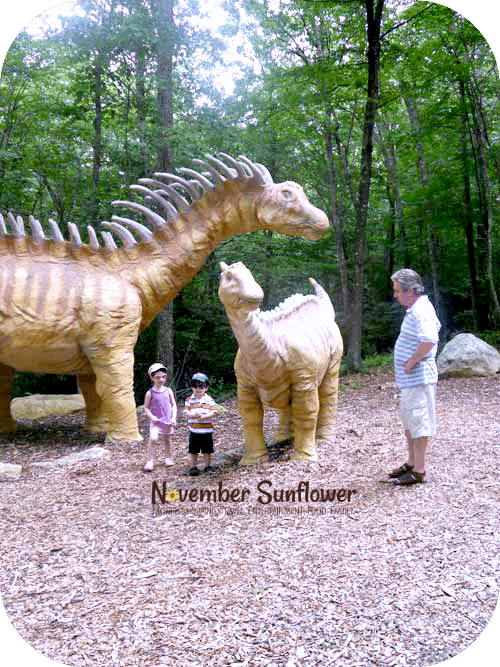 By then a light rain was falling and we had to head out, the kids were tired and we had FREE tickets to the aquarium, and lunch to eat!
I'd definitely like to head back there again when my son is closer to 4. This way we can get to do the indoor activities, along with the outdoor stuff. The kids love to dig and find treasures.
I'd tack The Dinosaur Place onto a day, or weekend trip up to the Mystic, CT area FOR SURE!
---
Need inspiration for your own trip up to Mystic, Connecticut? I've created three day itineraries for families, couples, friends, and solo travelers.
Mystic 3-day Itineraries
Disclosure: Our Family Fun Mystic adventure was paid for in order for November Sunflower to give a review. All opinions are my own, and those of my family.
Interested in TRAVEL content only? We've got you covered with our travel-focused newsletter. Sign up for our travel emails and you'll get some great free stuff just for signing up today.