Wonder Hanger organizes closets? A little piece of plastic can transform the closets in my bedrooms? Let's see if this is legit.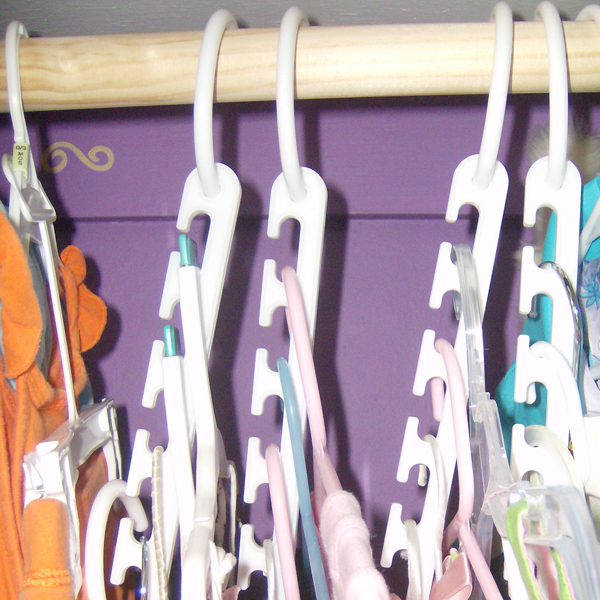 Wonder Hanger? What the hell is it?
I'd seen the Wonder Hanger infomercials and thought: I NEED THOSE for my daughter's closet. It's basically a closet organizer. Wonder Hanger's a cascading hanger which let you use your own hangers. Just place your current hangers in the little holes on the Wonder Hangers, then pop off one side and let it hang down. The package I received came with eight in the box. I used all of them in my daughter's closet. She's a clothes horse, apparently.
Wonder Hanger organizes closets
A little background: Little Miss is the lucky recipient of a lot of hand me down clothes from her older cousins. She has enough clothing in her closet for her to never wear the same outfit twice. She's been receiving the clothing for a good chunk of time. Unfortunately, because of the shear volume of clothing, a few times she outgrew outfits before getting to wear them. I store them in plastic bins, instead of in age order, in her closet.
After this happening once, I bought little separators with ages on them. Good system, right? I set up her closet up to size 4, a year ago after moving into our new home. After I set it up, and it was organized, the sized 5 clothing came; then 6, and 7. Not only am I getting fabulous hand me downs from her older cousins, but from a friend's daughter, as well. So much clothing. So much.
The result? She missed out on wearing many of the gorgeous hand-me-downs, because I hate going into the closet to try and find stuff for her. I kept pulling out stuff from her drawers, so she wears the same five outfits every week. Whoops. I needed to put a little space in her closet to see all the clothing, and be able to reach it, too. No more wasting pretty outfits!
Inspiration
One night, I saw a commercial for Wonder Hanger. Inspiration struck. I needed them. Of course, I never timed my television watching right, so I didn't have paper, and pen, to write the number down to call to order them. As luck would have it, "fate" stepped into the mix: Parent Reviewers' Review Team. Their email came soon after seeing the commercial for the fifth time! I was offered chance to review these divine little closet helpers. Luckily, I was chosen to review them.
Getting organized with Wonder Hanger
After my Wonder Hanger package arrived, I spent a weekend removing everything from my daughter's closet. All of the items she outgrew were packed away to sell. All of the size 3 stuff returned to the clothing rod on regular hangers. Beautiful. When she starts school, it will be easy to choose her daily outfits without causing myself bodily harm from hangers attacking me.
I tackled her size 4s and 5s. All of these sizes I placed in the Wonder Hanger system. Then tucked them on the other side of the closet. I can see them, but no longer have to do battle with them.
Wonder Hanger was easy to assemble.
insert the hooks onto the long hanger holder part
hang the Wonder Hanger on the rod in the closet
start putting your clothing hangers in the cut outs (fits 5 hangers on each Wonder Hanger)
once filled up, take one side down and it all hangs nice, neat and out of the way
Her closet looks lovely! I know we won't have her growing out of clothes before she gets the chance to wear them. I couldn't be happier with the product. It's definitely a budget friendly way to organize your closets.