Staring a business isn't easy. Small business start ups are no less stressful than starting a huge corporation. There's so many details to stay on top of it, and simple things always get pushed to the side, right? Logo design happens, and then you're thrust into finding office space; buying equipment; handling lawyers; and, finances. However, the little details of a business cards should NOT be overlooked, and should be taken seriously. Business cards will be your "calling card," of course. It's got to stand out, and be a great representation of your business. Design is one aspect, and quality of the cards is another.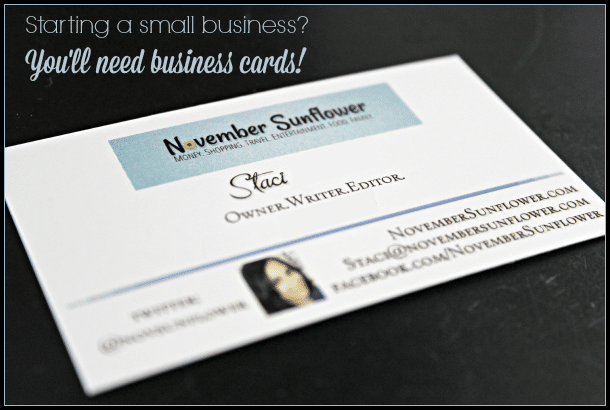 Starting a small business? You'll need business cards
What's in a design? EVERYTHING. You're handing a business card to someone you want to remember you. You want to make a great impression after they leave the conversation. When they look down at the card, it's got to remind them of your personality, and your business!
Get a real designer, or design your own. It doesn't matter who designs the cards, just make the card stand out!
A unique shape, a die-cut card, or maybe even just a super bright, bold color can make a card stand out.
Do not do gloss on BOTH sides of your card. People like to write notes on business cards, and having gloss on both sides makes it hard to write on the cards with a pen. Keep at least one side free of the glossy finish, go full on matte finish, or do a spot gloss business card!
Simple information. Think about where you're the most engaging on Social Media. If you're not loving FB right now, don't put it on the card. Instead, give them Twitter and Instagram if that's where you shine the brightest!
Your logo. You paid good money for the logo, and it's YOUR BRAND, so put it on your business card. Design the rest of the card off of your logo colors, and fonts. Don't get too busy with it, but make sure it's going to catch someone's eye.
Offer up something fun on the card! If you're visiting another city, make cards that offer assistance when someone comes to your city: "Contact me the next time you're in NYC, I can recommend a great off-broadway play to check out in town." Give people a reason to keep your card, and connect with you.
You've got a lot of things to consider when creating a card design, so think it through. Bounce ideas off of people, and draw it out if you need to. Once you've got it designed, or have an idea of what you're looking for in a design, make sure to find a great quality paper!