Getting invited to fun events, celebrating cooking and movies, is always a treat. It's not often I cook. It's also not often I get to cook alongside a Top Chef Masters winner. It's also not often I get a rave review of my food, from the wife of a Top Chef Masters winner. Well folks, pigs are flying, because not only did I cook, but I did it well. There was also no fire trucks needed, and no smoke alarms that started. It's probably because Top Chef Masters winner flipped my omelet.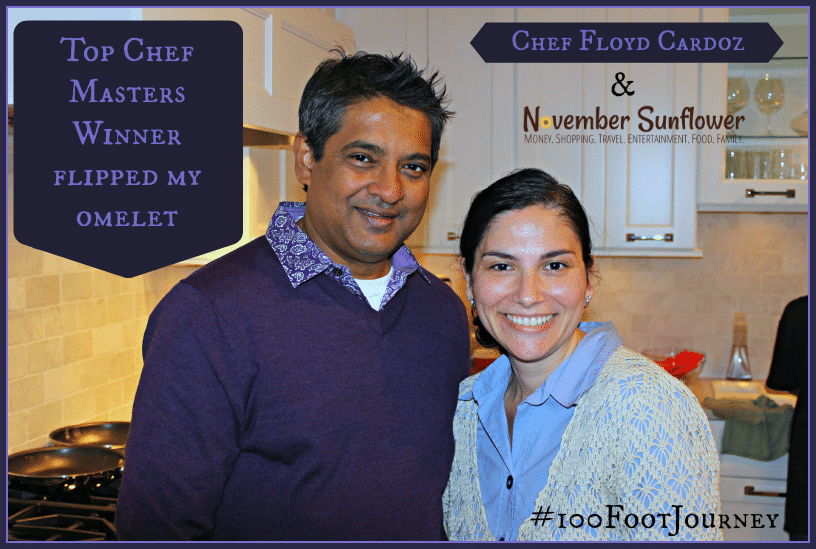 Top Chef Masters Winner flipped my omelet
So, we all know how into cooking I am, right? Yeah, right! If you're a loyal reader here at November Sunflower, you all know cooking is not my thing. I use to bake, because when baking you are always given clear instructions with precise measuring. It's hard to screw up. Sure, I'd burn myself on the oven, and make a huge mess, and something would get overcooked, but for the most part….I could bake. Cooking? It's just not something I can do well, unless I have clear instructions on a recipe card. Even then, it's not a good scene. I always end up with an injury of some kind, and the smoke alarms go off at some point. Okay, frequently. They go off frequently when I cook.
However, when given the chance to hang out with Chef Floyd Cardoz, I couldn't pass up the opportunity. The husband and I are huge Top Chef, and Top Chef Masters fans. We watch them, love them, and I basically wish I could cook even a small iota like them. Chef Floyd happened to have worked on a little Disney film called The Hundred-Foot Journey. He graciously hosted a few of us at a luncheon to celebrate the upcoming release of The Hundred-Foot Journey on Blu-ray. It's coming out on December 2nd. Exciting for Disney, and I'm sure, a big deal for Chef Floyd, too! The movie was beautiful, and getting the Blu-ray as a parting gift was kind of nice! Plus, we got the book. I always love a good book when I'm snuggled in bed, and trying to ignore the kids making tons of noise outside my door!
Now, at the luncheon, we were tasked with the job of making a fantastic omelet. I didn't shy away, I jumped right in there and got started right alongside Chef Floyd. Heck, I even had his amazing wife as my Sous Chef! Check out the start of my omelet.
Pretty sweet, right? Off to a great start. I hustled over to the stove to cook it up, and Chef Floyd was lovely enough to grab a pan, drip some oil in the pain and light the flame so it would be at the perfect temperature to cook! Sweet. If only he could come home and do that in my kitchen, and replace our electric stove with gas….. but that's fine. I took the help while I could! Isn't she pretty!
See that Spatula? It's okay sitting right there on the pan, it could even sit IN the pan. It never gets hot. It won't melt, it won't peel, and it won't get all GROSS. It's The Ultimate Silicon Spatula. It's beyond awesome, and the 12 colors it comes in – amazing. We'll be outfitting the kitchen with orange, of course. It's our favorite here at November Sunflower. My FAVORITE thing from Product of GIR that's coming out before the holidays, and you can pre-order right now, is the Silicone Lid. You can pop that bad boy up on a bowl, and lift it by the handle and it lifts up the entire bowl. MAGIC! It can be used in the oven, microwave, fridge and can go in the dishwasher. It's replacing plastic wrap in this house FOR SURE.
The handy dandy spatula helped make that omelet what it ultimately became, my lunch! Check it out, after Chef flipped it, and we used The Ultimate Silicon Spatula to completely fold it over and cook more, this is what I feasted on!

Soooo, to sum up. I got to hang out with Chef Cardoz and his beautiful wife. I got to cook alongside my favorite Top Chef Masters winner (yes, he won Season 3, which consisted of some unreal talent that season.) Chef Floyd flipped my omelet for me, and I got to check out the awesome new silicon utensils and lids from Product of GIR. PLUS, my omelet got the seal of approval from Chef's wife.
Best Wednesday afternoon in New York City EVER! It was great celebrating the release of The Hundred-Foot Journey with one of the nicest celebrity chefs around!