It's been established monthly subscription boxes are my newest addiction. I've got Julep hitting me every month, along with Madison Reed. My daughter has been blessed with many months of FabKids. It's just fantastic to have just a little bit of sunshine show up at my door every month. I get the least expensive subscription, and it's a small amount of money for the joy it brings my daughter, as well as ME! I deserve a little bit of sunshine, right? Well, so does my Little Miss. FabKids is cute, but we only have so much room in our home for new clothing. I had to find something smaller, and a little more manageable for Little Miss. Guess what? I found it.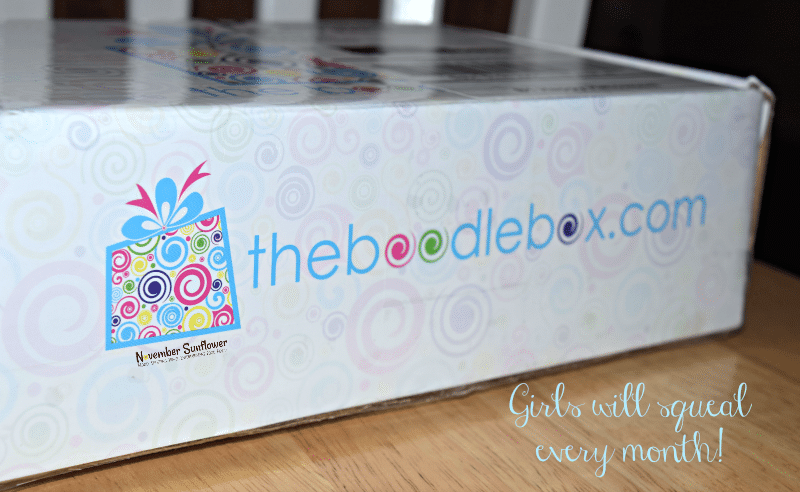 Discovering new things in The Boodle Box
Little girls of the world get ready. The Boodle Box is bringing the cutest stuff right to your doors!!!! My daughter turns 8 in November. She's in love with everything that came in the box created for five to ten year old girls in the month of October. What is it about purses that brings girls so much joy? Plus, she got an infinity scarf, which she loves because "mommy, you have ones like this." Even the skeleton hand ear cuff was a huge hit.
Oh, and her new ghost necklace with the orange bow on its head – TO DANG CUTE. We opened the box on Saturday, she wore the scarf, necklace and ear cuff all day and then again on Sunday to her cousins' birthday party (yup, we've got a lot of Fall birthdays in this family.)
There wasn't one thing in the box she didn't love!
The kind-heart my daughter has led her to share one of her goodies with her brother – a scented pencil. He's in love with it!
If you've got little girls in your life, definitely look into this as a gift. Instead of getting the regular, boring birthday gifts that kids will play with for a minute and then forget about, consider the monthly subscription box! Three months, six months, or 12 months subscriptions are available. The best deal is for the 12 month subscription, because you get the box for $19.99 per month, plus free shipping AND one of the 12 months is free. However, the 6-month subscription is pretty good, because you get the monthly for $19.99 plus free shipping. However, if you want to just start out, get the 3-month subscription box for $19.99 and pay for the shipping, which is $7.00 each month.
Every month is unique, and works with two different age groups: 5 years to 10 years old, and then there's the 11+ years old box. Pretty cool, and such a great treat every month.
What do you think of my daughter's SPOOK-tacular October subscription box? You can still get it for the little girl in your life from age 5 to over 11 years of age!
Disclosure: The Boodle Box sent my Little Miss the SPOOK-tacular October subscription box. No monetary compensation was given.