Disclosure: I received two Fairy Tale High dolls in order to facilitate this review. I received NO MONETARY compensation. All opinions are mine. ONE HUNDRED PERCENT all mine.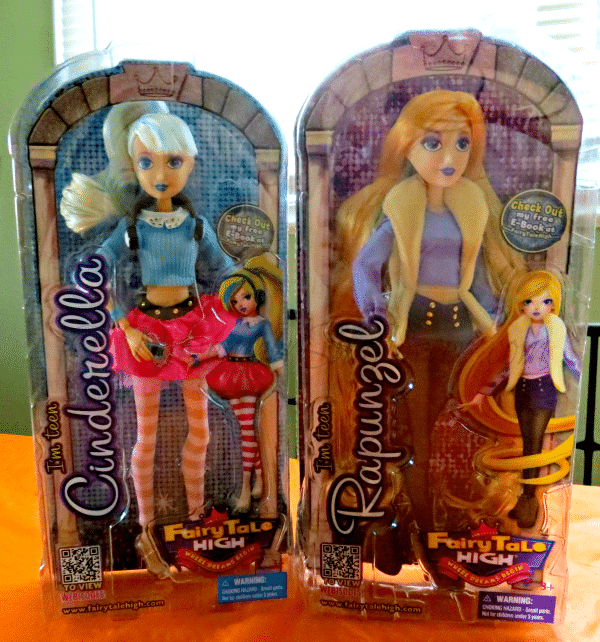 Fairy Tale High® dolls are a hit in our house. It has a lot to do with me not telling my daughter there's a Tinker Bell one, because the company only had Cinderella and Rapunzel for the kids to test out. If she finds out there's a Tinker Bell one, guess who will be heading out to pick that up for the holidays….yup, Santa. Haha, you thought I was going to say me, right? Heck no, she has more Tinker Bell in her life than one child needs. She can do without a teenage version, unless Santa wants to bring it to her for Christmas!
Fairy Tale High has eight 11-1/2″ fashion dolls in the collection: Teen Alice in Wonderland, Teen Belle, Teen Little Mermaid, Teen Tinker Bell, Teen Sleeping Beauty, Teen Cinderella, Teen Snow White, and Teen Rapunzel. I've personally seen all of them, and I can tell you, they are all keeping in the style of the princesses from the movies. The teen versions are just a little sassier than the princesses, and hip. Although, Teen Tinker Bell does sport wings…..which would be very odd in high school, but it works since it's Fairy Tale High. My favorite is Snow White. Love her outfit, which resembles her princess the most. She's got killer boots, and since my daughter is told on a regular basis she looks like Snow White, of course she's my favorite!
Little Miss loves both Rapunzel and Cinderella. Cinderella has the blue hair…well it's not totally blue. It's got blue streaks in it. Rapunzel has the long, curly hair with a sweet outfit. Love her shoes, too. The Boy is a fan of Cinderella. He's definitely got a thing for blond girls…..but with blue streaks, he's in love. Yes, I have no issues with my son playing with the dolls. In this house, we don't have "boy" and "girl" toys. Toys are toys, and we all play with them.
It's nice to see the dolls are fully articulated. My dolls use to just have the arms and legs move around. You couldn't even get them to sit. These dolls? Hands, knees, it all bends. I'm a little jealous…..I have to say, what I enjoy the most is each doll has an eBook that can be accessed on the Fairy Tales High website. The kids can learn more about the dolls, and there are stories done in webisodes, too. Kids can learn more about the qualities of each of the girls, and how they take on personal challenges. The Fairy Tale High Webisodes also have guest appearances from classic heroines and villains.
All in all, it's rather adorable if I do say so myself. Totally worth $17.99 for the dolls. Little Miss might just get her Tinker Bell after all……