Disclaimer: I've REFERRAL links within this blog post. All opinions are 100% my own!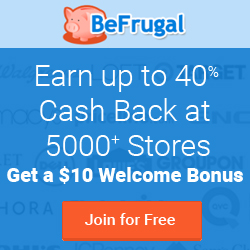 Christmas has come and gone. Gifts have been opened, and wrapping paper has been cleared out of the house in HUGE BAGS, I'm sure! A lot of kids, and adults, now have cash to spend thanks to those very cool relatives who gave gift cards, and money as gifts! Did you get holiday cash for Christmas? Spend it with BeFrugal.com – you'll earn cash back when you shop through the BeFrugal website!!!! You know I love my cash back earnings!
When I shop, I shop online 99.9% of the time. The reason? I earn a ton of cash back with cash rebate sites. BeFrugal.com is one of the new ones I've found, and it's got more than just cash back earning potential! It's got coupons, and weekly ads, and my favorite part of the whole site? The BeFrugal Couponomatic™.
What is the Couponomatic™?
BeFrugal has come up with an amazing tool you can add-on to your toolbar. If you're an online shopper (which I know you are,) you are going to love this fantastic technology. Couponomatic™ brings the coupon codes from thousands of stores right to the order you're placing. WHAT?!!! I know, let me explain in more depth.
First, you have to download the Couponomatic™ add-on (it doesn't work yet on a Mac, so when I use it, I have to use the husband's PC – let's hope they fix this issue very soon.) Once you've downloaded it, you're basically all set to shop.
Second, find a store you want to shop at through BeFrugal.com.
Third, SHOP. And when you get to the checkout, the codes will be there for you. A drop down box will have all the coupon codes that you can apply to your order, if there are any. If you don't see any, there just isn't any available at the time of your purchase.
What can BeFrugal.com offer the online shopper?
Well, BeFrugal.com can provide automatic coupon alerts, and of course it also has printable grocery, and restaurant coupons. The site also has weekly ad flyers, and that great little CASH BACK earning at over 3000 online stores!
Shoppers can join for free, and once a $25 balance is earned with cash back shopping, they'll send a check, or pay via PayPal.
One final thing…..share the site with your friends, and you could earn $5 for yourself! Here's my referral link to BeFrugal.com so you can start the whole process!