Disclaimer: My family and I were invited to the KidzVuz #KVHoliday in #NYC and had a ball. All the sponsors of the event were fantastic, and we received a goodie bag for each child that included a few gifts the children promptly started playing as soon as we got home! The opinions expressed in this post are 100% mine.
Have you been introduced to KidzVuz? If you've got kids, you may have heard of KidzVuz. It's kids reviewing all kinds of fantastic stuff for other kids. Oh, and it's done on video! Super cute. The reviews cover a wide variety of things from travel, to toys, to food and more. Video review by kids, for kids – BRILLIANT. Seriously, who better to review things for kids than kids?
Recently, they had a huge event in New York City at the beautiful Gary's Loft. Homewood Suites was the title sponsor for the event, and boy did it come packed with fun for the kids. It was a total treat for my little ones.We also welcomed two new additions to the family, thanks to #Hasbro and the fabulous #FurbyBoom toys!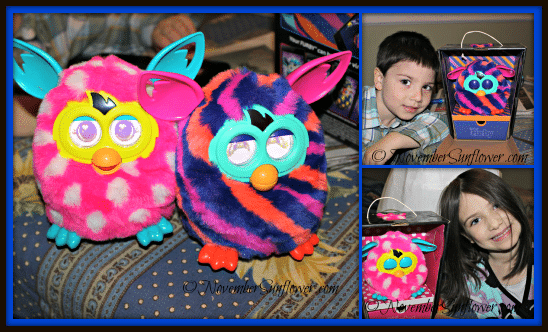 At the event, the kids got to decorate cookies with Downtown Bookworks, which was a huge hit for both kids. The books are amazing, as each one has amazing illustrations, and many come with crafts the kids can do. My daughter didn't mind the themes really centered around super heroes. She just loved decorating with a stencil, and lots of sparkly sugar! The boy had a ball, too.
Snacks were all over the place, with amazing smoothies from Green Mustache. Little Miss tried every flavor, and loved each one of them! Healthy for her, and they taste delicious. It's not always the case where you can find healthy and delicious, so we're fans of Green Mustache FOR SURE. Plus, there was an amazing Coconut Water based chocolate drink there from Zico. My son flipped over it, and though it isn't as healthy as the smoothies, it's still better than the chocolate milk you'll find in most places, so score for The Boy! The favorite for me, the hubby and Little Miss was the fantastic Chloe's Soft Serve Fruit. Each flavor has just three ingredients: REAL fruit, water, and a touch of cane sugar. Plus, it tastes really good. At least my banana one tasted amazing! I'm a banana loving girl. Little Miss tried the chocolate, and she was a fan. The hubby liked the chocolate, too. The Boy? He's so picky, I'm surprised he even tried it. He wasn't a fan of any of the flavors…..he's such a pest.
By far the favorite of all favorites for the kids? Nintendo, Hasbro and a little tablet from Samsung they just adored.
At the end of the day, before we were able to leave, the kids had to make a little sugar tube from iScream, and of course, give their opinions to KidzVuz!
All-in-all, it was an amazing event and the kids got to check out some really great new items, including that new Samsung tablet and the Nintendo 2DS. The kids highly recommend BOTH for your kids for the holidays! Oh, and the Furby Boom, of course!