Disclosure: I received the LEGO Teenage Mutant Ninja Turtles Kraang Lab Escape in order to facilitate this review. No monetary compensation was given. ALL opinions are mine, and of course, The Boy's, too!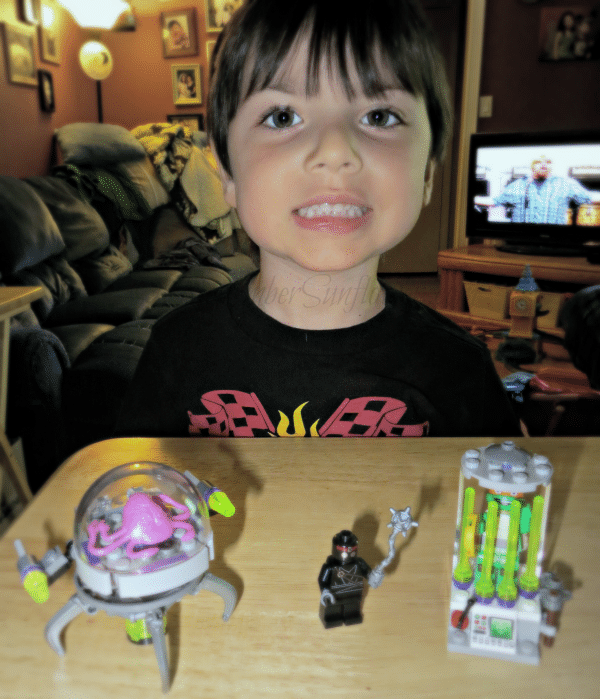 If you've got a LEGO lover, and a Teenage Mutant Ninja Turtles lover in the house – or in the family – heck, if there's anyone between the ages of five and twelve in the general area – they will enjoy the LEGO TMNT set! Personally, I think it's the perfect price point for a "school friend" birthday gift, and of course, for a little treat in the big stocking hung by the chimney with care. You heard it here, the LEGO Teenage Mutant Ninja Turtles stocking stuffer item of choice is the LEGO TMNT Kraang Lab Escape!
As all parents know, putting these little LEGO sets together should always be left to the kids. I tried to help, and just kept messing it up with my big fingers. It's definitely made for little ones to tinker around with! It's got 3 minifigures: The Kraang, Michelangelo and a foot soldier. Let's celebrate in the fact that it flicks missiles, so it's hours of fun…..as long as you don't flick the missiles at each other, or behind large pieces of furniture. It also comes with nunchucks and mace.
Our experience with the set, as you can see on my son's face in the picture, was a positive one. Even Little Miss enjoyed playing with it, because who doesn't love to flick missiles around mom's house? When all the fun was done, the little set went up on my son's shelf, to add to his growing TMNT collection of action figures, and collectables. When he wants to flick missiles, we get it off the shelf and off he goes to seek and destroy!
Skip buying it at Toys R Us, though. Go right to the LEGO website, it'll cost a few bucks less! If you've got a few LEGO items you want to purchase, and it'll total out at $75, you'll get FREE SHIPPING on your purchase.