If you don't have a boy, you might not know about the phenomenon known as Teenage Mutant Ninja Turtles. I loved them when I was younger, and even loved the movie that came out "oh so many years ago." It's kind of bizarre to have my son totally in love with these four turtles, but it's totally fine with me! Which means I don't mind that Nickelodeon's Teenage Mutant Ninja Turtles is everything in our house. EVER.Y.THING. Even The Boy's most recent birthday party was themed with TMNT invitations, and thank you cards. Basically everything he got as far as gifts was TMNT related, with a few exceptions. He was in Teenage Mutant Ninja Turtle heaven.
A box arrived from Nickelodeon, and if my son could have climbed into the box, and lived in it, he would have. It was loaded with – in his words – "the best stuff EVER." We're talking TMNT Projection Watch, TMNT Sleepwear, TMNT Robe, TMNT 3DS game, and his personal favorite, the TMNT Turtles Tattoo Kit. Yeah, it was his own personal Teenage Mutant Ninja Turtle cave……I wonder if that's what he wished for when he had blown out his candles the night before? I might have him start wishing for boxes of cash to arrive at our doorstep. Hmmmmm……
In any event, the box was opened and we just DUG IN.
Teenage Mutant Ninja Turtles Projection Watch ($9.99)
Little Miss has had watches for a long time. She inherited a ton of pink ones, and she got a couple for her birthday one year. I've heard for the last couple of years "Mommmmyyyyy, why does she have all those watches and I've got none?" from The Boy. I have to be honest, I had no real answer for him. I never looked around to find one that would fit his tiny wrist, nor did I feel he loved anything so much that he'd want to keep the watch on his wrist for more than a few minutes. He's got issues with stuff on his wrists.
Now that he's got an obsession with the Teenage Mutant Ninja Turtles, I figured, let's give it a shot with a fun watch that projected images on the wall and had the turtles all over it. Let's just say The Boy might never take it off his wrist. It'll have to be surgically removed. I can see us now at bath time….he'll be sitting in there, with one arm HIGH ABOVE the water, as he attempts to wash up. I'll spare all of you that photo op, for sure.
Here's the issue with this watch: I can't find it anywhere. It's out of stock, and no one knows when it will be back in stock. Keep hunting, because if you find it, you'll be a hero in your house!
Teenage Mutant Ninja Turtles Boys Sleepwear Set ($16.99)
Here's my admission: I keep a cold house. It's not freezing, and the pipes won't burst or anything. It's just well below the 70 degrees a lot of other people might keep their homes in the winter. I'm not at 60 degrees, but I'm somewhere in the middle. I just like to wear comfy stuff like flannel, fleece, and big cozy sock slippers. I also have all these soft, beautiful blankets I cuddle under with the kids. I also have this strange belief that the colder the house, the less likely germs will survive…..this has no scientific backing at all, it's just something in my warped mind, so go with it.
The kids? They like it, too. However, I have to have sufficiently warm PJs for The Boy. He gets colder than his sister does in the winter. I'm not sure why, because in the summer, they both overheat at the drop of a hat. However, in the winter, he needs warm, toasty PJs. Can I tell you the warm, toasty PJs are usually a lot more expensive when you have to get some kind of characters on them. Let's say a certain child loves, I don't know, Teenage Mutant Ninja Turtles. You head to the store, you find a few pairs, and they are made like garbage and cost over $20.
Well, Nickelodeon has their own Teenage Mutant Ninja Turtle boys sleepwear set, and the quality is beyond what any little monster of a boy could imagine. Plus, they aren't over $20. Win for him, win for me, and we're golden!
Teenage Mutant Ninja Turtles Boys Robe ($40.00)
After baths, and showers, my kids enjoy stepping into a bathrobe. We've got many hanging in my daughter's room, as she has been given them as gifts, and has inherited them. The Boy has quite a few, as well. However, he's starting to outgrow some of them…..let's just say when the bathrobe is on, and you can see everything that's suppose to be covered up, it's time to retire the bathrobe and give it to a child who might be a teeny tiny bit smaller. Enough said.
Again, the kids love ones with characters on them. Plus, they have to be super soft, as my son's skin is so dang sensitive. I found it in the Teenage Mutant Ninja Turtle boy robe perfect, but for me, the price tag is a bit extreme. If this was my size, I'd pay $40 for it. Not with the TMNT on it, but you know what I mean. My son, who will grow out of it in no time, spending more than $20 on a robe seems excessive. However, the quality of the robe…..it is top notch. Perhaps Santa can bring him another one while it's on sale for $16.99 at someplace like Target.
Teenage Mutant Ninja Turtles 3DS Game ($29.99)
I've never been a big fan of video games. I played very few as a kid, and as my kids grow up, they are being introduced to them slowly. Last year, for Christmas, I purchased a couple of Nintendo 3DS handheld game systems. They loved them. She got pink, he got blue and life was good. Each got three games each, and those lasted for a long time. Of course, we have to re-stock games and get them interested in some new ones. Keep it fresh. With my son's addiction to the TMNT, I was excited ActiVision came out with a fantastic Teenage Mutant Ninja Turtles 3DS game. The Boy can sit in his Teenage Mutant Ninja Turtle PJs, and robe, and play his TMNT 3DS game. What's better than that as we wind down from our day, and get ready to hit the hay?!! He thinks the game is "awesome." I couldn't tell you if he's right, or wrong. I can't figure the dang thing out.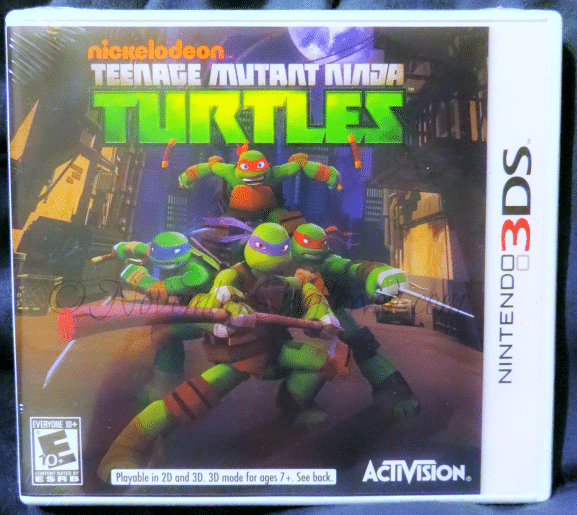 Teenage Mutant Ninja Turtles Tattoo Kit ($7.99)
Both of my kids are in love with tattoos. No, I'm not bringing the kids to a tattoo parlor to get ink. I just let them wear those ones they get from goodie bags – you slap it on their arm, put some water on the back, and BA-BAM, they've got their favorite characters on their arms for WEEKS. It doesn't matter how many times they shower, or bathe, it takes WEEKS for those things to finally wash off. They are probably not the best things for their skin, but I pick my battles…..this is not one of the ones I need to win in the grand scheme of things. If The Boy loves the Turtles, well he can have a huge box of tattoos in the Teenage Mutant Ninja Turtles tattoo kit. It's super inexpensive, it comes with a spray bottle and sponge to apply the tattoos, and there's bonus ones that glow.
STOCKING STUFFER perfection! Or if you're having a birthday party, get one of these and slap one on each kid. It's fast, easy, and you won't have to be the one to scrub it off over the next couple of days! Both Little Miss and The Boy loved them, especially the glow in the dark ones. However, there aren't many of those in the box. Be prepared, fighting will ensue!
Anyone with kids who are in love with the Teenage Mutant Ninja Turtles will love all of these items. If you want to spend less, go for the watch, tattoo kit and PJs. If you want to splurge, hook a kid up with a game, or a fantastic robe. It's up to you, and what your budget allows. Whatever fits your life, you'll be happy – and your kids will be thrilled!
TWO THUMBS UP on the whole lot of these Teenage Mutant Ninja Turtles!