Disclosure: I was not financially compensated for this post. I received the Simon Swipe game for review. All opinions are 100% my own. Oh, and that of my children!
My mother is the ultimate pack rat. She saves everything you can imagine, and if it was hers, you can be assured it's in the original packaging. If it was mine, it's probably in pieces all over the house…. but I digress. Let's stay focused! Mom has almost every game she ever bought for us, or my dad. Yup, he got lots of games, too. I believe the first Simon game she bought, back in the 1970s, was for my dad. It sure wasn't for us kids, we were still pretty young for Simon! However, growing up through the 1980s, Simon became our game! It was a game we played often. It was created by Milton Bradley way back in its heyday. Remember the game? I'm sure you do.
Now Hasbro has brought Simon back to life. Simon has gone modern this time, though. It's not just about pressing the huge buttons. It's more advanced for the present day kids who are far more technologically advanced than we were in the 1970s and 80s!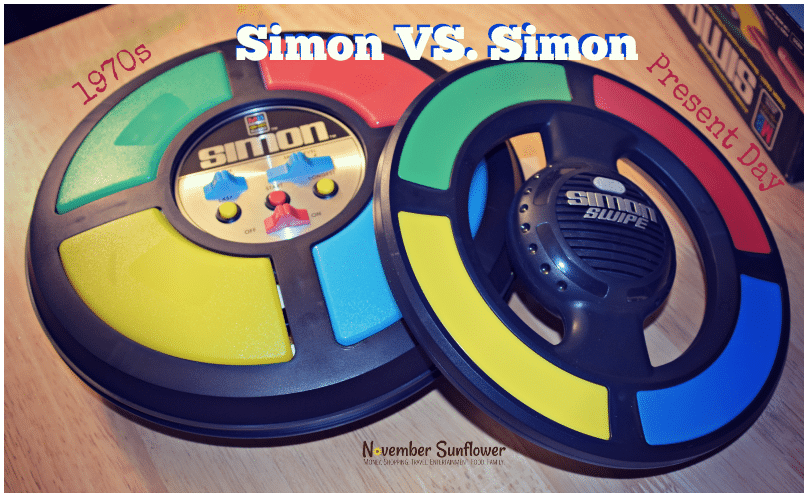 Simon has gone modern
As soon as the updated Simon Swipe game arrived at my house, I asked mom if she still had the original Simon game in the same spot she always had it: living room cabinet next to the couch. Honestly, I didn't really have to ask her. I knew it'd be there, in its original box, waiting to be played. I always think about the movie Toy Story when I pull out the old toys my sister, and I, played with for so many years. Did Simon miss me? Was he secretly lighting up in the box with pure joy that he'd been called upon all these years later? Would he be jealous of the new game, Simon Swipe?
Silly, I know. So we'll move on now.
The kids took to Simon well, after we popped some new batteries into him. Little Miss loved it, and The Boy whined to be able to play. Typical play drama. In the end, both kids loved old Simon. After they'd been playing for a bit with the older version, I brought out the updated Simon Swipe and asked "Who wants to try this one? Simon has gone modern!" Their eyes lit up, so I knew I'd gotten their attention!
Simon VS. Simon
The old Simon was pretty basic. You followed the patterns of the lights by pressing down on the correct colors, in the correct pattern. Difficult pattern wise for the old memory, but not terribly difficult conceptually. Simon Swipe Game

is a little more difficult. You've got to not just follow the order of how the colors light up, but the way they light up, too. It's not just about tapping on the buttons anymore, it's also about a smooth swiping action on the buttons. Sounds simple enough, but the swiping action isn't always in the same direction. The swiping action isn't always the same size. The buttons are sort of split into two parts with a very light line down the middle of the button. Sometimes you have to tap, sometimes you have to swipe, and when you swipe you have to make sure you swipe in the right direction and over the right part of the button. It could be the entire button, or just one half of the button.
Needless to say, my kids were blown away and kind of thought they'd rather play with the older Simon. I quickly realized they were not swiping properly, and once I showed them how to do that tiny piece of the puzzle, it was non-stop fun for the kids. Old Simon went back to Mom's house, where he gets played once in a while by the kids when they're there. Simon Swipe might not make it to Christmas without a whole lot of battery changes from now, until Christmas!
My son can't remember where he put his shoes, but he can recall how those lights lit up, and when to tap and when to swipe.
I'd say we've got two thumbs up from both little Sunflowers for Simon Swipe! Totally worth the $19.99 price tag. It's lightweight, so it's great in the car. Plus, the two of them can play together. There's four different games, and 16 levels on the new Simon. I think new Simon kicked old Simon's lights out in this challenge.
If you want to try it for yourself, it's a little cheaper on Amazon.com. By all means, please check it out on my affiliate link!

Special note: All photos I have taken and used within this post were taken with the Nikon D3300, using the AF-S DX Nikkor 18-300mm f/3.5 – 6.3G ED VR lens. Visit Nikon to check out the full line of Nikon Cameras and lenses.