Disclosure: Stride Rite brings our smiles back with a pair of Annaleigh boots for Little Miss, and awesome sneakers for The Boy. We're so grateful to Stride Rite for sending these boots for the start of school. All opinions are 100% mine!
Long Island was hit by an unprecedented 12+ inches of rainfall in a span of just three hours. Flooding in the area was inevitable. However, it wasn't expected to happen in my basement. Ankle deep in my basement. Thousands of dollars worth of damage in my basement. Not covered under insurance…. in my basement. Wednesday, August 13, 2014, became a bit of a down day for my family. I did a lot of crying that day. If I hadn't unexpectedly gotten my monthly friend, I might have been a bit more stable. Perhaps without that monthly friend, I could have handled a bit more that day, but in all honesty, the crying was going to happen.
Our day was spent pumping out water from our basement, my parents helping us get things up off the floor and into a dry garage. My husband was on the phone with the town, the county, the insurance company, and a professional "get this ground water out of my basement" company, and I was on the phone ordering up an onsite storage pod. Good times. The kids weren't allowed in the basement with the amount of water down there, so they spent much of the day watching all of their belongings being dragged up the basement stairs…. and much of it thrown out.
I expected them to be more upset, but they seemed to take it all rather well. I could tell they were sad, but they didn't cry. It was a silent, distant look in their eyes, kind of day. They knew mommy was having a hard time, and they saw daddy working hard to get something accomplished over the phone. It was a long day of manual labor, with only more days of manual labor on the horizon. Unfortunately, without the proper insurance to cover the damage (we're not in a flood area, so flood insurance wasn't something we had in our policy,) much of the work to get the contents of our basement, as well as the carpet out, was on us. Thankfully, my parents were able to come and help.
Stride Rite brings our smiles back
In the midst of all of this craziness, we got a delivery on our doorstep. I had no idea what the box was, but I just brought it into our master bedroom so I could open it later. Of course, there was a chance I'd be passed out from exhaustion, and never open it. I figured it would be opened at some point, so leave it in a place that it wouldn't get lost in the mad dash to clear out the basement! I'm so glad I put it in my bedroom. It was "the best moment" of the day when I opened it up and saw two Stride Rite boxes appear before my eyes. The kids were going to have a glimmer of happiness to end this dreadfully crappy day!
Little Miss and The Boy are two kids who truly appreciate what they have, and the gifts they receive. It's pretty obvious whenever they receive anything, from anyone! As for me? I loved seeing their faces light up, for sure. The best part? The part I loved the most? Stride Rite has the most unreal quality in every shoe they create, and my kids were going to be sporting fashionable shoes, but also comfortable, well-fitting shoes. The Annaleigh boots are gorgeous, and I wish I could get a pair in an adult size. She will get a lot of use out of them, and she just couldn't take her eyes off of them!
The Boy couldn't be happier with his Saucony Kinvara 5 sneakers. The blue and green combination is bright, and totally fits his personality. He's going to be learning to tie his sneakers, so having the laces on them is VERY IMPORTANT. He can't wait for the first day of school, so he can show them off. I love that he'll have sneakers with thick soles, amazing comfort, and even with those thick soles, they're super lightweight. It's so hard to find lace up sneakers at local stores, and the ones that close with Velcro are never tight enough. Flopping around like a fish out of water. We're looking forward to these puppies making their debut in September when The Boy starts first grade!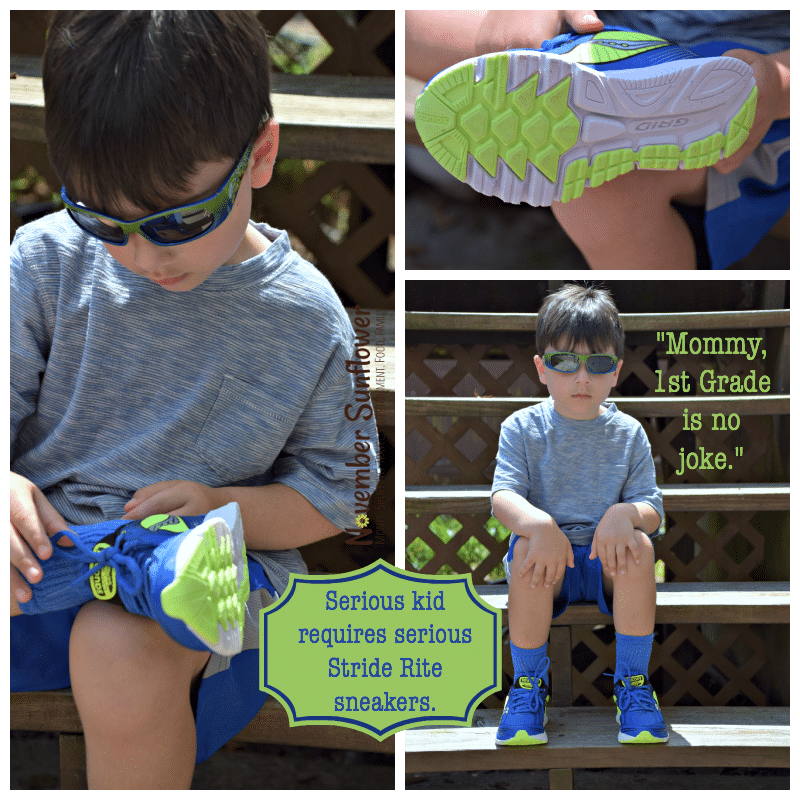 Feet are important. Stride Rite understands how important having well-made, and well-fitting, shoes are at a young age. We've got plenty of years to damage the heck out of our feet with crappy shoes that don't fit properly. Stride Rite gives families the opportunity to "give feet a chance." Kids need the good quality, and Stride Rite has relatively good pricing, and lots of sales online!
Even better? Use my referral link, sign up for Mr. Rebates, and once you're a part of Mr. Rebates you can earn 4% cash back on your purchase at Stride Rite online. SWEET. There's also the chance to get free shipping if your order is $75+. You know I love scoring free shipping, and wicked good discount code! Did you think I was done? If you sign up for their FREE Rewards Program, you can get FREE SHIPPING on orders that are $35+.

Special note: All photos I have taken and used within this post were taken with the Nikon D3300, using the AF-S DX Nikkor 18-300mm f/3.5 – 6.3G ED VR lens. Visit Nikon to check out the full line of Nikon Cameras and lenses.