Tea on the go is a regular thing for my husband. Personally, I won't touch the stuff. I've tried every kind of tea flavor, brand, and combinations. I've tried it hot, and I've tried it cold. I just can't get into the tea thing. It's funny, because I wish I could, because it seems so comforting when people sip their cups of tea……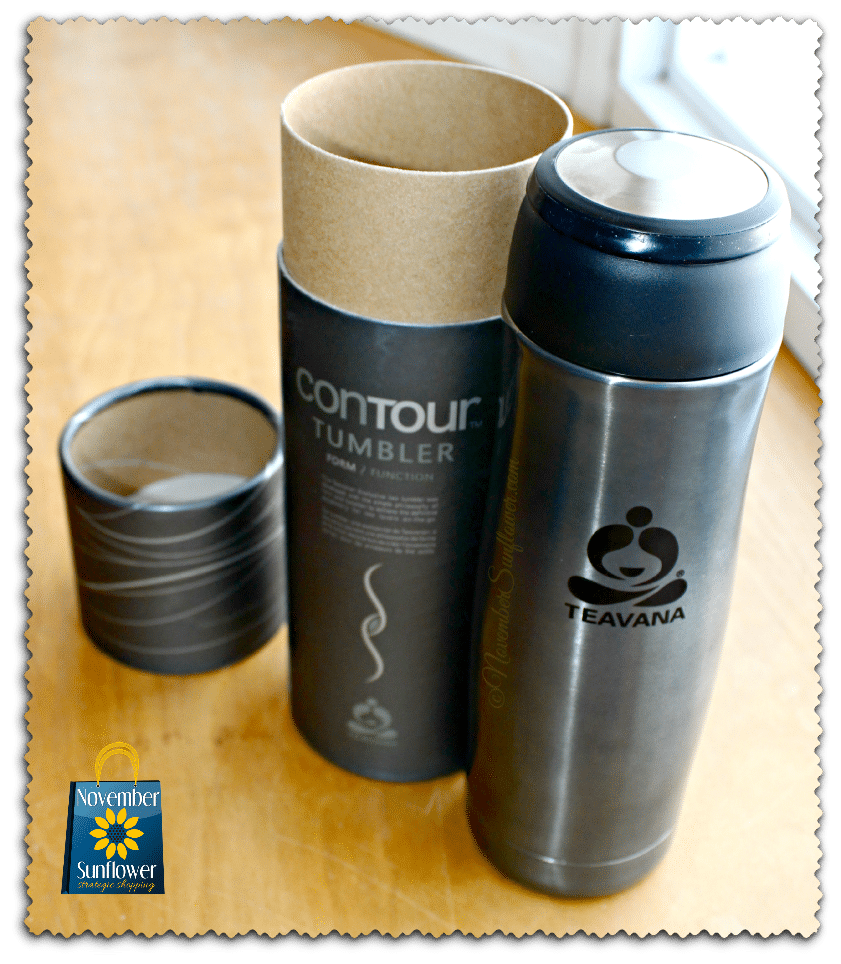 In any event, my husband takes tea to work every morning. It's great, because it saves money since he doesn't buy it every morning! He doesn't get all crazy kinds of tea, so when I was walking around the mall a few weeks ago and saw the Teavana store I was ready to walk right by it. My friend pulled me inside and told me the tumblers were awesome and I needed to try one. I looked at the shelf and saw, what I refer to as a thermos, sitting there. Lots of them, actually. There was a sale, and the Contour Tumbler was on sale. Just two colors to choose from, because I guess the purple and green ones were super popular. All I had to choose from were red, and dark gray.
I looked at my friend like she was nuts. What's so great about the Teavana Contour Tumbler? It's tea on the go in a thermos, so what? What makes it special?
Tea on the go in a Teavana Tumbler
Apparently, having the removable basket inside the tumbler is a huge deal, because Teavana sells tons of different kinds of loose teas to use in the tumbler. Which for a normal person would be awesome. Getting this for myself, it was pointless. Getting it for my husband, who only drinks one kind of tea, also not a selling point. I get why others would think it awesome, though. Kudos for Teavana bringing this to people who want to their tea on the go!
It keeps the tea super hot for at least six hours, or super cold for at least six hours. Now, my husband could get down with that little helpful part of the tumbler. He had two thermos type vessels at home that were both leaking at this point, and I repeatedly heard my husband – the non swearer in the family – cursing up a storm when it leaked all over his work bag. (Not sure why he kept putting it in there, if he knew it leaked, but that's neither here nor there.)
Needless to say, having a new "thermos" would be good for him. I'm not one to buy a lot of gifts for my husband. I'm gift enough, right? (I bet if he reads this at work, he just spit his precious tea out all over the computer. HA!) Anywhoooo, I decided to bite the bullet and buy one for him. Sure, it wasn't a thermos. You drink right from this tumbler that holds 16 ounces of tea, but if he needed to he could pour some of it into a mug. It was on sale, so I couldn't return it if he didn't like it. I weighed the options: he's got two thermos things at home that are leaking, and this new one would keep his tea hot, and not leak.
The pros outweighed the cons, so I bought the Teavana Contour Tumbler as a belated holiday gift (since he went and got himself a tablet before Christmas, and my gift was shot to hell.)
Did the Contour Tumbler live up to Mr. November Sunflower's high standards
Here's what you need to know about my husband: it doesn't matter what I do, or get for him, he's always got something negative to say about it. It's just how he is, because he was just raised in a negative type of atmosphere. Most days I just ignore it, and other days I retaliate……
Overall, he likes his new tumbler. It keeps things hot, but of course not as hot as his old thermos that started to leak. I'll have to trust him, because I wouldn't have anything to compare it to. As long as it keeps it hot for the six hours it promises, I'm solid. Apparently, it does, so SCORE ONE for the tumbler. He liked the color, it does look like a regular thermos when it's the gray color. Another score for the tumbler. It's easy to open, and to close. It DOES NOT LEAK.
Well, it looks like we have a winner! He's had it for about a month now, so it's holding up to his backpack slinging work days. Sweet!
If this had not been on sale, I'd have never bought it at the regular price, though. Look for a sale at your local store!
[wp_ad_camp_2]