Disclosure: I received the Jane as a gift. I have received no compensation for this post. I love the bag, I'm sharing it with you, it's as simple as that.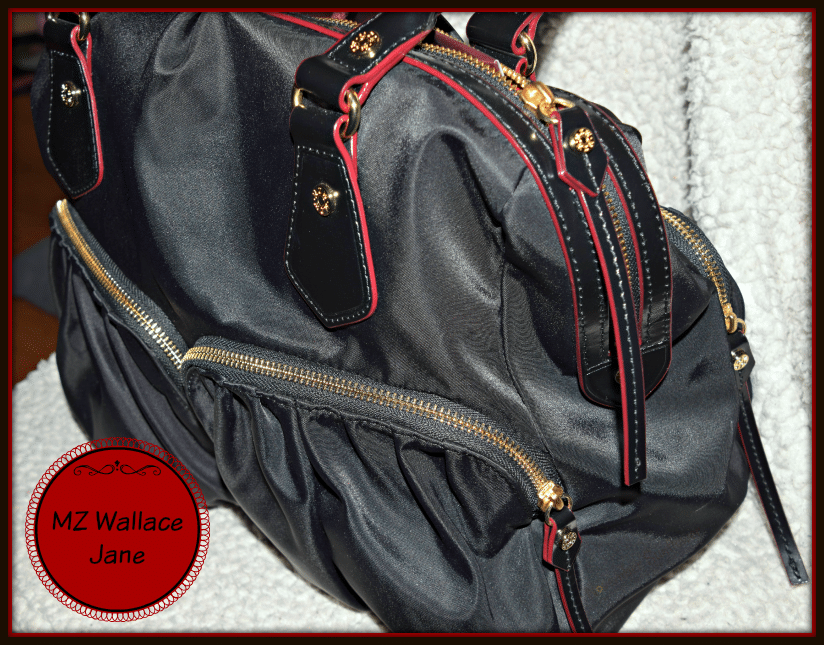 It's very odd for me to even comment about a handbag, as I've never owned one before. I've got a camera bag I love, and it also was used as a carry-on when I traveled to California earlier this year. However, as far as a "handbag," this is my first. And what a first it is! The Jane from MZ Wallace got me hooked on owning a quality handbag. I kind of understand a little bit more as to why women love a nice handbag. I'm not saying I'll be buying any for myself in the future, but I'm super happy I've gotten this one from MZ Wallace!
The Jane from MZ Wallace
Pockets. It's the only thing I rely on in this life for my belongings. I hunt for dresses with pockets, and I always make sure my jackets and coats have REAL pockets. In the summer, I make sure all of my shorts, skirts, dresses, and light pants, have pockets I can actually put things in. No "for show" pockets. I look for real, honest-to-goodness pockets! However, over this past summer I was gifted with a handbag. It wasn't just any handbag, though. It was an MZ Wallace handbag. It was the Jane. It IS the Jane.
She's beautiful. Black Bedford Nylon that's easy to clean. Rolled Italian leather shoulder straps (which after wearing them on your shoulder for extended periods of time kind of dig into your shoulders, but that's only when you've weighed the bag down with tons of stuff.) Two small pockets on the outside that are deep, and another larger one on the other side of the bag. All zippered, no snaps to come undone! What really makes me smile is the red lining. For years I wasn't a red lover, but have grown to adore the color. It's a lining that's also easy to clean, and silky to the touch. There's another zippered pocket inside, along with a couple of non-zippered pouches.
Let's just say when I have to head to NYC, I plop my DSLR camera into this bag, along with my iPad, business cards, pens, notebook, phone, wallet and these days, a scarf and gloves! It all fits beautifully, with room to spare. At one point I had TWO DSLR cameras in there – my Canon T3i with lens and a Nikon I was borrowing for a few months. It got a bit heavy during that time, but totally fit everything with extra room for more. Last time I traveled on a plane, I took a different bag. When I traveled to North Carolina, I decided to bring this bag. It fit more than my brown camera bag, and worked with the colors I had chosen to pack for the four days I was going to be away.
I packed into this Jane bag my camera, iPad, change of clothing, business cards, all my travel documents, notebooks, magazines, snacks, and chargers. Plus, when someone spilled their water all over it, nothing got damaged at all. I just wiped it off with a napkin and it was good to go.
Now, don't get me wrong, the bag is pricy. However, for a bag this quality, I can understand the price tag, for sure. Plus, it can be used when I'm wearing jeans, or going out with friends and a little more dressed up. It doubles as a camera bag for me, along with a small personal item when flying. I'm hooked on Jane. Get to know her on MZ Wallace, I think you might just become addicted, too!