Time to Play comes out with their top toys for the Spring Season, as well as the Holiday Season. Luckily, I've been asked to check out their Spring Showcase where they announced their top favorites, along with inviting tons of toy brands to show off their latest and greatest for Spring and Summer of 2013. I may not have the same tastes as the big boys at Time to Play Magazine, but I've got kids at home, and I know what's going to hit it big in our home, along with all the little ones in our circles. Oh, and the top slot, that's just based on how much I LOVE minions.
Now these are my top picks for now, but stay tuned over the next few weeks for some reviews, along with information about new toys coming out from brands like Mattel, Razor, and many more. Let's get to my top 5 picks, shall we?
Despicable Me – Anything and everything on the Despicable Me 2 Toy Display will be FABULOUS for kids, adults, and childlike adults. However, I do have a favorite! It's not the Fart Blaster. It's the Fluffy Unicorn. Do we all remember Agnes's Fluffy Unicorn? I'm sure we do. Well, when you squeeze the little hoof on this unicorn, it says lines from the movie. I can never hear "It's so fluffy" too much. It's damn cute, my friends. It must be mine! I don't even like the color pink, and I want this, so you know it's FAB-U-LOUS.
Anything and everything to do with Sofia the First is tops in my book. There's a ton of stuff that caught my eye at the Time to Play Spring Showcase. JAKKS Pacific has come out with the Talking Magical Amulet, Sofia the First Transforming Dress, Sofia the First Royal Tiara, and the Sofia the First Soft Doll. Total rock star stuff. The amulet is interactive, and teaches little girls, or in our house BOYS and girls, princess lessons like sharing, manners, kindness and much more. The Transforming Dress is so cute! It's the beautiful princess dress, and then with one pull of a skirt, you can turn it into the tutu dress. I have to admit, I loved the Tiara. It's got huge purple gems, and it has a magic lesson card you can use with the amulet if you happen to buy that, too. The soft doll is cute, but honestly, I preferred the little beauty that Fisher Price came out with! Fisher Price has the Sofia the First Talking Sofia and Animal Friends doll. It recognizes and talks to her best friends Clover, Robin, and Mia. If you're not familiar with the show, Clover's the rabbit, Robin's the Robin, and Mia is the Bluebird. The doll is gorgeous in the purple gown, and the beautiful amulet. Fell in love with it on the spot! Fisher Price also has the Sofia the First Magical Talking Castle. There's a special base you can place the different characters onto, and phrases from the show can be heard. It's got furniture, Sofia, and Clover to go with it. Cute as hell, I have to admit!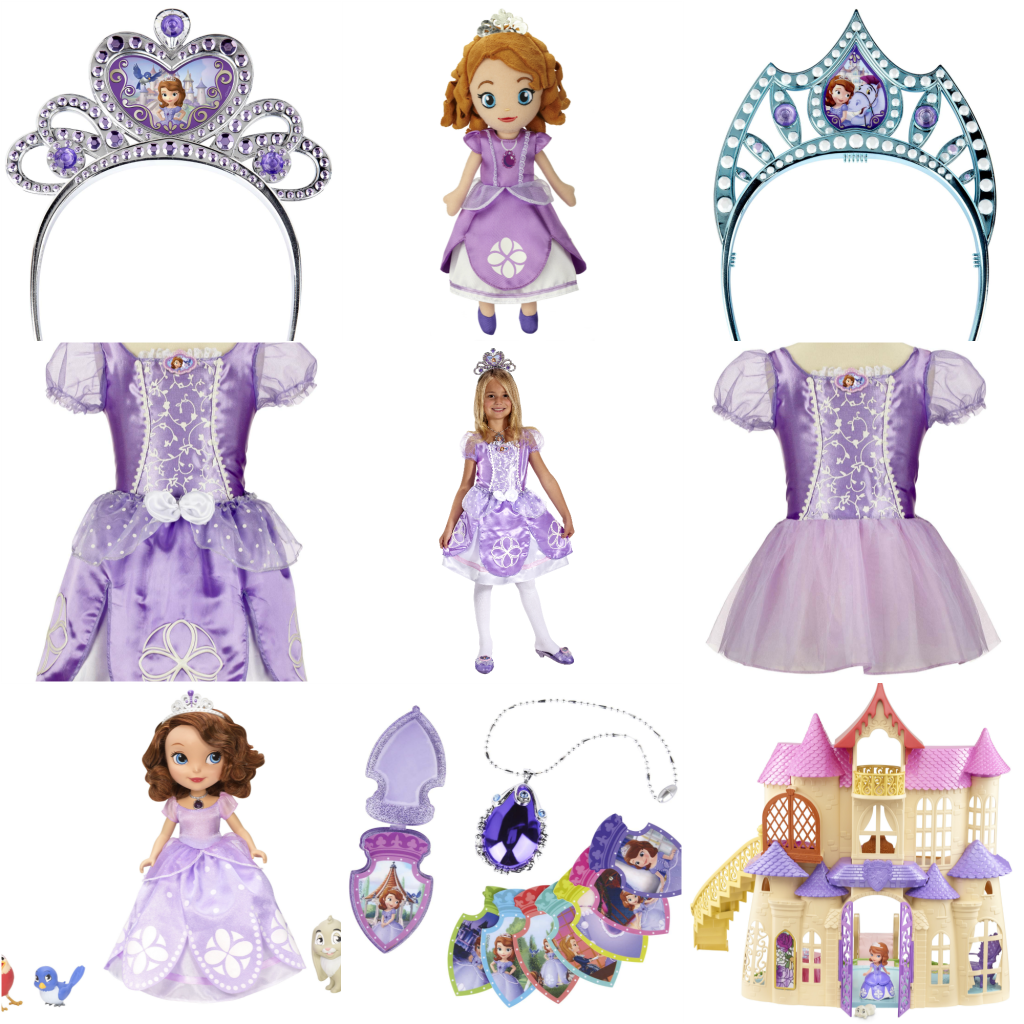 I wish I had thought of this idea, because it's PURE GENIUS. What the heck took them so long to think of pets for the Disney Princesses? Every Princess needs a fabulous pet! Now your kids can own them. Trust me, these are cute!
ArtSee™ Show Studio (for iPad)
ArtSee™ Studio is such a cool drawing kit, if you're lucky enough to have an iPad, and if you're over the age of 3. As luck would have it, I've got an iPad AND I'm over the age of three. GO ME! My kids come with me to a lot of events in NYC. We're always on the LIRR (Long Island Railroad.) They're getting a bit bored with the same old games, and apps, and things of that nature. When we're traveling into the city, I like to keep it rather light on "stuff." It's hard enough getting around with two kids, let alone two kids and a ton of stuff. Well, we've been lucky enough to be able to test out one of these bad boys, and let's just say, a review is coming in the next few weeks! It's become a favorite around there parts, for sure. You buy the kit, and then download the free app to use with your iPad. Couldn't be any easier, or any more fun.
Holy Macaroni. I love this dog. He is the perfect pet. No shedding. No vet visits. You don't have to buy dog food, or worry about a water dish. There's no reason to have to walk him, or get him outside to pee. He's the robotic dog of my dreams. He's damn cute, too. He lifts his leg, to pee. He wags his tail, and he LEARNS tricks. I'm completely in love. I always wanted a spotted puppy like the ones Cruella hated!
Runners Up:
Teenage Mutant Ninja Turtles
Lordy, lordy. These turtles have come back something fierce. They were back last year, right before the holidays it was a turtle explosion……which kind of sounds gross as I write this, but honestly, it was just turtle EVERYWHERE. I loved the movie when I was younger, with Corey Feldman as one of the voices of the turtles. Pizza eating turtles, how much more fun can it get? Now, my son's loving the turtles, and apparently, he's not the only one. There's a plethora of goodies for the TMNT fans out there. There's more action figures, there's bubbles, and more.
It's the cutest remote controlled robot, for girls! The minute I saw one that was ORANGE, I knew I was in love, and we were going to have to get one for Little Miss at some point. It's coming out later this Summer, and I'll be overjoyed. It's damn cute. There aren't many super fun remote controlled toys for girls. Trust me, we've got some around here, and it's all "looks" not substance. Just back and forth. SNOOZE FEST for my daughter. Totally not the case with botti™. Cannot wait to get a hold of the orange and blue one for her. She'll love it. Scary enough, my son will probably want the pink one…….yeah, he's just a pink lover.
Which toys do you love? Which ones do you want me to try and get my hands on to review? Let me know in the comments below!