TTPM Spring Toy Showcase had popular brand toys, of course. Lego has all kinds of Star Wars building sets. Mattel was there with lots of Frozen inspired toys. Nickelodeon was loaded up with Teenage Mutant Ninja Turtles, Dora the Explorer, SpongeBob and more. What I loved seeing were not just "the can't miss toys" like Universal's Minions toys, but also the smaller gems, like an amazing Butterfly Garden from Insect Lore. Spring was definitely in the air at the TTPM showcase, and here are my top 5 toys from the TTPM Spring Toy Showcase.
Top 5 toys from the TTPM Spring Toy Showcase
What makes a great toy? Well, in my mind, toys need to be simple and fun. Kids can play with a box, along with bubble wrap, for hours. I think toy companies forget how simple a toy can be, and yet still capture a child's attention. I won't like, the Minions toys excite me. It's not just because they're minions, but because most of them are simple toys. It's why they're at the top of my top 5 toys list. Everything else on the list will probably surprise all of you, because they're all non-tech. No batteries needed, but hours of fun will be had!
Minions from almost every toy brand at the Showcase
Everything Minions is awesome. Universal has come out with insanely cute Minions toys, and games with Minions themes. I seriously love all of it. What I'm most looking forward to for the Spring season is this little guy! Any toy brand that could get a license to make Minion toys, got a license. There will be no lack of Minion toys from companies like Universal, Hasbro, Thinkway, and SkyRocket.
Minions are "it" right now, because the movie is coming out this summer. My favorite is this adorable top that lights up and sings!
The Boy's favorite "non-toy" from the SkyRocket brand is the Minion Helmet. The Boy wants to wear it around the house, and finally wants to learn to ride his bike, because he gets to wear the Minion Helmet. I don't blame him, he's rocking it.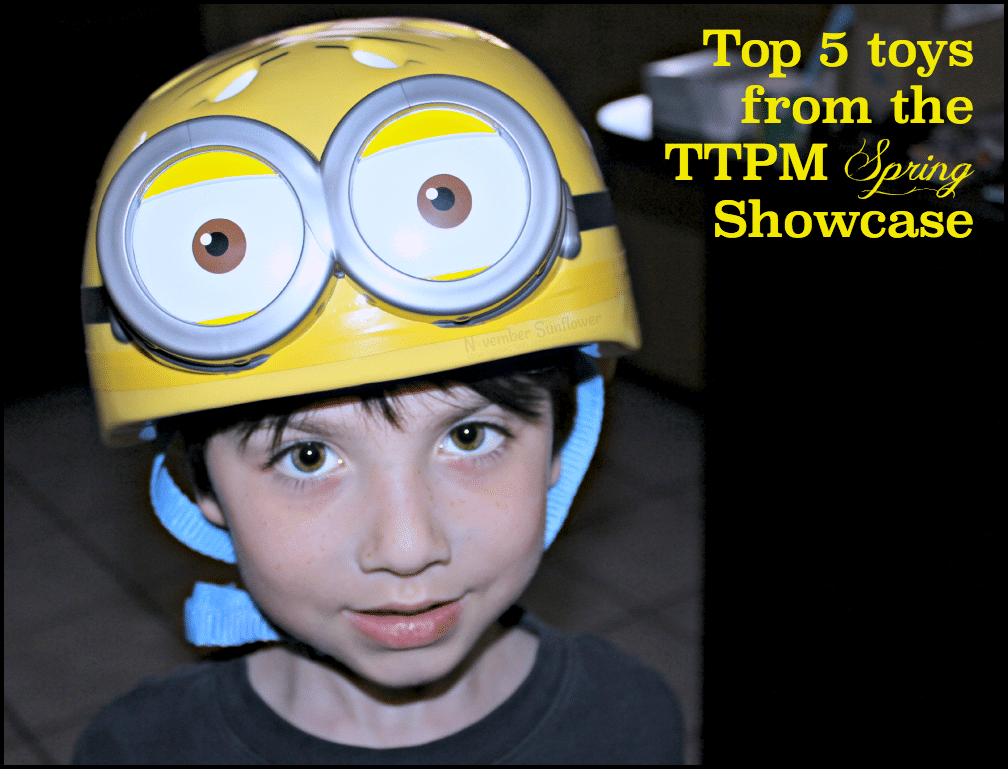 Creative Roots Create Your Own Fairy Garden
Anyone have a fairy loving daughter? Or a son? Fairies are universally loved, but Little Miss has a true adoration for Tinker Bell. It's been like this since she was a child, and has amassed quite a Tinker Bell collection. However, she's a lover of fairies in general, too. We took her to see a Tooth Fairy show once, and she's loved her ever since. Losing her first tooth was rather exciting. Apparently in school, there's a fairy named Deskarina. She comes and leaves little notes for those kids who have very neat desks. Go figure. Kids eat that sh*t up.  Being able to create a little fairy garden for all her favorite fairies to come and visit while she sleeps might send her into a whole new stratosphere of happiness. I'm not a huge fairy, or garden, kind of gal, but even this one got me! The Creative Roots Create Your Own Fairy Garden is cute squared! 
Alex Toys Shrinky Dinks Jewelry Kit
Shrinky Dinks are just fun. There's on one in the world who doesn't love the whole process of a Shrinky Dinks, right? Well they've now brought it to a whole new level: jewelry! Alex Toys now has Shrinky Dinks in their brand, and they've brought the dinks to a whole different level! Now they've got a bake & shape 3D jewelry kit so kids can make bracelets, rings, and earrings. I was so hoping they'd whip out a toaster oven so some of us could start making these little treasures, but BUMMER, no ovens to be seen.
Insect Lore's Live Butterfly Garden
In my kids' school, they always have a section of the year where they bring some kind of living creature into the classroom to learn about the cycles they go through in life. One year it was Preying Mantises, another year Crayfish, another year it was Hermit Crabs. Heck, they even had some strange lizard type creature in Kindergarten. What the kids haven't done is the butterfly! Out of all of the beautiful options, never have they done the Butterfly. Don't get me wrong, the Praying Mantises were AWESOME. However, I want the kids to witness the butterfly life cycle now. Now, this Spring/Summer, my kids will get to witness the life cycle of the butterfly with the Live Butterfly Garden. I'm so excited for this one!
A photo posted by Staci (@novsunflower) on
Whiffer Sniffers Scented Backpack Clips
Kids are obsessed with clipping things to their backpacks. My daughter has quite a few backpack clips on her Land's End backpack. One of them is a Pound Puppy. Another is some cat thing (which I hate, since I'm not a cat person.) Now? Now she's sporting the I.B. Popping popcorn scented backpack clip! My children hang their backpacks very close to my work area, and all I smell right now as I write this, is buttered popcorn. I feel like I need to be watching a movie right now…… It's such a simple concept, and when I gave it to my daughter, she said "OMG mom, this is awesome."
I think we've got a winner, folks. I do believe I'll be collecting a few of these for both kids, because The Boy was kind of bummed he didn't get one. Of course, he was whining about it while sporting his new Minions Helmet!
I know it's a top 5 list, but I have to throw out an honorable mention! 
Rose Art Sidewalk Paint
There's one set of the paints that look like giant markers. It's too cute. TOO CUTE I tell you!
Simple, but cute. Plus, kids love to be outside on the driveway, don't they? The Rose Art Sidewalk Paint will keep them busy and out of trouble for hours!
TTPM Toy Showcase is always a great event, and attending to play with all the toys is kind of a huge perk of my job! Hoping I'll be able to bring the kids next time, so they can enjoy all the fun toys!!! Videos of them with the toys would have been pretty damn cool, so here's hoping to next time!
Which toy are you looking forward to for this Spring? Comment below!