It's just.too.much. My head is spinning with all the awesome-ness happening with Hasbro. My brain is ready to explode. Do you have any idea how cool it is to see updated stuff centered around so many items I had when I was a kid? Twister, the Care Bears, My Little Pony, Play-Doh, and oh yes, my friends, G.I. Joe.
I feel like I'm a kid again…….and my Christmas List just got a little bigger for my kids, just because I want them to get all the fun stuff I use to play with, only updated with a new spin. I love it. I LOVE IT.
Oh, and yes, there's some new stuff out that looks rather cool, including Angry Birds and that crazy game everyone is addicted to, Bejeweled. I don't play it, but I get updates flashing on my wall all the time of those out there playing it on Facebook! I see all of you addicted out there. So instead of offering you a 12-step program, I'll inform you of the physical game! HAHAAAA. Yup, I'm evil to the core.
Let's get going, because I'm about ready to piddle in my chair from the excitement….
Twister has come out with a Twister Rave line. It's all about lights, and movement, and will only be expanding into a line of trendy clothing, and accessories. Do you remember Twister? You spun the little arrow on the cardboard piece, it landed on a color, you had to place your hand, or foot, on the color on the big board on the floor. We all remember it, we've all played it, and we're all kind of thinking "how the hell did we bend like that?"
Well, the RAVE versions are a bit different. They actually get kids up off their butts, but they don't have to mangle themselves up around other people! Plus, these light up…..so Summer will be a lot of fun at night after pool time is over, and it's time to enjoy beautiful summer nights.
Skip It has players skipping as long as they can, and the longer a player skips, the more the multi-color LED lights will glow. It's a decent price at $19.99, and I like how it's for kids as young as 6.
Ringz will be a fun one for kids who love to keep a beat. Kids can go online to get 20 different handclap games to play, and the rings light up and change color with each movement. Perfect for a long car ride with a couple of girls, as the game is for just one, or two, players at a time? Hey, for $7.99, you can't go wrong!
Stickz is another inexpensive goodie at $9.99. It's for one player at a time. A player has to flip and twirl the sticks to keep the LED lights on, and the longer you go, the more you glow.
Hoopz Game, another one person game, has the player spinning the Hoopz to light the LED lights. Another fairly priced game for the summer nights we'll all be having once school's out! It's just $14.99. Great price, great fun.
Angry Birds™ came out with a couple of cute items in the fall of 2012. Star Wars® AT-AT™ Attack Battle Game, Star Wars® Strike Back Battle Games, and the Star Wars® Mystery bags. They've added onto the Star Wars® teme for the Spring of 2013, and it's looking pretty cool, I must say!
Angry Birds™ Star Wars® Millennium Falcon™ Bounce Game: 1 to 2 players bounce 3 balls in order to knock down as many of those enemy pigs they can! If they land in the cockpit, they bring in some big scores. Kids 8 and older will probably love this game, and even better, they can unlock Angry Birds Star Wars in-app content with a special code that's in each pack. I'm not super excited it's $19.99, I think it could have been in the $14.99 price range.
Angry Birds™ Star Wars® Vehicle Packs are great for kids 5 years and older, but again, I feel it should be in the $14.99 price range, but they have it for $19.99. Kids pull back the vehicle, so it launches up the ramp and knocks down the pigs. There's three different sets: DeathStar Trench Run, Endor Chase, and Showdown with General Grievous. Again, another code can be found in each pack.
Angry Birds™ Star Wars® Foam Flyers are a decent price, I still believe they should be much less than the $9.99 price point, but cute for kids five and over. Personally, I included these because it's a great item for a birthday gift for one of the many summer birthday parties you'll be invited to! It's basically a soft foam Angry Bird character in Luke Skywalker, Chewbacca, Darth Vader, or Stormtrooper. It's always the simplest toys that get the most play from my kids, however, I'd have been happier if it was a 6.99 price tag, instead of the 9.99 one currently on it.
Angry Birds™ Star Wars® Power Battlers is more in line with its price of $9.99. It's got a target included that you have to knock down, and comes in Luke Skywalker, Boba Fett, Darth Vader, or Han Solo. If you've got kids 5 and over, it's a cute one, and it'll get the kids active outside!
Bejeweled® should be a game almost everyone has heard about, if you're on Facebook! There's so many friends of mine who play this game, and my wall is filled with their accomplishments. I'm kind of hoping the game becomes popular to do at home, and not so much on Facebook. It's cluttering up my wall, and I don't even play it. Hasbro has come up with a physical game kids can play together, or adults can enjoy them as well.
Bejeweled® Game has 91-three dimensional gems that can be swapped, to create matches of three or more to collect coins. Obviously with the intention to win! It's meant for 2 to 4 players, ages 8 and older. The game comes with a download of the Bejeweled 3 online game, so the $19.99 price tag seems fitting for this particular game.
Bejeweled® Frenzy Game is again for 2 to 4 players, ages 8 and older, and runs a little cheaper at $14.99. This one is more of a card game. Kids match gems on the cards, and then build a stack of cards, as well as collect Boost Gems. It'll also come with a link to redeem four Rare Gems, which can be used on the online game. The online game is for 13 years old or older, since it is through Facebook.
Bejeweled® Blitz Game is for 1 to 2 players, but the age is still 8 or older. It's a little pricier at $24.99, but the game includes three dimensional gem tiles, which players have to match in threes while building towers. The player who gets rid of all their gem tiles before time runs out is the winner.
Care Bears were a staple when I was growing up. I loved mine, and I still have it. Now, you may not find it shocking a little girl kept her Care Bear all these years, but for me, it is very shocking, because I usually destroyed almost everything I had growing up. I just loved stuff hard core, and they got ragged. I'm not sure why my Care Bear made it through the years unscathed……perhaps high quality craftsmanship? She's purple and I love her. My daughter will probably end up with it in her room at some point……at least she'd like that! Lucky for her, and many kids out there, Hasbro now has classic plush bears like my old one, as well as updated, sleeker versions for the more mature girls we seem to be raising today! Plus, figurines, too.
Classic Plush Assortment: I don't recall how much my Care Bear was as a kid, but I'm sure it was probably more than $19.99. Mom probably remembers. When it came to Christmas in our house, my mom would work five jobs to make sure our tree was ready to fall over with gifts under it. She is still the same……a big gift giver! The classic plush bears are $19.99, and come in a few different types: Cheer Bear, Share Bear, Harmony Bear, and Funshine Bear. They've got their belly badge. Later in the Spring, Wonderheart Bear will be debuted. If you're okay with waiting until the fall, you can snag Love-a-Lot Bear, and Wish Bear. Oh, and you get a DVD with each bear, too. Total bargain for the price tag, right?!!!
Care-A-Lot Friends Assortment: These plush bears are less expensive, just $9.99, and are the "updated" sleek style I know my daughter will enjoy. These are just 7 inches, though, so a bit smaller than the classic bears. In the Spring you'll be able to get Cheer Bear, Harmony Bear, and Funshine Bear. Little girls will have to wait until the fall to get Love-A-Lot Bear, Share Bear, and Wish Bear.
Blind Bag Assortment: Kids can collect two-inch figurines of the 12 Care Bear characters. Each character has two different poses, so kids can collect 24 figurines total! You just never know what you'll get when you buy a blind bag. However, for $2.49, it's totally worth it to just keep trying until you get your favorite bear!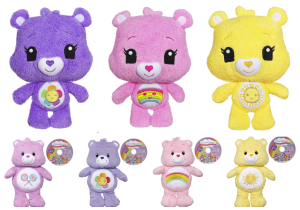 My Little Pony is another one I loved as a kid. Of course, we didn't have any pink ponies, but they came in so many colors, it worked out rather well! As a kid I had a castle, and a nursery for the little baby ponies. Hasbro has come out with a few new items for Spring of 2013, which have some really cute hits, even one that's <gulp> pink! What's the world coming to when I'm okay with some pink……as long as my daughter doesn't want it, we should be fine!
Walkin' Talkin' Pinkie Pie Pony: Personally, since it's pink, it's a little overpriced at $22.99. KIDDING. It's a decent price for this party pony. She walks forward, speaks silly phrases, and she sings, too. At least it comes with "AA" demo batteries!
Crystal Theme Pack Assortment: You get two ponies, and themed accessories in each pack, for $14.99. Great deal, I have to say. The pack choices – Twilight Sparkle & Princess Cadance Crystal Jewel Salon and Pinkie Pie & Fluttershy Crystal Sparkle Bath. CUTENESS!!!
Fashion Style Assortment: Another $14.99 item, but this one comes with just one pony at a time. The ponies are dressed in party capes, and some glam shoes. High heeled shoes of course. The ponies come with accessories and dress-up outfits that match their pony-ality. There's two options – shoe-shopping fun with Princess Cadance, and a purse party with Princess Twilight Sparkle.
Blind Bag Assortment: Apparently blind bags are popular…..the ponies couldn't miss out, right? It's a great price at $2.49. There's 24 ponies in all, and they come in three different themes: gem ponies, Wonderbolt ponies, and bright neon pony friends.
Play-Doh is one of those things we all love, yet we cannot stand cleaning it up. Better yet, we can't stand finding it mashed into the carpet after we've cleaned it up, and it's five days later. However, it's still such a huge favorite amongst kids. I don't know, there's just something about the smell of it when you crack open a new container of Play-Doh……takes you right back to your younger years. Apparently it's all about baking, and Disney for Spring of 2013!
Frosting Fun Bakery Playset: Kids aged 3 years and up can stamp out cookies and cupcakes, then decorate them with Play-Doh Plus compound (fluffier compound for finer detail, which you can get as a variety pack with regular play-doh for $4.99) using the Dolloping Station. There's also a stand, and a tray, so kids can show off the creations once completed. Great price of $14.99!
Flip 'N Frost Cookies Playset: Mold a cookie, put a dollop of Play-Doh Plus right on there, and then head to the Cookie Catapult to create a cookie sandwich. Totally worth the $9.99 price tag.
Monsters University Scare Chair Playset: Monsters University is out in June. June 21st to be exact! For this playset, Sulley, or Art monster thimble in the barber's chair, and then watch the hair grow. Kids can cut it, style it, or just laugh at it! It comes with two monster thimbles, a barber chair themed extruder, scissors, half molds, and four cans of Play-Doh (2 standard, 2 small.) All of this for $9.99, is pretty good for Summer fun on rainy days. Or outside, so the mess doesn't matter!
Disney Mickey Mouse Clubhouse Mouskatools Set: My son is still in love with The Mickey Mouse Clubhouse. He's going to love molding and creating with stamps, and rolls, and extruders! It's a fantastic price at $9.99, because you get the playset, plus three standard cans of Play-Doh.
Disney Mickey Mouse Clubhouse Character Tools Assortment: Again, who doesn't want to have fun with Mickey Mouse characters? Every set comes with a character mold, two tools, and a standard container of Play-Doh. Perfect price of $4.99.
Disney Princess Rapunzel Hair Designs Playset: Just load the Play-Doh, then crank out some hair for Rapunzel. There's a comb to create crimp designs, or twist it up into a braid. It comes with standard sized sparkle Play-Doh, plus a can of regular large container of Play-Doh. Kind of a great deal for $12.99.
Disney Princess Sparkle Compound Assortment: If you're looking to bring more sparkle into your world, there's a whole variety pack for $4.99 that features a Disney Princess character. Right now for Spring, there's Cinderella and Rapunzel. In the Fall of 2013, Ariel will be available. Each compound comes with a tiara-shaped stamper, along with two containers of Sparkle Play-Doh, plus a characterized tool.
G.I. Joe: It doesn't matter if you're a girl, or a boy, EVERYONE can get down with G.I. Joe. My sister and I played with them, my mother played with them as a kid. My kids, a boy and a girl, both enjoy good G.I. Joe fun! They came out with a ton of stuff in 2013 already, but there's a few items coming out for the upcoming Spring/Summer.
Movie 3.75″ Action Figures Assortment: Some of the figures were released already, back in February. However, some won't be out until Fall of 2013. This is the reason I'm sharing them with you – the new figures will be out before you know it! Basically, for $9.99, you can get an action figure that looks almost identical to the movie character. They look surprisingly similar to the actors playing the roles in the movie. You've got Dwayne Johnson, or you may still call him The Rock, as Roadblock. Channing Tatum, or hottest body ever as I call him, as Duke. Then you've got our legendary action guy, Bruce Willis as Joe Colton. Each figure comes with something cool like a ninja zip line, or a launcher.
 Movie 12″ Figures: There's a line of 12″ very detailed movie figures for $9.99. They're Snake Eyes, Roadblock, and Storm Shadow. Again, they look very much like the characters from the movie.
Micro Force (series 2): These are super cute, just cost $2.99 to $5.99, and are super small. They'll be 43 of these little figures based on G.I. Joe vs. Cobra characters. Look for Snake Eyes, Storm Shadow, Cobra Commander, Scarlett, and a ton more. They'll come in Blind Bags, and Starter Packs.
KRE-O Star Trek: Star Trek has been around for years, the updated movie with Chris Pine is super popular, and the newest one in the series is coming out. I mean, it's Chris Pine. He's worth a trip to the movies, and the actual movie lines are a bit updated, and fit a new generation. SCORE. With the new movies, comes a real love of the toys again, and Hasbro isn't going to let the new love of the brand go by without some major new toys for store shelves! Before you read up on everything, head over to see the YouTube video they made. So cute. There's a lot, so get ready!

Star Trek U.S.S Enterprise Building Set: 432 pieces, and five KREON figures…..plus it'll require AAA batteries. WHAT? Crazy, I know, but how cool is it to buildhe iconic ship from the Stark Trek into Darkness movie???!!!! It's 18 inches long, once it's together. Plus, it'll light up, and it will launch a projectile. The figures include Captain Kirk, Spock, and Dr. McCoy. It's a higher price, at $49.99, but totally cool, and worth it!
Star Trek Klingon Bird-of-Prey Building Set: A little lower in price at $24.99, it includes Lighttech brick that will light up the cockpit, and two firing projectiles. There's four figures included: Captain Kirk, Uhura and two Klingons. It's got 236 pieces, plus it'll require one of those annoying little batteries.
Star Trek Spock's Volcano Mission Building Set: Volcanoes are cool. Doesn't matter how old you are. This features Lighttech which, again, will require those annoying little batteries. There's a string zip line, along with push lever activated erupting brick volcano. Decent price of $14.99, but again, this one will require two LK41 Alkaline batteries. EEK.
Star Trek Transporter Trouble Building Set: Best price at $9.99, it's the building set that features a mechanical push lever that rotates KREON figures, and again, you've got the Lighttech action going on, and you'll need two LR41 batteries. Scotty and a Klingon are included in this set, along with 65 pieces of good, clean fun!
Star Trek Micro-Build Ships Assortment: If you're looking for sets that cost less, at $4.99, and take up  less room – hit the little assortment ones. They come with 34-42 ppieces, and sti on a Lighttech illuminated stand. You can get U.S.S. Enterprise, Klingon D7 Battle Cruiser, U.S.S. Kelvin, or the Jellyfish. Every one of them will need an LR41 battery.
Star Trek Space Dive Building Set: It's a mini-build of a ship airlock, which are found on most of the Star Trek ships. It's got the first Lighttech Kreon figure, which you can light up when you push on its chest. There's 36 pieces, with two Kreon figures, Captain Kirk and a villain with press-fire projectile weapons. Again, that pesky battery will be needed! For $7.99, it's a great birthday gift for any summer birthday boy!
Star Trek Kreon Figure Packs: Just want a figure? Spend $4.99 and you can get characters from the upcoming Star Trek into Darkness movie. There's six different characters coming out: Gorn, Captain Nero, Keenser, Grasia, Kingon, and Lieutenant Sprong. In the fall, there's going to be 12 more released: Captain Kirk, Spock, Borg Drone, General Chang, and more. All of them will be sold separately, of course!
Transformers: Transformers is another line of toys that Hasbro has, which has a ton of new stuff coming out. I'm just interested in sharing the line that's kind of celebrating the 30th year of the brand. They have the Generations series. Right now there's a few coming out for Spring, and then later in the year, there will be a historical debut of the largest converting TRANSFORMERS figure ever made: Titan Class Metroplex. Look out for that, but for now, I'm going to share a couple I thought were rather cool!

Generations Legends 2-Pack Assortment: Kind of a great bargain deal here, because you get two in a pack, and it's just $9.99. Kids get two Transformers characters, which each have special features. Pop-Change Data Discs, which go from a data disc to a robot automatically when the discs are dropped. The Data Discs also fit into the Voyager scale action figures Soundwave, Soundblaster, and Autobot Blaster. You can also choose to get more traditional characters like Optimus Prime, Bumblebee, Megatron, and Starscream. Each of them comes with a partner figure, and both of the figures convert from vehicle mode to robot mode.
Generations Deluxe Assortment: These feature characters, and designs from throughout the history of the brand. If you've seen the video game Transformers: Fall of Cybertron, you'll love the fact that SOME of the figures come in the Cybertronian style from the game! They've also got the first ever figure of Orion Pax, who is Optimus Prime before he became Optimus Prime! When the second wave of these figures comes out later in the year, five Autobot Wreckers figures will be added to the mix, and will combine to create Ruination. All of them are priced at $14.99.
Generations Voyager Assortment: These figures will be a little more money, at $19.99, but will be larger. Grimlock and Dinobot will feature electronic lights, chomping dino-jaw, and a sword and shield. Triple-Changers make a return, with Autobot Springer converting to a car, or helicopter, and Blitzwing can become a tank, or jet.
Iron Man: There is so much Iron Man action going on, it's insane. Hasbro has a TON of new toys out, all based on Iron Man. However, I'm just into one specific line. I find the Iron Man 3 ARC FX Series unique and cool. It's all about role playing, and the stuff is just wicked cool, plus it gets kids PLAYING, instead of sitting on their butts. Kids can just get themselves geared up like Iron Man, run around, and have a blast. Wearing the mask, the gauntlet, repulsor, and so much more.

Motorized ARC FX Gauntlet: It's a wrist-mounted disc-blasting MOTORIZED gaunlet! It shoots foam discs more than 20 feet, with rapid fire! It's NERF foam discs, so it's not going to do much damage. Kind of cool for $19.99. I have to admit, I'd like one to use around the house to get the husband working outside a bit more….
ARC FX Mission Mask: Kids love wearing masks. This one has dual missile launchers, plus a glowing lights on the visor. Oh, and it has a targeting beam light effect! It has sound effects, of course, and you can't have a mask without movie quotes coming out of it, right? Totally cool. It's a fair price at $24.99, too.
ARC FX Wrist Armor: Perfectly priced at $6.99, this wrist armor is adjustable, plus it comes with two launching missiles.
ARC FX Repulsor: Another wrist item, but this one goes not just on the wrist, but the child's palm as well. It's got adjustable size straps, and of course, lights and sounds! Also, a perfect price of $9.99. Birthday gift for a kid this summer, or a nice inexpensive one for your kid for the summer!
ARC FX Hero Mask Assortment: Masks are fun! They've got lights, plus glow in the dark face plates. Two masks available: Iron Man and Iron Patriot. Each will run you $9.99. Another great birthday gift item!
Easy Bake Oven: Apparently, to celebrate 50 years of Easy Bake Oven fun, they've decided to come out with a new color in the Fall of 2013. Honestly, it stemmed from a little girl who made a big deal about her brother not being able to play with his own oven, because it only came in the pink color. Now, first, I'm not sure why a kid should have to be concerned with the color of an oven, or toy, to play with it. However, kudos to Hasbro and Easy Bake Oven for creating a silver, blue and black model. I should have waited to get my daughter one, because I hate pink, however BOTH my kids use it, regardless of the color it is.
A bonus? There's going to be more options for baking!!!The ultimate oven comes with all the tools needed, plus it will have cookies, whoopie pies, checker cakes, pizza, and pretzels to bake with the new oven. For refills, you'll have to head to the store for the refill packs that run you $6.99 each. You can get chocolate chip and pink sugar cookies, whoopee pies and strawberry cake, pretzels, cheese pizza, cake bars, and chocolate truffles.
Two new items out for this year: Strawberry and Red Velvet cake mix that can be used to do layer cake bars, plus petit fours, and chocolate truffle mix.
If none of this interests you, try the Trends Assortment, which runs around $14.99, and has options like Cake Pops and Whoopee Pies. Cake Pops comes with mix for 12 pops, and a display stand, plus 6 re-usable cake pop sticks, and two gift bags with ribbon. The Whoopee Pie comes with enough for 9 pies! Plus decorating ingredients are included with the whoopee pie mixes.
Gotta love turning 50…..
Enjoy the shopping for the Summer toy season!!! Hopefully this helped you, and you'll be able to spot all the best of the best on the shelves at your local toy stores!!! Or online! Stock up, have things ready to pull out all summer long. Especially birthday gifts for all those summer birthday babies!