I will start by saying there are NO BATTERIES required for my favorite toy coming out this Spring. I'm not kidding. It charges with a USB connection. SWEET LORD, we've got a winner!
Don't get me wrong, Spin Master has a ton of great stuff I'm going to go through in this post. However, the "top dog" in my book is Zoomer, who doesn't require batteries, and has a whole slew of fine qualities about him. Shall I introduce him to all of you? Alrighty then…..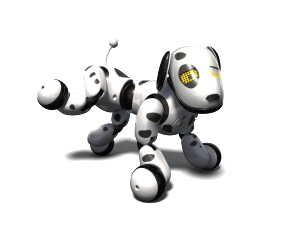 His finest quality, beyond not needing batteries? He listens. Wait, no…he doesn't shed. Hold up, perhaps it's that he will never have an accident in the house…..okay, there's just too many fine qualities about this robotic dog. If you've got a kid in the family who wants a dog, but is allergic, you've just found the answer to your dilemma.
I had a chance to watch this little nugget in person, and trust me, I'll be trying to get one to review to get the full experience. Right now, I'll just go with what I saw with my very own eyes at the Time to Play Spring Showcase in April. Zoomer is on rollers. He can "zoom" around everywhere, he can roll over thanks to his rotational core, and he can lift his leg like he's peeing. He can be playful by putting his little head down, raising up his back end, and wagging his tail – alerting you he wants to play.
The voice command was cool, and I loved that the sensors in his chest can track objects, including your hand when it's rubbing his belly. He does tricks, and the more you play with him, the more tricks he learns. Seriously, I'm in love. We'd have to re-name him though…….I'm wondering if that'll be an option when it comes to stores……..
Now, for the rest of the Spin Master goodies I'm totally digging!
First up, for all the bakers out there (which goes for my kids and husband, not me so much,) is the Cool Baker™ Donut Maker. This one's coming out in the Fall of 2013. Yes, I'm alittle ahead of myself, but I want you all to know about this NOW, so you can be on the look out when it hits stores in the Fall. Especially since it's just $14.99. The best part about this? There's actually no baking required. All you do is add water to the donut mixes, put in the fridge for 15 minutes, then decorate and eat. Pretty cute, and a great item for kids on a rainy, or snowy, day when they are driving you NUTS.
Next up, Scare Off Sulley coming out in Fall of 2013. I know, I'm early again. However, you guys need to be on the lookout! Get ready to pounce when it shows up in stores. It's going to be a bit pricier, but it looks fantastic for $79.99. Monsters University is coming out in June of 2013, so by the holidays, I would imagine the DVD will be released, which means all of these Monsters University related toys will be high on wish lists! This little plush has five modes of play. He talks, moves and scares all like the movie Sulley does. It actually reacts to the strength of screams and scares. He teaches them everything he knows, and then they can have a Scare Off!. TOO CUTE. Unfortunately, I don't have an image to share with you. Just imagine SULLEY, plush, and a bit smaller than his on screen image!
My next favorite, also coming out in Fall of 2013……so odd they had these at the Spring Showcase, but hey, we go with it, right? It's a great game for $19.99, and it will require nerves of steel. I'm not joking. BOOM BOOM BALLOON™ is all about making sure you aren't the one that pops the balloon with a stick.
If you've got a little SPY enthusiast, like my kids, who love to play secret spies…..you'll love my next pick! Again, it's a Fall of 2013 item……sorry! There's a ton of items in the Spy Gear line, ranging from as little as $9.99 to as much as $59.99. You'll be able to find something for your secret spy, for sure. Sonic Distracters, Lazer Defense Network, Spike Mic Launcher, Stealth Com Walkie Talkie, Tri Cam Video Watch, and my personal favorite, the Panosphere 360 Camera. I'm wondering if I should just get this for myself, so I can freak out the kids with all the things I know they've said, but were in their rooms when they said it, and I was no where to be seen…..something to think about, my friends.