It's important to be prepared for all holidays, but for some reason, St. Patrick's Day always gets away from me. I forget to be prepared for St. Patrick's Day. It's not like I don't know it's coming, but I always seem to forget the kids actually enjoy celebrating it. Our Nana insists we're part Irish. Personally, I think she just likes having a reason to eat corned beef and cabbage. I've decided to get ahead of the game this year, and prepare for the festivities with a great menu, fun goodies, and of course, some cute desserts!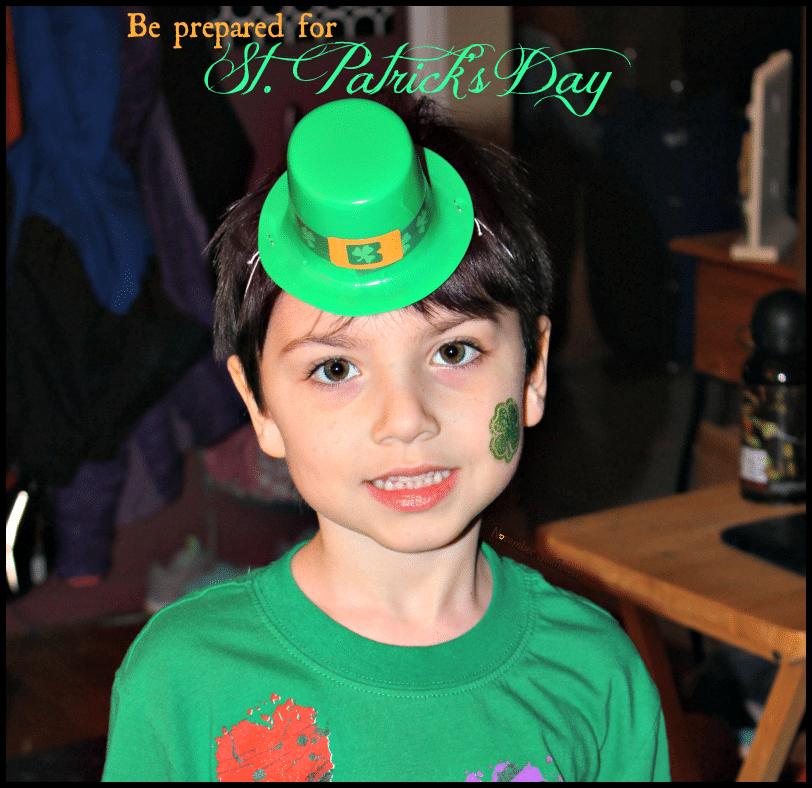 It's important to be prepared for St. Patrick's Day
If you aren't familiar with the holiday, but need to know how to prepare for St. Patrick's Day, let me attempt to help you out. Take notes everyone, a St. Patrick's Day requirement: corned beef and cabbage. Crazy as it sounds, I enjoy corned beef. Personally, cabbage is gross. However, it goes along with the corned beef, and it's tradition. Stinky cabbage aromas fill the house, and it's just something I grin and deal with. It's only once a year, right?
To make up for it, the dessert has to be fabulous, and decadent and then we just go all out with fun goodies for all!
Corned beef and cabbage
Since I'm not big on cooking, I like to keep things simple. Don't get me wrong, just because something's simple, doesn't mean it doesn't require a little bit of work! You've got to add to the menu, especially for those that aren't into corned beef and cabbage, but the main dish needs to be simple, as well as delicious. I've got a super simple recipe I found on Epicurious for the main event dish: Corned beef and cabbage.
Now, I like to make sure everyone eats something. So if the people don't want corned beef, there's always chicken. Plus, a few different sides. No one wants to miss dessert just because they didn't eat all of their dinner.
If you want a bit more inspiration for your corned beef and cabbage recipe, you'll want to read this –> Corned Beef Recipes for St. Patrick's Day
Dessert
Dessert has to please adults, and kids. Since I can't liquor up the kids, but I still want to have that decadent flavor, there has to be a happy medium. Bailey's was on my mind, because it's the first thing I think of when Irish drinking comes to mind….you know, after a good beer. In any event, instead of using the real stuff in a dessert, I found a great dessert pie recipe that used a Bailey's flavored creamer! Can I get a fist bump? Yeah I can!
You have to go check it out over on Grandbaby Cakes. It's the St. Patrick's Day Dessert Pizza, and it not only looks pretty, but I fully believe it will taste divine! Parents can spike their coffee that night with a little of the real irish cream goodness, if they want to take the dessert to a whole new adult level of fabulous!
Need more options for desserts, along with some cocktails, you're definitely going to want to read this –>Cocktails and Desserts for St. Patrick's Day
Fun goodies for everyone
No one would refer to St. Patrick's Day as a "great food" holiday. Corned beef and cabbage isn't what you'd call the dish of all dishes, and when you're having a family gathering, drinking like you're at the St. Patrick's Day Parade in New York City, well, that's just not an option. How do you "fun it up?" You dive into some fun props, and shirts, and hats. Who doesn't love a giant shamrock covered top hat? Snazzy St. Patrick's Day socks? A great pair of light-up shamrock earrings? Come on, now????!!! You can't resist the tuxedo tshirt for yourself, and the mustache tee for the hubby? Isn't that what all good host, and hostesses, wear for their St. Patrick's Day party? No? It's just me and Mr. Sunflower?
With the way our weather has been going, I might also need to get the furry monster scarf and hoodie set.
Intrigued? I know you are, check out some fun St. Patrick's Day goodies list!