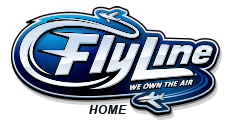 Heaven. It's what my son was in on Saturday, at The Big Toy Book Holiday event at Yotel in NYC. If he could have flown the FlyLine Remote Control Plane all day, he would have. He kept getting in line, and his sister wasn't far behind him! Totally adorable. And totally something we are considering purchasing. The kids LOVED this thing….and I loved it because it was TETHERED to the pole. No crazy plane antics happening with this bad boy!
What the heck is it?
It's the FlyLine Remote Control Plane! It's beyond cute.
Basically, it's a remote control plane tethered to a pole. You can learn to take-off, do landings, climbs, dives, loops, double loops, knife edge flight, and a bunch more stuff. If you're lucky enough to have a huge basement, like we are, you can use it indoors. Why? Because it's TETHERED TO A POLE. Or you can do it outside, whatever you like.
There's different versions of the Air Racer Complete Remote-Controlled Flight System: Blazing Babe and Knight Ghost. There's also the Air Combat system, which comes in Spitfire and Shark Hunter. They can be found online at Walmart, Toys R Us, Target and H-E-B. All of the toy stores sell them for around $80.00 to $90.00. Plus, there are expansion packs, that run for $50 to $60. Expansion packs are compatible with the complete flight system sets!
I was also told by the company at the event, when you are part of the FlyLine RC Hangar Program, you can get spare parts, up to THREE replacement parts, for free, you just pay for the shipping! The Hangar Program also offers tips and tricks for minor repairs, as well as ways to help reach peak performance for your planes. If you participate, you will have FREE lifetime membership to the Hangar Club, which is a group dedicated to Flyline competitive play, which is who offers the spare parts freebie!
It's simple to enter, you just have to send an email to community at flylinerc dot com. Let them know the pilot's name, preferred means of contact, the model names of the planes purchased, and you're all set to be a part of the program.
My kids were in love with this plane, and for our family, the fact that we can use it inside and outside, is very cool. Gotta love that tethered aspect of it all!