Disclosure: This post is a sponsored post about the new car contest, for which I received monetary compensation from Cars.com. All opinions are 100% my own.
Last year my brakes on my minivan started to give me a bit of a scare. One night after my daughter's dance class, I was driving home in the dark and as I went to turn left at a light, I had to hit my brakes. When I pressed on the brakes, the pedal wouldn't move. I was standing up out of my seat to try and get it to go down, but it didn't want to budge. My heart raced, and then all of a sudden, it gave a little and started to go down. Of course, I had already gone into full-blown, sweat pouring out of my body, hyper-ventilating panic attack. Scared myself, the kids and probably everyone driving around me that night. We needed a new car, but there wasn't any luck in entering a new car contest. I never won stuff like that, EVER.
Upon arriving home, my heart was still jumping out of my chest. I stumbled out of the car, got the kids into the house and told my husband "we almost died." I relayed the story to him, and he, as always, thought I was crazy. He said something was probably jammed under there, and it moved. He went looking to clear all the crap off the floor so it wouldn't happen again. I knew that wasn't what it was, and getting back into that minivan scared me. I drove slower than a turtle for the next two weeks, just in case I had to brake suddenly I could rely on the emergency brake in a jam.
Then it happened again. I was driving the kids to school, and I couldn't brake on my own street. I was about 20 feet from my driveaway, driving up the street, and the brake pedal just wouldn't move. Once I got a little further down the street, the magically engaged again. What the what? I told my husband again, and he thought I was nuts. For another two weeks I just went crazy slow everywhere, just in case I wasn't nuts about these brakes. Validation for me came when the husband had to drive the van.
Hubby experienced the brake issue, and finally, FINALLY, he realized I wasn't nuts. Apparently, there's a sensor on the brakes. The sensor, for some reason, wasn't sensing anything until the car had been driving for a certain distance. My husband's answer to our issues? Just drive in the area until the brakes engage, then hit the open road. We can't buy a new car right now, and the sensor costs over 400 bucks to fix. Yes, that's right. I drove around our neighborhood for months, and months, with these brakes and my kids in the car. Say what now? Yes. It actually made me a much more careful driver. Our neighbors thought we were nuts, because I'd drive 2 miles an hour down our street until the brake sensor kicked in. Always with my hand on the emergency brake.
As if the brakes weren't enough, the windows wouldn't roll down. Passenger side went first, and then one day my driver side window wouldn't go down. I had to get out of my car at the bank's drive thru teller. Yeah, that's super awesome when there's a huge line behind you and you aren't able to roll your window down. If my son wasn't sleeping in the backseat, I'd have just driven around and gone into the bank. Instead, I had to open the door, and step out of the car.
Total nonsense. I finally told him this is bull. Everyone is in danger with this damn thing, we need to replace it NOW. Personally, I hate car shopping, so I left it to Mr. Sunflower to start the process of checking out per-owned cars. We sure couldn't purchase a brand new one!  After weeks of hunting around, he ended up finding a lovely woman who was selling her car through a third party website. He went and checked the car out, then we both went to check it out. He did all the haggling, and back-and-forth with the seller, the bank, and insurance. I did the legwork, a few times.
Apparently, when doing all the haggling, he forgot to have a form filled out. I found out on a super awesome snowy day when I trucked down to the DMV to try and register the new car.
"Oh no, this receipt of sale isn't going to work. Any car that's from a certain year has to have this form filled out."
Yeah, hubby got an earful with that blunder. The kids were at school, the snow was starting to fall, and I told him to get the woman on the phone so I could get the form completed, and signed. My father was nice enough to drive me during this fantastic snow storm to the woman's house. She apologized for not knowing, and I told her "it's totally our fault. I just appreciate you doing this for us!" Off my dad and I went back home, and I returned to the DMV the next day and got everything registered.
I was so happy to have the car registered, I actually took the plates off of the minivan myself, and put them onto the new car. My husband was shocked. I'm not sure why, I do know how to use a screwdriver…..
After all of the back-and-forth, finally the weekend prior to Christmas, Mama Sunflower got herself a new car. Mama Sunflower also had a #newcarface to match!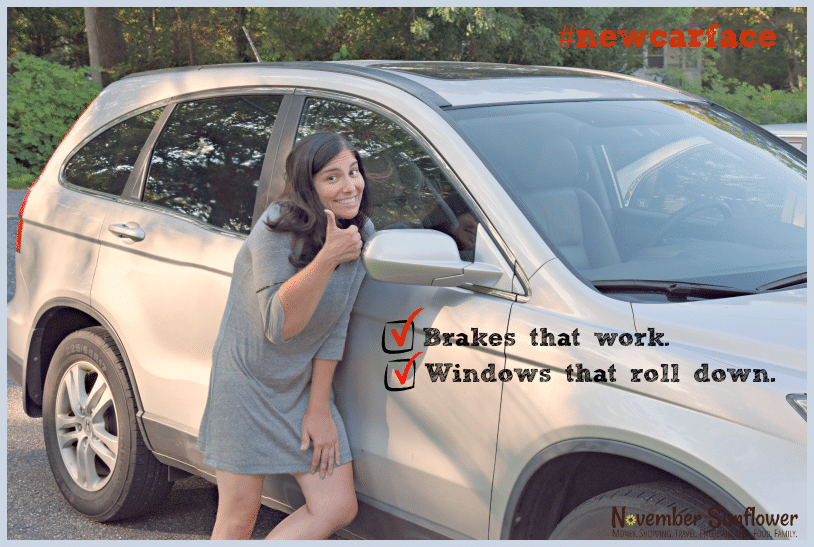 Our first trip in that new car was to Pennsylvania to visit a theme park, and we couldn't have been happier to have the new car! It smelled new, even though the woman had owned it for three years. I can tell you, that scent didn't last long with my two monkeys in the car! However, my #newcarface is still shining!
New car contest
Have you been searching for a new car? Did you just get a new car? Are you totally freaked out about trying to find a new car? Cars.com can help take the drama out of car shopping, that's true. Now they want to find one person they can also pay off a car loan for (up to $25,000.00.) Sounds like a great chance to un-drama that whole car buying process to me! You might just want to try to enter the Cars.com newcarface contest, where you can attempt to win the chance to have your car loan paid for up  to $25,000! It's all about snapping a photo of you, your new car, and your #newcarface. Then start sharing your #newcarface on Twitter, Facebook and Instagram! How wicked cool is that?
Seriously. It's so simple. If you want to enter on Twitter, go ahead and upload your photo of you and your new car! Then slap the hashtag @newcarface on the post, and tag @carsdotcom, too! If you're more into Instagram, same thing. Upload the photo and get that #newcarface hashtag working, but don't forget to tag @carsdotcom. I know, not everyone is on Twitter and Instagram, but perhaps you're a Facebook lover? Same premise goes for Facebook. Post your photo, but do it on the Cars.com Facebook wall (as a new post.) Again, use the #newcarface hashtag, or the entry won't count!
I wish I could enter, but I'm not allowed. Dang it. However, here's what you all need to know if you want to try and enter the newcarface contest.
Participants can only submit 1 entry during the promotional period.
Open to legal US residents (excluding MD, NJ, and TN,) 18+ who hold (or whose immediate family member holds) a qualifying vehicle loan or lease.
Began on 7/29/14 at 8:00:00 am CST and ends 1/2/15 at 12:00:00 pm CST.
Prize value up to $25K. Subject to the Official Rules. See Official Rules for full details, including eligibility and qualifying vehicle registrations. Sponsor: Cars.com, a division of Classified Ventures, LLC.
Do NOT include any personal information, such as your license plate number!
A "New Car" is considered a new or used car bought or leased on or after 1/1/2012.
Special note: All photos within this post were taken with the Nikon D3300, using the AF-S DX Nikkor 18-300mm f/3.5 – 6.3G ED VR lens.