Disclosure: I am a member of the Collective Bias® Social Fabric® Community. This #shop has been compensated as part of a social shopper amplification for #CollectiveBias and its advertiser.
How often does one get to walk through the skin care aisle at Duane Reade accompanied by a dermatologist? I'd say it's pretty dang rare! A group of fabulous ladies, and I, got the chance to not only shop the skin care aisle at 40 Wall Street's Duane Reade in New York City, but also have prominent NYC dermatologist Dr. Debra Jaliman as an escort! Hold up, though. We also had the Senior Research & Development Director from Johnson & Johnson, Anna Prilutsky with us, too. So what happens when a group of women who want to fight the aging process get together with two sharp ladies in the beauty business? Let's find out, but I can tell you, Retinol was the star of the hour!
What's Retinol?
Simply put, Retinol is derived from Vitamin A and helps reduce wrinkles in collagen-depleted skin. The best way to help your skin is to use a product with Retinol, like RoC Brand eye creams, and follow it up with a great moisturizer that has sunscreen in it. Why? Retinol can help repair your skin, for sure, but if you continue to head out the door without sunscreen on your face, the sun's just damaging the skin again. No skin care product can help your skin if you keep damaging it when you don't make it a priority to apply sunscreen EVERY DAY.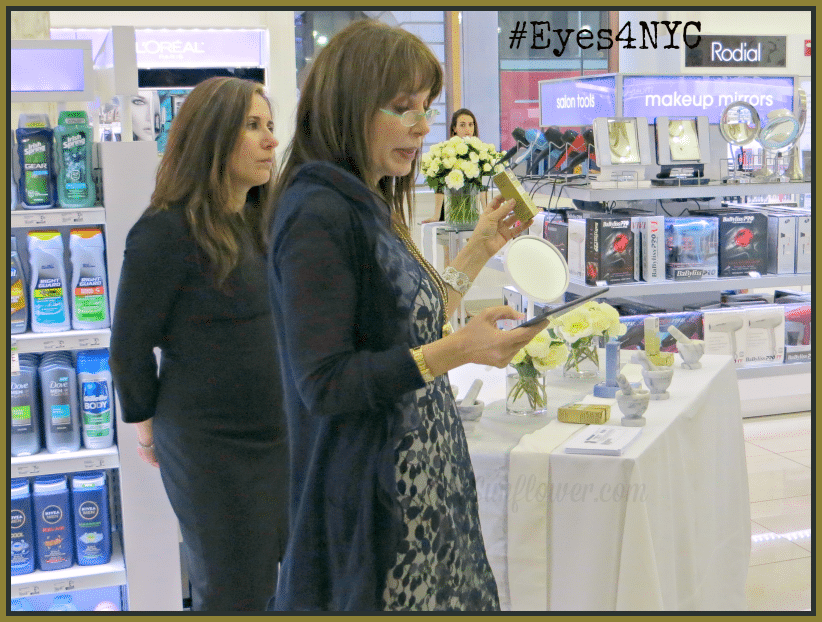 Dr. Jaliman was also so adamant about sunscreen usage on even the rainiest of days.
"Just because it's a rainy day, doesn't mean you skip using sunscreen."
The sun is always out, and even though clouds and rain are between your skin and the sun, it doesn't mean the sun isn't breaking through and damaging your skin. Never skip sunscreen.
RoC® Skin Care at Duane Reade
Walking through the aisles of Duane Reade can be intimidating when you're hunting for anti-aging products and wrinkle treatments. It's overwhelming trying to figure out the best products to use, so we asked Dr. Jaliman and Anna Prilutsky what all of us should look for when it comes to products for our faces. Their answers were simple, and made absolute sense and many of us. I bet we probably would've slapped our foreheads showing how silly we all can be about our skin, but we had our smartphones and cameras out….but here's the most simple rules to follow when it comes to your skin:
Always go for products that have Retinol
Look for the products that have done clinical studies showing proof of the claims being made on the products
It's a must to find products with broad spectrum sunscreen
Whatever the product you choose, a little goes a long way
RoC® Brand skin care products for every age
Frankly, I'm not showing a huge amount of wrinkles around my eyes. I honestly thought it was just plain silly to use wrinkle creams, and anti-aging creams dedicated to my fine lines around my eyes. I've got wrinkles, do not get me wrong. I'm not in my twenties anymore, those little buggers are right across my forehead and it drives me crazy. However, the ones around my eyes haven't started showing up as of yet. I started using the RoC® Multi Correxion® 5 in 1 Eye Cream, since it's the newest one and it's great for hydrating dry skin. I've got dry skin, especially in the winter months, which seem to be staying well into the month of May…….
Each morning I apply the eye cream, and after chatting with Dr. Jaliman I won't ever go without it during my morning routine. In her words "why wait?" Why wait for the wrinkles to show up before you start fighting them? Be pro-active when it comes to wrinkles. Use your Retinol products, and your sunscreen products, and keep skin looking fabulous. Eventually we all get wrinkles, and we'll want to do everything we can to get rid of them, it's what we do as women. However, the earlier you start using products like RoC® with Retinol and the broad spectrum sunscreens in their moisturizers, it may just take your wrinkles longer to start showing up!
Ms. Prilutsky and Dr. Jaliman agree it's never too early to start using Retinol products! I agree, within reason. I'm not slapping it on my seven year old, but as she enters her teen years……we'll see. However, even at the age of seven, it's important to always have sunscreen on! Male, or female, that sunscreen is a must every day!