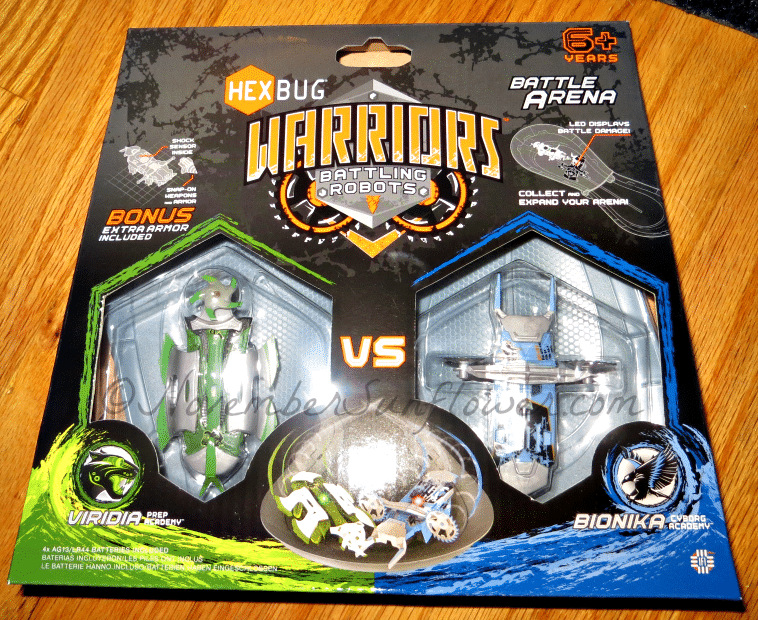 HexBug® churns out a few great toys. My personal favorite is their remote controlled Spider. It's the coolest thing, and it comes in Orange. We all know orange is a big favorite around here with my kids. Especially my daughter. Who doesn't love Micro Robotic Creatures? Girls, boys, parents, grandparents….you pull out a remote control anything, all ages will be happy. It's like blowing bubbles, it all just brings out the kid in every last one of us. Honestly, I think that's where HexBug has it's strongest market, remote control robotic creatures. Ant, Crab, Inchworm….you get the idea. Even the original – the one that reacted to touch and sound, no remote needed, was cool. Still is!
Personally, the best stocking stuffer for a little "gadget loving kid" is the Nano. The Nano behaves like an actual bug, and I would prefer robotic bugs in the house, rather than real ones. So load up the Christmas stockings with them! Perfect price point of $5.99, or if you want the little glow in the dark ones, those are $7.99. I mean, just hours of fun for the kids, and it's something they can bring with them to a relative's house, instead of lugging one of their huge, overpriced toys with you when you have to go for your holiday dinner over at Grandma's house!
But we're here to chat about HexBug® Warriors™ Battling Robots. Are they cool, sure. They, too, are small enough to be stocking stuffers. I like that they're only $7.99 each. It's great that they made them so you don't have to purchase a "battle arena" for them to fight in, you can just use them on any surface.
Surprisingly, both my kids like these little warriors. My daughter would like it better if they had an orange option, but they don't. Just red, blue, green and yellow. The premise of these toys is that in the future, there are students from the best science academies. These students use all their "skills" in order to compete against one another with battling robots. The robots can be configured with weapons, and armor, and come from four different "academies. You've got the Caldera Prep Academy, Viridia Prep Academy, Bionika Cyborg Academy, and the Tronikon Tech Academy.
Each academy has a specialty, and a color associated with it. None of them has orange, so the kids got one green, and one blue. It was Viridia vs. Bionika. Prep Academy vs. Cyborg Academy. They had a blast. As you can tell from the name of the toy, they battle. You know you're the winner of the battles when the little light on the top of your warrior is still green, while your battle partner's goes from green, to yellow, to RED. Which means it's health is decreasing, and when it hits RED, it will deactivate. Every big hit that it receives, means it's health will go down.
What I truly loved:
Kept the attention of my 3 and 5 year old kids for a healthy length of time.
Kept my attention for just as long as my kids' attention.
They are holding up nicely, since they are built to "battle."
Here are my issues:
Battery DISLIKE: As in all their line of toys, you need those very expensive "watch" batteries. You know the ones. Tiny little things, cost $3.99 if you buy them from the website. At least you get two in the package.
Battle Arena/Stadium: If you want to really get the best out of these little things, you would need the Arena, or Stadium, which are an added expense. Just like the Nano ones. So what starts as a stocking stuffer, will end up becoming a pain in the royal icing! For us, they work just fine without the arena, or stadium.
COLOR: There's no Orange. Every other line has orange, what's up Warriors? Get some orange, will ya!
It says on the package it's for ages 6 and older. Listen, kids today are so into these things at such a young age, as long as your kids aren't putting things in their mouths, they can play with them. They will probably need some help working the weapons, and armor, but so did I! I didn't want to damage my manicure……yeah, that's right, my manicure!