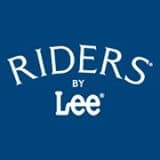 Even during the holidays, I find wearing jeans to family celebrations just works for me. Certain times I dress my jeans up with a great top, killer shoes (or boots,) and amazing jewelry. There are times I'll throw my jeans on with a more relaxed look of a cozy sweater, and some snuggly and warm, rubber soled boots. Jeans are extremely versatile, and when you find a great pair, you want to buy lots of pairs, so you know you'll always have them even if you haven't done the laundry in weeks….not that I would know anything about that kind of situation. At all. Anyway……who would love to win Riders by Lee jeans?
Riders by Lee wants to give FIVE of my readers one pair of jeans each, and All You Magazine wants to hook each winner up with a $25 Gift Card to Walmart. Yes, my friends, FIVE people will each win a pair of Riders by Lee jeans, and a $25 Gift Card to Walmart. Are you ready? I thought so!
Riders by Lee & $25 Walmart Gift Card Giveaway
Each of the FIVE winners will receive ONE pair of Riders by Lee jeans & a $25 Walmart Gift Card
Enter
Leave a comment that describes your idea of the perfect pair of jeans. Whatever attributes you love in your favorite pair of jeans, or whatever you look for when buying a new pair of jeans. Perhaps it's a pair you've had since college, and the jeans are barely being held together by threads, hopes and dreams. Just open up in the comments, and share your favorite jeans with me and the other readers. GOOD LUCK!
RULES
Must be 18 years of age, or older
MUST live in the CONTINENTAL United States
Once contacted, each winner will have 48 hours to RESPOND, or the prize will be forfeited and I'll have to choose another winner. It stinks, so if you win, please get back to me A.S.A.P. I don't want to pick new winners.
Winners MUST provide all requested information, even phone numbers, since those are needed for shipping purposes. Sorry folks, I'm not chasing winners down for the information. Supply it, or you forfeit the prize and I choose another winner.
Deadline
Friday, December 6, 2013 at 11:59 P.M. Eastern Time. The winners will be chosen with the wordpress plug-in "And the winner is…."