Remember when fall television season started all around the same time? September rolled around, school started, and all your favorite shows fresh new episodes began. Pure joy. Absolute bliss. NOW? Fall television season trickles in slowly, like an I.V. drip in the hospital's emergency room. It's torture. I guess it's what happens when premium channels get into the mix with original series?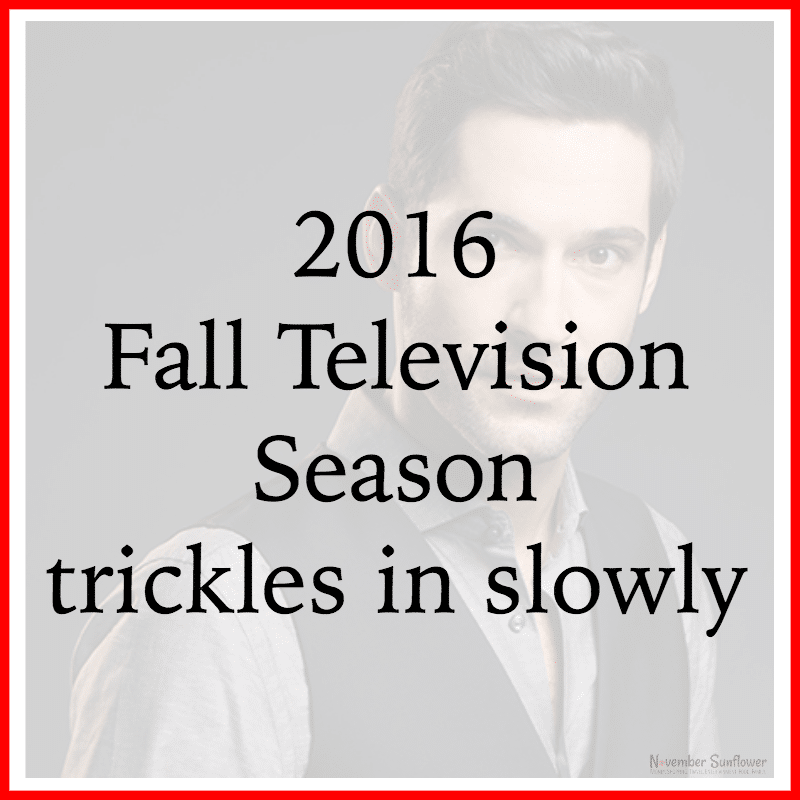 2016 Fall Television Season trickles in slowly
Brutal honesty here, I watch very little television. I rarely watch new shows when they come out, because I'm not interested in getting hooked on a new show. However, a few shows have caught my attention. Lucifer got me last year, and I couldn't wait for the new season to start. The Blacklist got me when I saw James Spader was starring in it. I'm a die hard Spader fan. The Affair had my heart when I found out Josh Jackson was coming back to television, because man I missed Fringe. I wasn't planning on picking up any new shows this season, but dang! Sarah Jessica Parker is returning to HBO in a new show, Divorce. How can I not watch?
Lucifer
Sarcasm, and inappropriateness – I'm in. The lead actor, Tom Ellis, is good looking, and has the sexiest voice on television. Who can resist a television show centered around the original fallen angel? It's pure entertainment, and it's total fun. Sometimes, you just need to get lost in the fun of a show. No real drama, and all of it is truly just for entertainment purposes. It's a fun way to start my week! If you're a better mom than me, you'll put your kids to bed, and sit down with a nice adult beverage and enjoy the fun. If you're a bad mom like me, you snuggle on the couch with your kids, and watch. However, this one is definitely not recommended for the kids. Check it out on Monday nights on FOX.
The Blacklist
James Spader. Do I need to say more? If you grew up watching his movies all through the 80s, you know why I'm a fan. He's changed a lot, but so have I! Spader's character, Red, is the kind of person who you should not love, but it's so damn hard not to love him. Sure, he doesn't think twice about killing someone who did him wrong, or did someone he loves wrong. Is it totally wrong? Yes. But he plays it so well, you just love him.
A show like The Blacklist isn't one you watch to veg out with. The Blacklist requires a bit more thought, and an investment. It helps that Ryan Eggold plays Tom Keen. He is very easy on the eyes, and sure, he's a killer, too. However, I'd love to have a man who would go to such insane lengths for his woman, and child. Dang, if you aren't watching, or haven't been watching the past couple of seasons, go find the older episodes and just commit from the beginning! Don't miss it, Thursday nights on NBC.
The Affair
What sold me on The Affair was the fact that one of my favorite actors was starring in it, and it was being filmed on Long Island, and around New York City. Basically, three of my favorite things in one spot. How could I say no to all this fabulousness? Anything that showcases the gorgeous island I live on, plus incorporates Josh Jackson, has to be checked out. It started a bit slow, but it picked up and became a must see every Sunday night, on Showtime. Even though I've got FiOS, and can record it easily, I still make sure I don't make plans on Sunday night, just so I can watch it.
What might cause an issue, is the new show I have found, which also broadcasts on Sunday nights. I may have to throw the new show on the recording line up, watch it after I finish watching The Affair, once November rolls in! Yup, NOVEMBER 20th is when The Affair finally comes back to the tv line up. UGH. Torture.
Divorce
Sex and the City was one of my favorite shows of all time. Buffy the Vampire Slayer, The West Wing, Sex and the City, Friends, Fringe and Will & Grace – all time favorites that have come, and gone. I hunt for re-runs of all of these shows. I cannot get enough of them. Once I heard Sarah Jessica Parker was returning to HBO on Sunday nights, with her new show, Divorce, I knew I'd be addicted immediately.
It's brand new, just started on October 9th. So far, it's dark. It's real. It's funny. I definitely sat there for a few minutes after it ended, and thought "Hummph, well, then." Putting it mildly, I'm a fan. Personally, I'd never think of Thomas Haden Church and Sarah Jessica Parker, as husband and wife. It's an odd coupling, but it somehow works in this situation. He's definitely got the dry sense of humor that'll work for this darker comedy. I'm looking forward to breaking out the adult beverages, and watching each Sunday night on HBO.
Trickling in has benefits, I suppose
When the fall season trickles in, instead of everything starting all at once, has its benefits. I get to check out a new show, whereas I probably would have totally missed Divorce, because of my addiction to The Affair. Now? I'll get hooked on one, and thanks to FiOS, I can record one while I watch the other. Or, have one on the television, and the other on my iPad? We'll see what happens!
What are your favorite fall shows so far? What are you looking forward to watching once everything finally starts up again? If you haven't checked out Verizon FiOS yet, consider it before Fall TV kicks into high gear.