Disclosure: Disney allowed November Sunflower and my family to preview this movie prior to its release at no cost to me. All opinions, as always, are 100% my own!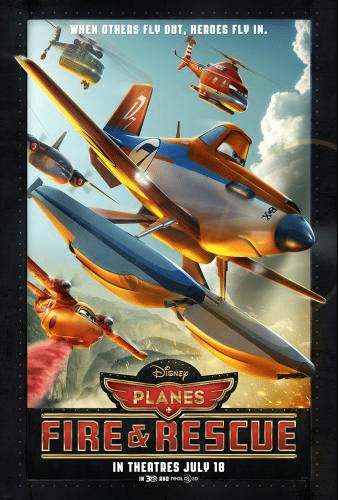 Brutal honesty folks….Disney Planes Fire & Rescue is cute for the kids, but not something anyone needs to run out and see on the big screen.
Disney Planes Fire & Rescue
Dane Cook is back as the voice of "Dusty." Ed Harris joins the cast this time around as "Blade Ranger". Julie Bowen as "Dipper" is probably my favorite this time around. Dipper has a thing for Dusty, so the lines she has are insanely awkward in a super cute way. However, it doesn't save the movie from being a bit of a bore.
It's Disney, so you've got your messages throughout about never giving up, and giving it your all, and blah, blah, blah. We got that from the first installment, we really didn't need the same message. Let's try something new. Mix it up a bit. Give these kids a few new messages, because the same old ones aren't enough anymore. Every parent is telling their kids to try their best, never give up, and what we really need help with is how to be good humans and citizens of the world.
If you want to continue to sell parents on taking their kids to the movies, Disney, help us get MORE positive messages out. Or at least if you're going to give us the same old ones, find a better storyline and add some fresh characters.
Is it cute? Sure. Is it worth paying $10 per ticket during prime time showings at the movies? Heck no. If the kids have to see it on the big screen, take them to the Sunday matinee show that's half the price!