Disclosure: My children received the LeapFrog LeapTV on behalf of MommyParties in order for us to write this post. No monetary compensation was provided. All opinions are 100% our own. Affiliate links are included within this post. Affiliate links are not harmful for you to use. When you click on my affiliate links and make your purchase, it means I earn a small commission, and that helps keep NovemberSunflower.com in business. Thanks for your support!
LeapFrog has finally come out with a really good gaming system that my kids haven't stopped playing with since it showed up on the doorstep a couple of weeks ago. Every day when they come home from school they ask to play it. It's been their constant source of entertainment for weeks, and I have to say, it's been nice to get them off the couch. They're not just moving, but learning at the same time. Lots of MATH, which is great since it isn't that wretched Common Core math they are stuck with at school. It's real math. It's refreshing to see the kids excited about LeapFrog LeapTV!
Excited for LeapFrog LeapTV
The LeapFrog LeapTV Educational Active Video Game System
comes with a base, camera, and controller. The camera goes on the top of your television, or wherever it'll work so the kids can interact with the games. The game of choice in our home? Surprisingly it's LeapFrog LeapTV Sports!
. I figured it would be LeapFrog LeapTV Dance
. It took me a bit to realize why. My kids seem to enjoy the math learning on the Sports game, rather than the reading and vocabulary on the dance one. Figures! Mommy's a writer, and the two of them prefer math to reading. Painful realization, but as long as they are learning and being active, I'm dealing with the pain.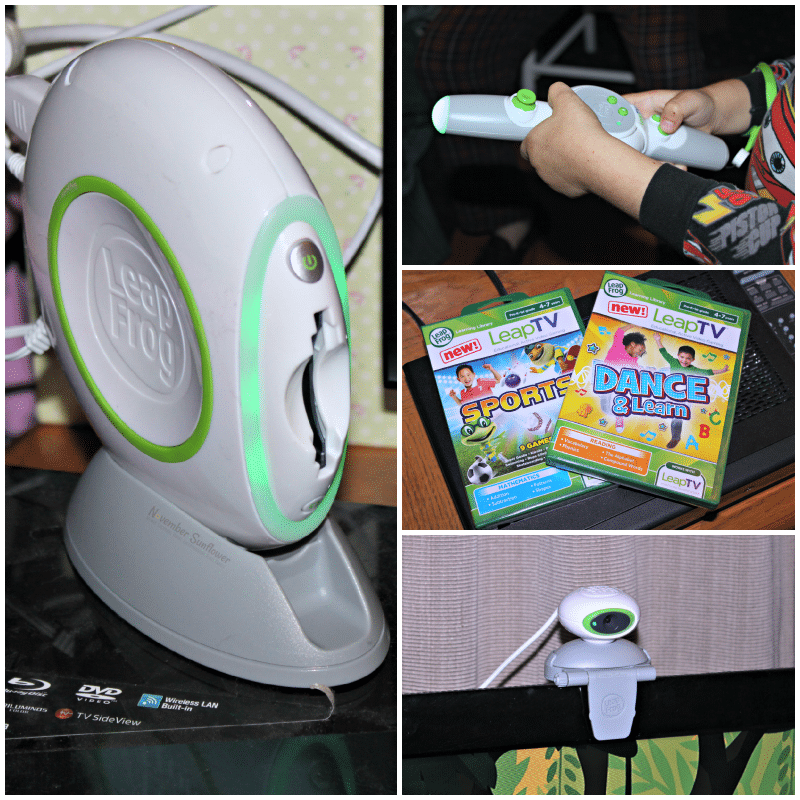 Let me be frank: I love the system. I really do. Does it have it's glitches? Sure. The system doesn't always pick up the movements, and it does have a tendency to just stop in the middle of the game and ask if you really want to leave the game. It's technology, so one expects these things to happen.
It allows me to set my daughter's grade level for her profile, and my son's grade level for his profile. When the kids play together, it seems to pick up on what is age-appropriate for math problems. My daughter gets 3rd grade level questions, and from what I can tell, my son gets 1st grade level questions. Well, let's put it this way – he seems to be able to answer the questions and play the game well. I'm assuming it means the questions are at his level? Whatever, the games are super cute and the kids are all sweaty when they are done playing.
Sweaty kids means they're getting that much needed physical activity in, and they're also getting fun learning out of the whole process, too.
The Boy invited his fellow first grade friends to check out the new LeapFrog LeapTV Educational Active Video Game System. Again, all of them really loved the sports game the most. I guess this means all the kids these days just love math? I don't know. I was happy to see the kids playing well together, taking turns and having a lot of fun!
Kids are active, working up a sweat, and learning math, vocabulary, sorting, classifying, shapes, vocabulary and so much more! It's not common core learning, either. It's fun, and just old school learning. The LeapFrog LeapTV Educational Active Video Game System
gets a big thumbs up from me, and thumbs up from my kids, and thumbs up from the 6 kids who tested it out at the party! I'd get this over a LeapPad any day. Match this up with the LeapBand that came out this year, and your kids will be the most active they've been in a long time!
It came too late for entry into my annual holiday gift guide, but if it had come just a week sooner, this would be a featured item in my guide. It's definitely one of our favorite things for the holiday season – glitches and all!