Disclosure: I was given the opportunity to take the family to see Guardians of the Galaxy. This post was not monetarily compensated. All opinions are 100% mine.
Holy heck people, Guardians of the Galaxy is downright funny. There's no doubt about it, Chris Pratt just lights up every movie he's in. Plus, Bradley Cooper voicing that crazy Raccoon, Rocket, is priceless. I want him as a pet. Although, I could do without the crazy masks the kids have of the raccoon. The masks are creepy.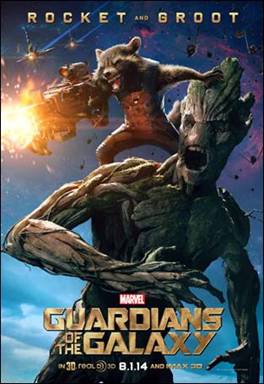 I can't give things away, it's not my style. The premise of this movie is probably known by most people, since it's Marvel and we've got lots of lovers of Marvel. Personally, I never knew the story, and it didn't matter. I laughed, the kids laughed and the husband laughed. The music in the movie is awesome, and watching Chris Pratt dance to it is most enjoyable. I could have sat through two hours of just him dancing to 80s music. The star of the movie was that walkman he has.
Go see it. Save money by skipping the 3D, but if you go and pay full price tonight to go see it, it'll be totally worth it. Four sets of TWO THUMBS UP from all of us at NovemberSunflower.com.