Disclosure: I received the My Monopoly game, courtesy of Hasbro. Affiliate links may be used within this post.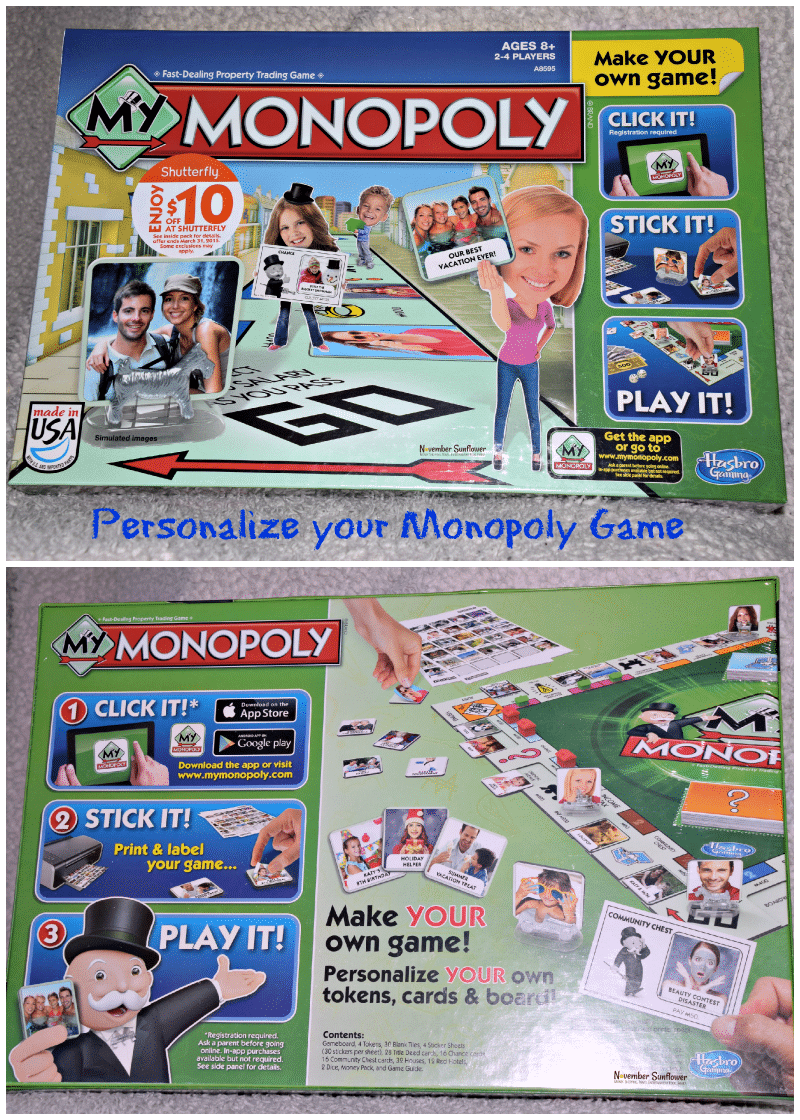 Growing up, I loved playing Monopoly. A rainy day, or a snowy day, or even a day that was beautiful out and we were outside with no place to go – there's was nothing better than cracking open the Monopoly box. Through the years, every time I turned around, Monopoly was coming up with a fresh theme for the boards. I've even got an Elvis-themed board, since I'm also an Elvis fan. Now I think they've pretty much sealed the deal with the My Monopoly: Click it, Stick it and Play it theme! Personalized Monopoly is absolute genius! It can be a gift for any occasion, for any person! Everyone loves Monopoly….right?
My Monopoly: Click it Stick it and Play it
Is someone celebrating a Sweet 16 birthday, and buying the "Sweet 16" charm just pains you to no end? Perhaps there's someone getting married, who's having a bridal shower, and loves getting fun games as gifts. Maybe there's a teacher you'd love to gift with something other than a gift card to Starbucks, at the end of the school year. Do you have parents who have grandchildren, and kids? Have you gotten them every personalized thing imaginable over the years? How about a unique personalized gift for the holidays, filled with their kids, and grandchildren captured in pictures during the best moments of their lives?
My Monopoly has so many opportunities to customize the board, the Community Chest and Chance cards, and game pieces. Pick the best moments captured in photos: dancing on stage at a recital, a child's birth, the first time a tooth was lost, each kid in a class for a teacher, and so much more. Download the app, or go to www.mymonopoly.com, and upload photos. If you don't want to upload photos, just gather them from your social media accounts. It doesn't end there, though. You can add captions to the photos, and then print them out. Once printed, just stick them on the game board, cards, and pieces.
It's simple, even the kids can help out in the creating process. It'll be even more special for a teacher, or a grandparent, if the kids helped choose photos, print them and stick them on the game! It's a mix of homemade gift, and store bought gift. The best of both worlds, right?!!!!
Just make sure you've got enough ink in your printer before you start the process. There's nothing worse than having it all set up, and realizing your ink is running low. It puts a bit of a damper on the process, and kind of sucks the spirit of giving right out of your body.
Of course, if you do run out of ink, the game doesn't have to be personalized. It can be given as a regular Monopoly Game
. The receiver can play it like a regular Monopoly game, or personalize it however she wants! It'll be up to the receiver of the gift. I'm not going to tell you how I might have figured that out, because I would never run out of ink…… EVER.
However you choose to give the My Monopoly Game, it'll be a hit. Everyone moans when a kid asks to play, but EVERYONE gets into the game once it's started. Don't deny it, you know you want to play right now!!!!!