Retired NYPD police offers, Thomas Fitzsimmons, mixes the perfect amount of fun, action, and NEW YORK in his book Confessions of a Catholic Cop.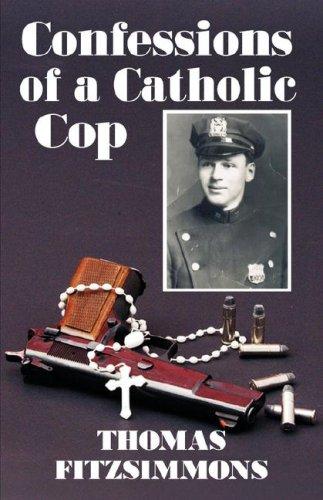 Confessions of a Catholic Cop by former NYPD police officer Thomas Fitzsimmons
Recently, I was contacted to review Confessions of a Catholic Cop
 by Thomas Fitzsimmons. I received the book, and even though I have a busy schedule, I finished in three nights. I kept looking at the clock, saying "I have to go to bed, but I can make it through one more chapter."
It's about a New York City Police Officer working the Bronx streets. He lands a walk on role on a cop show. On the set, he meets a a writer on the show who lives in a part of the Bronx suffering from a rash of arson. It's amazing how all the characters of this book are all intertwined. Intriguing to me: how he introduced each character, along with their backstory, and finally, what becomes of them.
Writing style
Is the writing amazing? Will it win amazing writing awards? I don't think so. However, the story is excellent. I found myself reading just one more chapter. It was a challenge to figure out how it would all go down. There's a bit of a shocker with the key character's partner, which I didn't quite understand completely how it all went down. Towards the end, the partner's story felt rushed to me. His story escalated too fast for the ending.
The relationship created between the New York Police Officer, and the writer he met on the Television show he was acting in, felt a bit forced. It needed a bit more to it. More heat, more chemistry, to make it plausible for them to even CONSIDER dating. Chicks like to read about the passionate, along with the cop stuff. LOL.
However, at the end of the day, it was good fun to read. I'd totally download it for a couple of bucks if I had one of those Kindles, or Nooks. After a long day with two small kids, working three different businesses and shuttling the kids to Jiu Jitsu, Dance, school and tumbling – I'd read "Confessions of a Catholic Cop" FOR SURE! In his own words, his writing is "Minimalist. Gritty. Fun." and that's totally my kind of reading! Plus, he's a fellow New Yorker, so how can I not love him, right?
Bluntly: I'll be buying his next books when they come out. STAMP OF APPROVAL!
Make sure to check out my review of his Confessions of a Suicidal Policewoman.
About the Author: Thomas Fitzsimmons worked as a New York City Police officer for ten years. His precinct was dramatized in Fort Apache, the Bronx. Before that, he was a Navy man and now he works in security for A-listers in Hollywood.